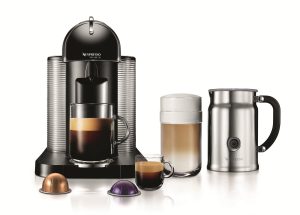 Review of the Nespresso VertuoLine Coffee Espresso Maker
The Nespresso VertuoLine Coffee Espresso Maker can make simple coffee special. It brews the famous hot drink with high quality and the best taste. This product transforms one's kitchen into a coffee shop. It lets the user make coffee with the highest quality and best taste. The different functions make it owner play up with different concoctions too. He can even make some for his housemates simultaneously.
At such a reasonable cost, this equipment brews coffee and espresso efficiently. It has a milk frother for frappe or cappuccino quality. It has a one-touch button too, that lets the user opt for a hot cappuccino or a cold frappe.
This highly-rated kitchen product can recognize the capsule inserted and read the technology used for blending. The capsule recognition is used for the two capsule sizes. The code reading technology on the other hand, is designed for the coffee cup sizes and Espresso shots. What makes the machine extra special is its heating time. It has just short 15 seconds to heat up and prepare for brewing.
The Nespresso VertuoLine Coffee Espresso Maker is available on Amazon:

Espresso Machine Comparison
For all the best in coffee, you'll want to check out the Top 5 Espresso Makers. Or, have a look at this comparison chart below:
The Specs:
12 x 9 x 12 inches
12 pounds
Comes with milk frother
One-touch button to prepare for hot or cold froth
With a special feature capsule size recognition and code reading tech
With detachable container for used capsules
Automatic shutoff after several minutes of no activity
People that Like the Nespresso VertuoLine Coffee Espresso Maker are Saying:
"This machine's so easy to use. Everything is literally a one-touch button! It is easy to clean too."
"I have used this machine for about a week, and it is awesome! I had used an espresso machine frequently years ago, but got sick of the grinding, prepping, priming, etc., especially before work in the morning. This one is really simple to use and saves lots of time."
"First, the machine is very well designed. It has a cool deco vibe to it and it looks fantastic. I got the Chrome, and it's something I actually want to show off on my counter. It's also easy to use."
Drawbacks of the Nespresso VertuoLine Coffee Espresso Maker:
Not enough customization settings
Milk frother not built-in
A little expensive for some
No temperature control
The Takeaway on the Nespresso VertuoLine Coffee Espresso Maker:
If you want more excitement in your breakfast, consider the Nespresso VertuoLine Coffee. This kitchen machine has many special features. Therefore, you'll enjoy coffee like you enjoy it at the coffee shop. This coffee and espresso maker brings out the professional barista in you, too.
This Amazon bestseller is features-filled. Therefore, you can come up with different concoctions. You have no reason not to enjoy a cup of special coffee. You can even have a shot of espresso even if you're so busy.
With the machine's one-touch technology, your special coffee is brewed instantly. Also, the 15-second preheating time lets you get your morning booster at an instant! Enjoy more cups in large sizes. This coffee equipment has an adjustable mechanism to make 3 different coffee cup sizes.
You'll save up on this product, for sure. No more visits to the coffee shops. Nor more big spending on Venti frappes too! Just make your own latte or espresso which is even more practical. Your concoction can be with the same (or even better) quality as your favorite store-bought hot drink.
Make every morning exciting for you and your family. Have this high-quality coffee and espresso maker a permanent fixture in your kitchen.
Go to the Amazon page to buy the Nespresso VertuoLine Coffee Espresso Maker today.