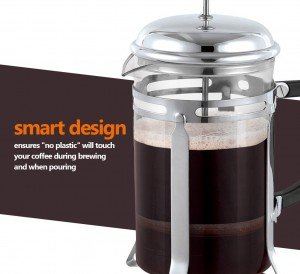 Do you love a nice cup of coffee in the morning (or any time of day for that matter?!). Then you'll need to check out the Utopia French Press, one of our top-rated coffee makers.
Utopia Kitchen French Coffee Press Maker Review
The Utopia Kitchen French Coffee Press Maker is a sleek coffee maker at a nice price. It's capable of making 1L of coffee or loose leaf tea (around 8 cups/4 mugs) at a single time. If you take a look at the customer reviews on Amazon, you'll notice that there are a ton of satisfied customers, and we personally use this thing every single morning at our own  house!
Durable Glass
The glass is durable and heat resistant, meaning that you won't burn yourself while you're brewing. The unique feature of this French press is the triple layer filter system. This means that the grounds will stay where you want them–in the machine and not in your coffee cup!
So Easy to Use
This Utopia Kitchen French Coffee Press Maker is an excellent choice for when you're camping, or at the office. All you have to do is put the grounds in the machine, pour hot water over them (we recommend using an electric kettle), let sit for a few minutes, press the plunger and then pour.
Dishwasher Safe
It really is so easy to make delicious coffee, just like they do at the coffee shops. Clean-up is easy too, as you can disassemble it and throw it into the dishwasher.
Where to Buy It?
You can easily get this high-quality French press coffee maker today. Shipping is often free with Amazon Prime:

Compare French Presses
For even more options, you'll want to check out our picks here: Top 5 French Presses. Or, take a look at our comparison chart below:
The Specs:
Makes 1L (8 cups) of coffee or tea
Includes a plastic measuring spoon
Heat-resistant, durable glass
Unique triple filter system
Dishwasher safe
30-day money-back guarantee
1.6 pounds
People that Like the Utopia Kitchen French Coffee Press Maker are Saying: 
—>Read More Customer Reviews on Amazon<—
"The size is perfect for my needs and the screen system helps make a nice cup of coffee. I've been using it for almost a year and have never had grounds in my coffee. I'd totally recommend this to anyone."
"I'm hooked on French press coffee! I love the look of this machine-it looks really classy in my kitchen. I used to use a drip coffee machine, but it just didn't make as nice a cup of coffee."
"Great for the price. It just does the job and I'm happy that I've made the switch to this after my Keurig machine broke. It's just so much cheaper to not have to buy those pods all the time."
Utopia Kitchen French Coffee Press Maker Negatives:
The holder can rust a little bit after using it for a while
Some reports that the plunger is a little bit difficult to clean.
The cup is quite thin and fragile. Some people were worried about it breaking too easily. You may want to consider a stainless steel French press instead.
The Takeaway on the Utopia Kitchen French Coffee Press Maker
This French press is very affordably priced and this makes it an obvious winner. It contains the same features as some of the more expensive French presses that are double the price. We LOVE the screen system that prevents grounds from getting into the coffee, as well as the extra durable glass construction.
Great for the Home or Office
If you're looking for a functional, durable, basic machine that will consistently make good coffee at the home or office, or when out camping, consider the Utopia Kitchen one.
Very Easy To Use
The Utopia French Press is very easy to use. All you have to do is boil water (we use an electric kettle), add some coffee into the French Press, pour the water into it, wait a few minutes and then press the plunger down.
Pour out the coffee and add some cream or sugar if you wish. It really is that easy to make a delicious cup of coffee.
Very Reasonably Priced
If you're looking for an affordable French press, look no further than this one from Utopia. It's reasonably priced, but the quality is high enough that you'll be happy with it for years.
Overall, it's a serious win here at Kitchen Gadget Reviews!
Where to Buy It?
You can easily get it on Amazon today. Click the button below to check for the best prices and also to see if this product is eligible for free shipping with a Prime membership:

The Ultimate French Press Coffee
Learn how to make a delicious cup of coffee with your new French Press
Have your Say about this French Coffee Press Review
Is this a good pick for French Press Coffee Maker? Or, are you considering another brand? Leave a comment below and let us know what you think. We'd love to hear from you.
Also be sure to give this article a share on Facebook, Pinterest, or Twitter. It'll help other coffee enthusiasts, like yourself find this useful resource.