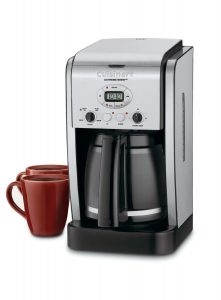 Are you looking for a top-quality, but reasonably priced drip coffee maker? Then this one from Cuisinart, one of the most trusted names in kitchen appliances should be at the top of your list.
Read our buying guide packed with information to help you decide if it's the right coffee machine for you.
Cuisinart 12-Cup Programmable Coffeemaker Review
The Cuisinart 12-Cup Programmable Coffeemaker is made for people who love to host get-togethers and parties at home. This can brew up to 12 cups of coffee so many guests can enjoy their dessert over a cup of freshly brewed coffee without having to wait for a long time.
Enjoy your Favourite Drink at Home
People invest in a high-quality coffee machine to enjoy coffee-shop quality coffee at home all the time. There's no more need to go to the nearest café to meet up with friends and loved ones and enjoy conversations while sipping their favorite hot drink.
Easy Pouring Carafe
The carafe included in this machine features an ergonomic handle for easy pouring. It is completely automatic too, so any party host can leave it brewing while entertaining his guests.
Cuisinart DCC-1200 Brew Central 12 Cup Programmable Coffeemaker, Black/Silver
Classic brushed metal design with a 12-Cup carafe with ergonomic handle for comfortable, dripless...
Brew pause feature lets you enjoy a cup of coffee before brewing has finished. Adjustable heater...
24-hour advance brew start, programmable auto shutoff from 0 to 4 hours plus a 1- to 4-Cup feature...
Includes: Charcoal water filter and permanent gold tone filter that ensures only the freshest coffee...
Product Built to North American Electrical Standards. Charcoal water filter (removes impurities) and...
Lots of Customizable Settings
What makes this programmable coffeemaker extra special is that, it can serve 4 coffee lovers at a time while the other portion of the coffee is brewing. There is a brewing setting from 1 to 4 cups and the timer can be adjusted from 0 to 4 hours.
Easy Cleaning
Also, this Cuisinart coffee machine cleans by itself so this saves the owner much time. At such an affordable price, one can already serve his friends and loved ones coffee, as if he is a professional barista at Starbucks or Seattle's Best.
Where Can I Buy It?
The Cuisinart 12-Cup Programmable Coffeemaker is available on Amazon. Check now for the lowest prices and also to see if this product is eligible for free shipping with an Amazon Prime membership:

Compare Drip Coffee Machines
For all the best options, check out: Top 5 Drip Coffee Makers. Or, have a look at our comparison chart below:
The Specs for the Cuisinart Coffee Machine:
10 x 11 x 16 inches
15.7 pounds
Can brew up to 12 cups
24-hour programmable timer
Different temperature brewing settings
Available in a variety of colours
Adjustable heater plate ensures the coffee stays at the temperature you like it
Charcoal water filter for fresh, delicious coffee
Dishwasher safe carafe
Wake up feature
People that Like the Cuisinart 12-Cup Programmable Coffeemaker are Saying:
—>See More User Reviews and Ratings Here<—
"This coffee pot is excellent. It looks nice, and brews great coffee. Other reviews are saying that this  is non-metal but it is! However it has a protective clear coat on it, making it feel smoother, like plastic. Love the programmable feature so I can have a pot of coffee waiting for me when I wake up in the morning."
"This is an excellent coffeemaker. Now I can always host a coffee and tea party without having to spend much. It's big enough for a crowd, but also easy enough to make just a single cup or two. It's probably my most-used kitchen appliance."
"I love my new Cuisinart Coffeemaker. Its 24-hour programmable timer allows me to brew coffee anytime I want! For a coffee maker in this price range? It's certainly one of the top options I think."
Drawbacks of the Cuisinart 12-Cup Programmable Coffeemaker:
Heavier than the other machines so it cannot be easily moved
More expensive than the others
Not user-friendly, according to some
A little bit big that it may consume a lot of space in the kitchen
Cuisinart Coffee Machine Review
The Takeaway on the Cuisinart 12-Cup Programmable Coffeemaker:
Have you always wanted welcoming guests at home? And in times like this, have you always loved serving them freshly brewed coffee paired with a slice of mouthwatering cake? Consider having the Cuisinart 12-Cup Programmable Coffeemaker.
Super Easy to Make Delicious Coffee
This machine is a perfect partner to what you love most! Your hosting will surely be unforgettable when you serve your guests and loved ones coffee brewed from this high-quality coffeemaker.
Quick Brewing Time
What will surely convince you more to buy this top-of-the-line kitchen product is its fast-brewing feature. It can deliver your all-time favorite hot beverage many times faster and efficient than most machines can. Not only that, you can also manage the strength of your coffee blend by setting the 24-hour programmable timer.
Prepare for your Party in Advance
You can also set the brewing in advance to deliver the coffee efficiently especially when most of your guests request for their cup of coffee for dessert. Be a more empowered host at your own party. Own this super performer coffeemaker and start brewing for everyone.
Shop Now
Hit the button below and be led to the Amazon page to buy the Cuisinart 12-Cup Programmable Coffeemaker today.

Compare Cuisinart Coffee Machines
Besides this 12-cup one, there are plenty of other options from Cuisinart for coffee makers. Here are some of our top picks:
Have your Say about this Cuisinart Coffee Machine Review
What are your thoughts about this Cuisinart Coffee Maker? Is it the right one for you, or are you considering another brand? Leave a comment below and let us know what you think. We'd love to hear from you.
Also be sure to give this article a share on Facebook, Pinterest, or Twitter. It'll help other coffee drinking enthusiasts, like yourself find this useful resource.
Last update on 2021-04-09 / Affiliate links / Images from Amazon Product Advertising API