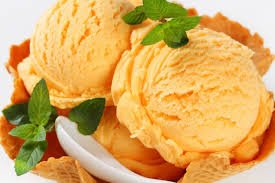 If you love to eat peach ice cream, then you're in the right place. We're going to give you the rundown on our favourite recipe. Our mouths are already watering? How about you?
Peach Ice Cream Recipe: A Quick How-to
It's already summer in some parts of the world. In times like this, ice cream is the most wanted food of people of all ages. It's quite a double treat to eat a cold dessert flavored with a summer fruit. Imagine yourself indulging a mouthwatering peach ice cream. Yummy, right?!
This flavor is definitely more refreshing than any other ice cream flavor available. If you find this interesting, don't get too excited yet. There's more! What's more interesting, actually is that, you can make your own ice cream at home with a top-quality ice cream maker! With our peach ice cream recipe, you can easily prepare the cold dessert anytime.
Easy to Follow Recipe
Don't worry! It is easy to follow our homemade ice cream recipe. Be sure to have an ice cream maker, though. You can only serve your family a scoop of refreshing peach ice cream if you have an ice cream machine.
If you don't have one yet, check out the Nostalgia Vintage Collection Wood Ice Cream Maker. It is so affordable and guaranteed to help you make professionally made ice cream. The best part about this one is that it's really fun to use and the whole family can take part in it.
You may find some ice cream recipes that don't need an ice cream maker. However, if you want to achieve the texture and consistency you find in the commercial ice cream, invest in a high-quality ice cream maker. You'll never go wrong when you purchase one. You'll find machines that are affordable and can suit just about any budget.
Peach Ice Cream Recipe
Get ready with your ice cream maker and prepare these ingredients:
1-1/2 pounds peaches (ripe)
2/3 cup sugar
2 cups light cream (half-and-half)
1-1/2 tablespoons lemon sauce
2 teaspoons vanilla extract
To Make your Homemade Peach Ice Cream:
Peel off the peaches and pit and slice them. Using a blender or food processor, puree about 2/3 of the peaches with 1 table spoon lemon juice, 1/3 cup sugar, and the vanilla extract.
Pour the mixture into a bowl. Add half-and-half of the light cream. Then, nest the bowl in ice water and stir often for 10 to 15 minutes until cold. You may also opt to cover and chill for about an hour.
Using a fork or potato masher, coarsely mash the remaining fruit in a bowl. Add ½ tablespoon lemon sauce and 1/3 cup sugar. Set the container in ice water and stir frequently for five minutes until cold. Add to half-and-half mixture. Taste the mixture then add sugar if desired.
Pour your chilled mixture into the ice cream maker. Freeze, following the instructions of the manufacturer. Wait until the mixture becomes firm enough for scooping. Ice cream is ready if the dasher is difficult to turn or the machine stops operating.
Serve the ice cream softly frozen. Another serving option is when you airtight the package and have it frozen for up to 1 week. When frozen, leave the mixture at room temperature for 10 to 20 minutes to make it soft for scooping with one of the best ice cream scoops.
You see? All you need is a dependable ice cream maker and you can make any flavor you and your family want!
How to Make Homemade Peach Ice Cream
Do you want to check out another recipe for this delicious summer treat? Then you'll want to watch this short video below for some more tips and tricks:
Do you Need an Ice Cream Maker?
For more ice cream makers for more choices, check out our Top 5 Ice Cream Makers. We've done all the hard work for you and waded through all the junk to bring you only the top-quality ones that have some great reviews on Amazon.
Have your Say About this Peach Ice Cream Recipe
What are your thoughts about this delicious peach ice cream recipe? Is it a winner, or you prefer another flavour like vanilla ice cream?
Or, do you have any tips or tricks for making ice cream at home? Leave a comment below and let us know what you think. We'd love to hear from you.
Also be sure to give this article a share on Facebook, Pinterest, or Twitter. It'll help other ice cream enthusiasts, like yourself find this resource.
Last update on 2021-04-09 / Affiliate links / Images from Amazon Product Advertising API