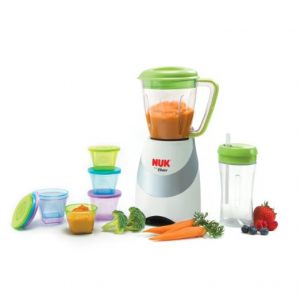 Review of the NUK Smoothie and Baby Food Maker
The NUK Smoothie and Baby Food Maker is a top-quality baby food maker. It can also make some smoothies so it is an ideal kitchen gadget for the whole family. The 20-piece set of this smoothie and baby food maker can make everything both the parent and baby needs. Mom can puree squash, carrots or the baby's favorite fruit and at the same time make herself a healthy smoothie.
Powerful 250 Watts
The NUK Smoothie and Baby Food Maker comes with a sturdy sippy cup. Its blender bowl is also made durable with a tritan plastic to strongly hold out the ice crushing power of about 250 watts. You'll be able to blend up baby food or smoothies quickly and easily with this thing.
Time Saving Sippy Cup Attachment
This product's sippy cup is designed for moms to save time on the household chores. It can be attached directly to the processor to make blend the healthy snack for the mom or the baby (or both). After blending, the sippy cup can also function as the serving cup.
Food Processor and Blender in One
It serves as a food baby processor and at the same time, a blender for the smoothie which the whole family can enjoy. This food processor for all has a special one-touch blending feature. And because it is primarily designed for baby's food preparation, this kitchen item is BPA-free.
The NUK Smoothie and Baby Food Maker is available on Amazon:

Compare Baby Food Blenders
For even more options, be sure to check out: Top 5 Baby Food Makers. Or, take a look at this comparison chart below:
The Specs on the Nuk Smoothie Baby Food Maker:
14 x 8 x 7 inches
1 pound
20-piece set
Dual-function blender
One-touch blending
Dishwasher safe
Sippy cup attachment
Durable blade
Easy storage when not in use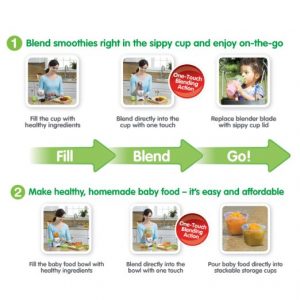 People that Like the NUK Smoothie and Baby Food Maker are Saying:
—>See More Customer Ratings and Reviews Here<—
"We were interested in using the Nuk baby food blender to make healthy food for our 8 month old. The blender is very easy to use."
"This blender is so easy to use and works great! It blends my son's food nicely and quickly. Clean up is really easy too."
"This baby food maker is amazing!!!! I have had this maker food about 3 months now and I love it. It's much less expensive than other popular sore brands."
"I am in love with this blender! It arrived early and in perfect condition. It only took a few minutes to read the simple and clear instructions and to set up the blender. I made fresh, health baby food and a smoothie with it and both turned out excellent."
Related: Be sure to check out our Top 5 Homemade Baby Food Recipes. 
How to Make Baby Food with the Nuk Baby Food Blender
Drawbacks of the NUK Smoothie Baby Food Maker:
Not ideal for multi-food processing because of its one-speed blending feature
Quite expensive for some
Some issues with the plastic material
A few complaints about the blending time required and a wish that it was more powerful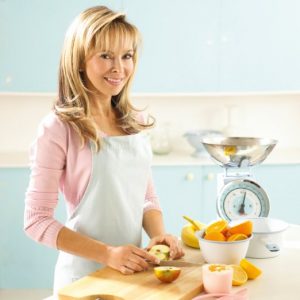 Takeaway on the NUK Smoothie and Baby Food Maker
Are you a family of health buffs? If you are, then, you need the NUK Smoothie and Baby Food Maker. It is designed for both baby and adult foods. The 250-watt power of this blending machine can crush ice for healthy smoothies after workout for parents. The baby food-blender, on the other hand can puree vegetables and fruits for the family's little darling's palate-pleaser!
Food Cups are Dishwasher, Microwave and Freezer Safe
There are 6 food cups with lids in 2, 2.5 and 3-oz. sizes to store your baby's food safely when not yet in need. All of these cups are safe to use for freezer, dishwasher (machine) and microwave.
Again, this saves you time from washing more dishes as you can use the cups for both food preparation and serving. If you've run out of delicious foods to serve your little boy or girl, worry not. This smoothie and food maker comes with yummy recipes for you to easily follow.
A Top-Quality Kitchen Gadget
Aren't you given enough deal with this? Having this high-quality kitchen gadget is like hitting two birds with one stone! You're getting a product for your baby, and for the adults in the family, too!
Shop Now!
So, what are you waiting for? Hit the button below and be led to the Amazon page to buy the NUK Smoothie and Baby Food Maker today.

What about Using a Hand Blender to Make Baby Food?
If you're looking for a more versatile option, then you might want to consider using a top-quality hand blender instead. Besides baby food and smoothies, you can use it for blending hot soups, refried beans, hummus, dips and drinks. The sky is the limit!
You can check out some of our top picks in this handy chart below:

Have your Say about the Nuk Baby Blender
What do you think about this baby food maker? Is it a win, or are you considering something else? Leave a comment below and let us know what you think. We'd love to hear from you.
Also be sure to give this article a share on Facebook, Pinterest, or Twitter. It'll help other new moms and dads, like yourself find this useful resource.