Are you looking for some fresh new ideas for baby food recipes that you can make at home? Then you're most definitely in the right place! Keep on reading for all of our tips and tricks for simple recipes you can make for your baby.
Top 5 Baby Food Recipe Ideas
Is there a baby at home? Or, are you having a baby in the family soon? If your answer to both questions is yes, then you should know what to (and not to) feed the newest addition to your household. Don't just trust the 'baby food' labels you see at the grocery stores.
More so, don't believe so easily if an advertising or marketing campaign promised a lot of nutrients for your baby if you buy their products. It is still best that the baby's food is personally prepared by just one person—YOU!
You need not take a short course in cooking. You don't even have to be an excellent cook to prepare the right food for your baby. All you need is a reliable blender to process the Top 5 baby food recipe ideas we prepared for you.
Yes! Whether you're a first-time mom, or you've already run out of food to give your baby, the top 5 recipe ideas we have here are for you. For parents who are doubtful about the food their baby eats, these bright ideas are for you too.
We highly recommend too, that you invest in a high-quality baby food processor. Don't settle for the price alone. Consider, first and foremost the functions of the machines, the benefits your baby can get, and durability.
We highly recommend the Baby Bullet Baby Food Processor which does all the functions you need to prepare you baby's food.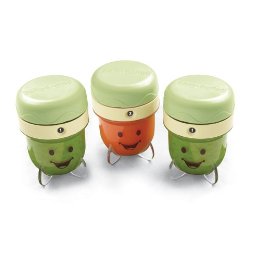 For more baby food blenders, you may check out our Top 5 Baby Food Blenders.
With your baby food blender, you can try our Top 5 Baby Food recipe ideas. We based the foods in our list according to their health benefits. Read on for the best baby food recipe ideas!
#1: Apple Puree a day (to keep the doctor away!)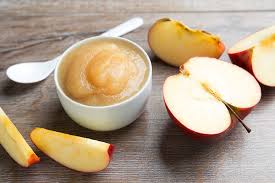 Apple puree is ideal for babies aged 4 to 6 months. This is a naturally sweet dessert that makes the baby healthier. It is rich in vitamins and nutrients so it definitely keeps the doctor away! To make this healthy puree, you will need:
½ cup water
3 apples (medium-sized; peeled and chopped)
1/8 teaspoon cinnamon
Here's how:
Mix all ingredients in a saucepan.
Allow the mixture to simmer for about 12 minutes. Wait until the apples are tender.
Pour all combined ingredients into the baby food blender. Puree the mixture until it reaches the appropriate consistency. Add more water, if desired.
Serve the puree immediately or store pour on ice tray to freeze.
#2: Chicken and Vegetable Puree (the complete nutrients)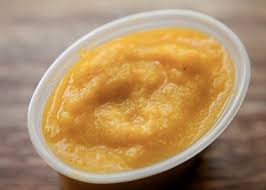 This recipe is best if you want to make sure your baby is taking the complete nutrients. Chicken is the lightest meat even the adults eat. Vegetables, of course provide all the vitamins and nutrients the baby needs. Below are the ingredients you need:
1 cup chicken stock
¼ cup milk (your choice of formula, whole or breast milk
1 cup chickpeas (rinsed and drained)
½ small onion (chopped)
1 piece carrot (chopped)
1 celery rib (washed and chopped)
Pinch dried thyme
1 bay leaf
Here's how:
In a saucepan, bring all the ingredients to boil except for the thyme and milk.
Reduce the heat and let it simmer partly covered for approximately 10 minutes. Wait until everything is tender.
Drain the stock and set aside. Remove and throw away the bay leaf.
Pour in the milk and thyme. Leave the mixture to warm for about 5 minutes.
Transfer into the blender and pour in some of the stock.
Blend altogether until they become pureed.
#3: Sweet Spinach for more energy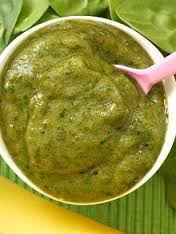 Spinach, being one of the most nutritious vegetables, is certainly good for the baby. It makes the little one more energized and active. Parents puree spinach for their baby's snack, lunch or dinner. This is also one of the simplest and easiest to follow in our recipe ideas. Here are the ingredients you need:
1 ripe large banana (peeled and divided in two)
3 cups organic baby spinach
Here's how:
Pour water over a pot approximately 1 inch deep. Boil the water over high heat.
Put the spinach inside a steamer basket. Place the basket into the pot. Make sure that the water does not touch the basket's bottom part.
Cover tightly with a lid and let it steam for up to 7 minutes. Make sure the spinach is floppy.
Put the spinach and the banana into the blender. Pulse until you reach the desired consistency.
#4: Mashed Cauliflower Baby Food Recipe
This is yet another nutritious food for the baby. It is easy to prepare and yet it has a lot of benefits. The baby is guaranteed of healthier body when he grows up if he frequently eats cauliflower. The following ingredients are what you need to make this yummy recipe:
1 organic Nectarine (chopped)
2 cups organic cauliflower (fresh or frozen)
Here's How:
Pour some water into the pot for about an inch deep. Bring to boil over high heat.
Place the cauliflower and nectarine into a steamer basket and put it into the pot.
Cover the pot with a lid and let it steam for approximately 7 minutes. Wait until the cauliflower softens.
Put the cauliflower and nectarine into the processor. Pulse until mushy but not totally smooth.
In an alternating manner, place the cauliflower and nectarine into a bowl. Blend them using an immersion blender.
#5: Rice, eggs and Veggie Puree to last all day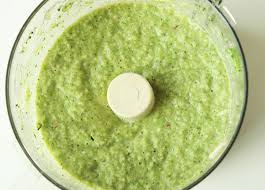 If you want your baby to eat a complete meal, this is what you need to prepare for him or her. Your little angel needs carbs so rice is very important. Egg is a good source of protein for the child. And of course, veggies are your total vitamins provider. Here are the ingredients:
2 pieces eggs (hard boiled)
1 cup brown rice (cooked)
¼ cup soft-cooked vegetables of any kind (diced)
Here's how:
In your blender or food processor, combine all ingredients. Blend until you reach your desired consistency.
You may take away the egg yolks and leave the egg whites to be blended in the cooked rice and veggies together.
These recipes are so easy to follow, right? Indeed they are great ideas for you to prepare effortlessly. Just be sure to have a food processor in the kitchen! Here at kitchen gadget reviews, we recommend the Baby Bullet Baby Food Processor. You can get it easily on Amazon:

Have your Say about these Baby Food Recipe Ideas
Do you have any tips or tricks for making your own baby food? Or, have you tried one of the recipes from this list? Leave a comment below and let us know what you think. We'd love to hear from you.
Also be sure to give this article a share on Facebook, Twitter, or Pinterest. It'll help other people, like yourself who want to make healthier food for their baby.