Review of the Baby Bullet Baby Food Processor
The Baby Bullet Baby Food Processor is one of the bestselling baby food makers available in the market today. It is considered a favourite food maker because of the multiple features. This product offers total convenience for families with kids at home. The high-quality baby blender produces and stores healthy, fresh and of course, delicious baby foods. This is so ideal for moms and dads who are busy at work.
The Baby Bullet Baby Food Processor allows the user to prepare a whole week's equivalent of nutritious, healthy baby foods at an instant. In just 5 minutes this food processor can already make a child's one full meal.
This kitchen equipment features a power base, baby blend blade, milling blade and batch bowl for easy baby food preparation. Any busy career mom can rely on this product especially that it can prepare and keep the baby food in batches. The dated storage system is what makes the baby food safely (and still nutritionally) stored inside the refrigerator.
The Baby Bullet Baby Food Processor is available on Amazon:

Compare Baby Food Blenders
For all the options, check out our Top 5 Baby Food Makers. Or, have a look at our comparison chart below:
The Specs:
12 x 11 x 9 inches
5.3 pounds
6 cups (with date dial for storage)
With spatula
Re-sealable lid for the baby food to stay fresh
With user manual for guide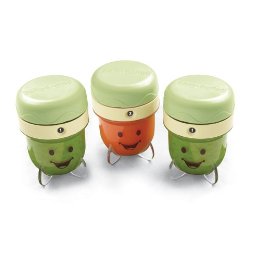 People that Like the Baby Bullet Baby Food Processor are Saying:
"I Love this baby food processor because I can make my daughter baby food that actually tastes good, is healthy, and saves us lots of money!"
"This product is awesome and I'm really glad that I purchased it. I have used it many times for everything from milling brown rice to pureeing numerous fruits and veggies. This machine is easy to wash too! All parts can be cleaned by hand and I have had no problems with warping or anything breaking."
"I must admit, I bought this because I thought it would be fun to have, but I LOVE it! It's amazing to be making baby food for my daughter and this helps me so much. The cups and the freezer tray come in handy too."
Related: Be sure to check out our Top 5 Homemade Baby Food Recipes.
Drawbacks of the Baby Bullet Baby Food Processor:
Some issues with the quality
Complicated to use, according to some
A few issues with the sturdiness
A complaint or two about being not worth their money
Takeaway on the Baby Bullet Baby Food Processor:
Are you a busy career person who still personally attends to his or her baby's every day meals? Surely, this task is a struggle for you especially if you need to be at work early in the morning all the time.
Don't let work hinder you from attending to your child's personal needs, especially his food. Don't let this task at home either, to affect your performance in the office. Let the Baby Bullet Baby Food Processor address this parenting issue of yours.
Because this product comes with a set of refrigerator-friendly storage cups with date dial function, you can prepare a week's supply of food for your child. Despite this, his meals are guaranteed fresh and nutritious because of the tightly sealed lid in every container. The date-dial storage cup can easily be kept and organize to guarantee always fresh food for your baby.
This is not your typical baby food processor. It comes in a 20-piece sit with different blades, bowls, cup, spatula and trays for easy food preparation and serving. Aside from the free shipping, you're treated to 1-year limited warranty too, to ensure customer satisfaction. So, go hit the "BUY NOW" button and be led to the Amazon page  to buy the Baby Bullet Baby Food Processor today.