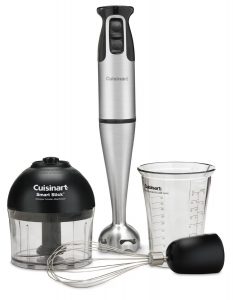 Are you looking for a top-quality hand blender at a very reasonable price? Then this one from Cuisinart should be at the top of your list. Read our buying guide packed with information to help you decide if it's right for you.
Review of the Cuisinart Smart Stick Hand Blender
The Cuisinart Smart Stick Hand Blender is considered a versatile star in the kitchen. Even those who are not experts in the kitchen prefer this hand blender because it is so easy to use. Indeed, the ability to manage a mixture of various tasks can turn one into a culinary expert in the kitchen.
Elegant Design
The Cuisinart Smart Stick Hand Blender is elegant in its brushed stainless steel housing. The measuring beaker guarantees perfect result because of the exact measurement of the solid and liquid ingredients. The user is sure to prepare dishes effortlessly with the push-button control for instant blending.  The versatility of this hand blender is what makes it a favorite in the kitchen.
Reversible Blades
This food prep gadget has special features that make it a unique product. It has reversible blades that can perform other tasks than just blending. It can also whip, puree, chop and grind ingredients to perfection. Unlike the other hand blenders, this multi-tasking blender can blend right in the desired container. This saves the user from dishwashing effort and time.
Where Can I Buy It?
The Cuisinart Smart Stick Hand Blender is available on Amazon. Check now for the lowest prices on this immersion blender, along with all sorts of other kitchen appliances:

Compare Hand Blender
For even more immersion blender options, you'll want to check out our Top 5 Hand Blenders. Or, take a look at this chart below:
The Specs:
4 pounds
8 x 5 x 13 inches
Includes 16-oz. food capacity
Dual-speed control for grinding and chopping options
One-touch button for easy operation
Stainless steel housing
200 watts of power
Comfort grip handle
BPA free beaker
People that Like the Cuisinart Smart Stick Hand Blender are Saying:
—>Read More Customer Reviews and Ratings on Amazon.com<—
"This is very useful kitchen appliance. The chopper attachment is great for making hummus and avocado salsa. It's easy to hold for a while without fatiguing the hands, and it also doesn't overheat like some of the cheaper hand blenders that I've used before."
"This hand blender is sturdy. It is great for pureeing soups, whipping egg whites and emulsifying dressings. I love the mini-bowl attachment for light food processing."
"With this hand blender, I made three smoothies so far and I am 120% satisfied! Totally recommend it to anyone and I love how it has enough power to fully grind everything."
"This blender works as advertised. I find myself using it more than I thought I would. I knew I would use it just for thin soups. But now, I use it more often to chop things."
Drawbacks of the Cuisinart Smart Stick Hand Blender:
Some problems with the whisk attachments
Wouldn't chop perfectly, according to some
Some people find it expensive.
Lightweight so there's a tendency for it to easily fall
Cuisinart Hand Blender Review
The Takeaway on the Cuisinart Smart Stick Hand Blender:
If you are looking for a high quality hand blender, then the Cuisinart Smart Stick Hand Blender is the one for you. Its 200-watt motor lets you continuously blend and mix ingredients for perfect results. The push-button and 2-speed controls are sure to bring out the culinary expert in you.
Make a Variety of Dishes
You'll find it effortless to make dishes for the whole family. The easy-grip enables you to mix different ingredients sweat-free. No matter how long it needs to blend the fruits or veggies at the same time, it's okay!
Perfect Consistency
The Cuisinart Smart Stick Hand Blender does multi-tasking to achieve your desired consistency and flavor of the dish you are preparing. Better own one of the most-wanted hand blenders today before it runs out of supply.
Shop Now
Proceed to the Amazon page to buy the Cuisinart Smart Stick Hand Blender today. Check now for the best prices and also to see if this product is eligible for free shipping with a Prime membership.

What Should I Look for in a Hand Blender?
There are a number of factors that you'll want to consider before buying your hand blender. Here are just a few of them to think about.
Cord, or Cordless
If you're looking for the most power, then you'll want to opt for for the one with a cord. They're also more durable, because you don't have the battery wearing out after too many charges thing going on.
However, if you don't have a lot of power outlets in your kitchen, you may like the convenience of a cordless one.
Speed 
The best blenders allow for a range of speeds, including slower and faster options. After all, it's quite different to make an icy cocktail or to blend a delicate soup.
Power
If you're looking for a blender that can say mix up some hummus or refried beans, then you're going to want something serious that can handle that. Get the most watts in your price range, all other factors being equal.
Dishwasher Safe
We generally prefer hand blenders that can be washed in the dishwasher. Others require washing by hand, which isn't so bad if you do it right away. But, if you forget? It's not ideal.
Accessories
Some of the newer hand blenders come with a number of accessories like a whip or a slicer. These can be quite convenient, but in our experience, they sometimes don't really work that well. So, don't let this be a factor in whether or not you opt for that specific one.
Length 
If you plan to use your blender to blend a big pot of soup, be sure to get one long enough to reach down to the bottom of a soup pot.
Warranty
Blenders are one of those things that seem to break all the time. Be sure to find one that comes with a warranty of at least a year or two. Longer is obviously better.
Have your Say about this Immersion Blender
What are your thoughts about the Cuisinart Hand Blender? Is it the right one for you, or are you considering another brand of blender? Leave a comment below and let us know what you think. We'd love to hear from you.
Also be sure to give this article a share on Facebook, Twitter, or Pinterest. It'll help other home cooks, like yourself find this useful resource.
Last update on 2021-04-09 / Affiliate links / Images from Amazon Product Advertising API