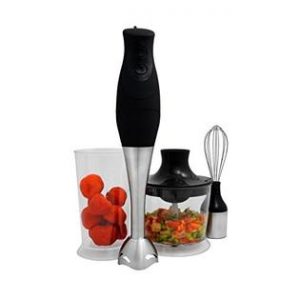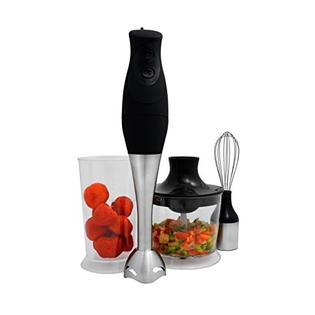 Are you looking for a powerful, but reasonably priced immersion blender? Then this one from Hamilton Beach should be at the top of your list. Read our buying guide packed with information to help you decide it it's right for you.
Hamilton Beach Hand Blender Review
The Hamilton Beach Hand Blender is yet another best-selling kitchen product on Amazon. It is so easy to manage that its user can use it many times in a day.
Small is Size, but a Powerful Kitchen Appliance
Those who already own it call the Hamilton Beach Hand Blender an all-in-one kitchen tool. They say it is a one tiny tool with so many food prep functions.
Working moms and dads who cook for their families will find the Hamilton Beach Blender a perfect companion in the kitchen. Because of quick blend and mix features, they can make meals at an instant.
Easy to Use
Chopping garlic, onions, herbs and nuts is effortless because this hand blender is run by a powerful 225-watt motor. This power kitchen product has a separate blending wand so mixing the ingredients is much easier.
A Ton of Features
What sets this hand blender apart from the other brands is its low price considering its special features. Blending with this top-of-the-line cooking equipment can be done directly in the serving container or jar. This saves a lot of time and effort for the homemaker. There's no need to use a separate serving bowl so there is no need either, for dishwashing another container.
Where Can I Buy It?
The Hamilton Beach Hand Blender is available on Amazon. Check now for the best prices on kitchen appliances:

Compare Hand Blenders
For even more options, be sure to check out our Top 5 Immersion Hand Blenders. Or, have a look at our comparison chart below:
The Specs:
2 pounds
3 x 8 x 9 inches
Mixing bowl and chopping bowl come with the package
Blending done directly in the serving container
Operates on a 225-watt motor
Light weight but with multiple functions
People that Like the Hamilton Beach Blender are Saying:
—>See More Customer Reviews and Ratings Here<—
"This hand blender works great. Its 2 speeds are very useful for different textures."
"This is no dinky hand blender and it's powerful enough to blend up my green smoothie in the morning. I'm happy with it, especially the very low cost."
"I'm so happy that with its light weight, this hand blender performs heavy-duty tasks. I use mine for soups, and also making my own baby food out of whatever we're eating that night. It's cheaper, and also very healthy!"
"Awesome! I spent only a little over $20 on this. But I am benefitting much! It's as if I am using a super expensive kitchen gadget! I highly recommend this hand blender to everyone"
Sale
Drawbacks of the Hamilton Beach Blender:
Not user-friendly, according to some
Lightweight that it has the tendency to easily fall if not properly handled
Blades not easy to handle
Some remarks of not easy-push button
The Takeaway on the Hamilton Beach Hand Blender:
Do you love spending time in the kitchen for food preparation? You might want to have the Hamilton Beach Blender for a constant companion. You won't have any regret with this one. It is features-filled and yet it is super affordable.
Save Time in the Kitchen
Whether you are a busy career mom or a multi-tasking homemaker, this one's definitely for you. You don't need to exert extra time and effort for washing too many dishes. You can use the glass or bowl in the kitchen for both serving and blending.
Save on Dishes
It's rare that you find a blender that can prepare food directly in your bowl, glass or container.  This special feature makes the family members enjoy their thick soup or smoothie right after it's blended.
Forget about the negatives because they don't affect the quality of food anyway. They don't impact the performance of the blender, either! Experience how it is to prepare food and serve it right from where it is blended.
Shop Now
Go to the Amazon page to buy the Hamilton Beach Hand Blender today.

Hamilton Beach Hand Blender Review
Have your Say about the Hamilton Beach Immersion Blender
What are your thoughts about this top-quality, powerful hand blender? Leave a comment below and let us know what you think.
Also be sure to give this article a share on Facebook, Twitter, or Pinterest.
Last update on 2019-09-15 / Affiliate links / Images from Amazon Product Advertising API