Top 5 Hand Blenders: The 5 Best-Performing Immersion Blenders
How would you like a hand blender that's affordable and yet functional? Our Top 5 Hand Blenders consist of top of the line products that are priced reasonably and yet they are feature-filled.
We chose the items which we feel will suit both your food preparation needs and budget. They are the ones you can trust for many years. Each of these blenders has special features that make it a bestseller on Amazon.
Our goal is to help you not to get overwhelmed. There are so many kitchen items available online today. But Top 5 Hand Blenders in our list are the ones that outperform the others but are reasonably priced.
They are the bestsellers on Amazon today. These ones are the most trusted ones of many homemakers, too! Read on and pick the right one for you and your family.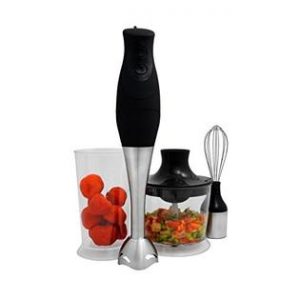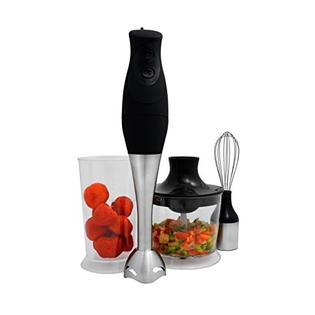 No. 1: Conair Cuisinart Hand Blender
The Conair Cuisinart Blender is our No. 1 in the list of top 5 hand blenders because it is one of the most affordable on Amazon. The modern design and brushed chrome color of this item makes it a totally attractive product. You'll be more impressed as this hand blender is a No.1 bestseller in this category.
It's certainly one of the best picks.
Specs:
One-touch operation
Variable speeds
200 Watt Motor
Blending and whisking attachments
Comfortable to use
Use for soups, smoothies, desserts, baby food, etc.
One-Touch Feature
This leader in hand blenders is a combination of the classic and contemporary kitchen activities. It is classic for its manual operation. And yet, it's modern too, with its one-touch feature.
This makes it easier for the user to blend ingredients effortlessly. This makes it one of the top kitchen accessories you might want to consider.
What People are Saying About it
—>See More Customer Ratings Here<—
"I love this little guy and use it all the time for soups or a quick smoothie. It's super easy to clean-up and takes up no space on the countertop."
"I've tried out some of the less expensive plastic immersion blenders but find that they don't work as well as this one. I use this for making homemade baby food just about every single day and it works like magic."
More Information and Where to Buy It
See: Full Review of the Conair Cuisinart Immersion Blender.
You can purchase the Conair Cuisinart Hand Blender on Amazon today:

---
Compare Immersion Blenders
For even more options, check out the chart below:
No. 2: Hamilton Beach Hand Blender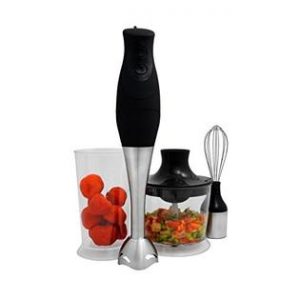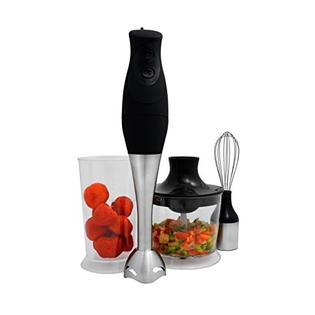 Our 2nd in the Top 5 Hand Blenders is yet another best-selling kitchen product on Amazon. If you are always doing a major production in the kitchen when preparing meals, this is for you! It is easy to manage that you can use it many times in a day.
All-In-One Kitchen Appliance
Those who already own it call the Hamilton Beach Hand Blender an all-in-one kitchen tool. They say it is a one tiny tool with so many food prep functions. Even if you are a working mom, you'll find this blender a perfect companion in the kitchen.
Specs:
222 Watt Motor
Chopping attachment (in the bowl)
Blend, mix, chop, puree, etc.
Dishwasher safe attachments for easy clean-up
Control grip makes it very easy to use
Make Meals Instantly
Because of quick blend and mix features, you can make meals at an instant. Chopping garlic, onions, herbs and nuts is effortless because this equipment is run by a 225-watt motor. This power kitchen product has a separate blending wand so mixing the ingredients is much easier.
Blending with this top-of-the-line cooking equipment can be done directly in the serving container or jar. This means a lot of savings and time and effort for the homemaker. You don't need to use a separate serving bowl so, you won't have to wash another dish as well.
Customer Reviews
—>See Customer Reviews on Amazon<—
"Although I did read some of the negative reviews, I still decided to buy it because of the price point. It's $5-10 cheaper than most of the other low-end ones. Despite this, I was pleasantly surprised by this thing. The attachments work well for the various operations and I've been using it for almost two years now with no problems."
"It's a bit louder and heavier than my old one because of the bigger motor. However, this also means extra power and I'm able to use this thing for morning smoothies now. It sure beats getting out my big blender and then having to clean it when I'm done. It has to be in the running for one of the best immersion blenders you can buy."
Learn More about this Immersion Blender
See: Full Review of the Hamilton Beach Hand Blender.
You can easily get it today:

---
Learn How to Make Baby Food with a Hand Blender
If you'd like to try making your own baby food, then you'll need to check out this video below. It's cheaper, healthier and not as difficult as you might think:
No. 3: Epica Heavy Duty Hand Blender
We included the Epica Heavy Duty Hand Blender in our list of best hand blenders because it is one of the highest-ranking kitchen products on Amazon. We are recommending this blender for its heavy duty features. It is designed for homemakers and cooking lovers who do multi-tasking at home.
Specs:
Powerful 350 watt motor (but reasonably quiet operation)
BPA free
One-click attachment release
Multi-speed settings for various kinds of foods
Easy clean-up and countertop storage
Full refund guarantee
Control Grip for easy use
Simple, Yet Powerful
The simple yet powerful features of this bestseller are what make it a perfect must-have for you and for those with so many roles in the family. Since this has multiple speed options, blending is made easier and faster.
This top of the line hand blender has different speed selections that allow you to blend different ingredients to make different meals. Blending for soups and mashed potatoes is not the only function this blender can do. It can perfectly blend fruits for all-day smoothies, too.
What People are Saying About this Best Hand Blender
—>See Customer Reviews and Ratings on Amazon<—
"This thing is a champion and I've never going back to my Kitchenaid hand blender again! It is very powerful, but I just use the regular speed and find that it works fine. I do appreciate the extra power for grinding up the carrots and kale in my smoothie though."
"I'd give this thing 10 stars instead of 5 if I could! It's a bit more expensive than the low-end ones, but what you're getting? It's a kitchen beast and actually wouldn't be out of place in a commercial kitchen or restaurant."
Learn More About this Hand Blender
See: Full Review of the Epica Heavy Duty Hand Blender.
You can get the Epica Heavy Duty Hand Blender on Amazon today:

---
No. 4: KitchenAid Hand Blender
Of the 5 items in the Top 5 Hand Blenders, the KitchenAid Hand Blender may be one of the most expensive. However, we can guarantee that it is worth its price. This is such a user-friendly product, not to mention lightweight for easy-bringing. It weighs only 2 pounds so you can carry it around the house.
 Specs:
Soft-grip, non-slip handle for easy operation
Whisk attachment
BPA free
Dishwasher safe attachments
85 Watts of power
Includes a blending cup that's dishwasher safe
Great for the Health Conscious Family
This control grip immersion blender is so perfect for blending veggies and fruits. So, if you are health-conscious, this is an ideal blender for you. You can even start convincing your kids to eat veggies with your freshly blended thick soup.
It does an excellent job at pureeing cooked vegetables if you want to start your kid off early with healthy baby food!
3 Speeds
Many cooking enthusiasts prefer this product because of its impressive features. This affordable price is offered with free shipping. The KitchenAid Hand Blender is so unique! Unlike the other ones with just 2 speeds, this one has 3! You can blend ingredients, crush ice, chop nuts, puree fruits and veggies, and whisk eggs using the appropriate speed.
What Do People Think About It?
—>See Customer Reviews on Amazon<—
"It just seems to work well and is quite durable—it's lasted longer than most of the other ones I've tried over the years. It's not super powerful, but it's great for blending up soups and cream sauces. I actually find the lower power more comfortable to control."
"I seriously love how most of the things are dishwasher safe. This is amazing for my busy life! It is the best hand blender? It just might be! It's good for just about anything you can think of, including blending cooked vegetables for baby food."
Where to Buy It?
See: Full Review of the KitchenAid Immersion Blender.
You can easily buy the KitchenAid Blender on Amazon today:

KitchenAid Immersion Blender Review
---
No. 5: Cuisinart Smart Stick Hand Blender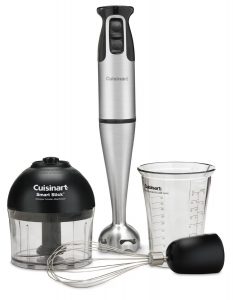 Our last but definitely not the least in the Top 5 Best Hand Blenders is also a star in the kitchen. The Cuisinart Hand Blender is so versatile that it can do multi-function.
Even those who are not expert in the kitchen prefer this because it is easy to use. This blender is elegant in its brushed stainless steel housing. The measuring beaker guarantees perfect result because of the exact measurement of the solid and liquid ingredients.
Specs:
Variable speeds
200 Watt motor
Stylish housing
Blend and whisk attachment
Easy grip handle
Extremely Versatile
Certainly, the ability to manage a mixture of various tasks can turn one into a culinary expert in the kitchen. You are sure to prepare dishes effortlessly with the push-button control for instant blending.  The versatility of this hand blender is what makes it a favorite in the kitchen.
What Do People Think About It?
—>See More Customer Reviews Here<—
"This little guy does a great job at blending up soups or a small batch of refried beans or hummus. I use it almost everyday. In my opinion, it's the best hand blender out there and the blade has stayed sharp for a really long time."
"It's a bit bigger than I thought it would be, and doesn't work great for blending up drinks. However, for soups or a big pot of just about anything? It's pro level! It's a nice choice if you want some big results when blending!"
Learn More about this Immersion Blender
See: Full Review of the Cuisinart Smart Stick Hand Blender.
You can purchase the Cuisinart Immersion Blender on Amazon today:

Immersion Blender vs Blender
Okay, so you already have a blender (like the Vitamix or Oster Versa) that might sit on your counter all the time. I know that we use our Vitamix every single day, and sometimes multiple times.
If you already have one of these, does it make sense to invest in an immersion blender? Let's find out!
Buy an Immersion Blender If…
You make soup a lot. It's so much easier to blend it in the pot, rather than dumping boiling hot liquid into a Vitamix.
You want to make homemade baby food in small quantities. An immersion blender excels at making small batches of stuff, with very minimal clean-up after.
You like to make homemade salad dressings. They're nicer when mixed up a bit (mix that oil + vinegar), but it's a pain to do this in a big blender.
You like creamy mashed potatoes. Imagine doing this in a blender? Not so much! However, a hand blender does work extremely well for this, and you can just do it in the pot you boiled the taters in.
If you don't do any of these things, then consider just sticking with a regular old blender that sits on your countertop!
Small Children in the House?
Also, if you have small children that like to touch and pick up things on your kitchen counter, then a hand blender might not be your best choice. The blade is exposed and can actually be quite dangerous. Keep those little fingers away, okay?
What Should I Look for in a Hand Blender?
There are a number of factors that you'll want to consider before buying your hand blender. Here are just a few of them to think about.
Cord, or Cordless
If you're looking for the most power, then you'll want to opt for for the one with a cord. They're also more durable, because you don't have the battery wearing out after too many charges thing going on.
However, if you don't have a lot of power outlets in your kitchen, you may like the convenience of a cordless one.
Speed 
The best blenders allow for a range of speeds, including slower and faster options. After all, it's quite different to make an icy cocktail or to blend a delicate soup.
Power
If you're looking for a blender that can say mix up some hummus or refried beans, then you're going to want something serious that can handle that. Get the most watts in your price range, all other factors being equal.
Dishwasher Safe
We generally prefer hand blenders that can be washed in the dishwasher. Others require washing by hand, which isn't so bad if you do it right away. But, if you forget? It's not ideal.
Accessories
Some of the newer hand blenders come with a number of accessories like a whip or a slicer. These can be quite convenient, but in our experience, they sometimes don't really work that well. So, don't let this be a factor in whether or not you opt for that specific one.
Length 
If you plan to use your blender to blend a big pot of soup, be sure to get one long enough to reach down to the bottom of a soup pot.
Warranty
Blenders are one of those things that seem to break all the time. Be sure to find one that comes with a warranty of at least a year or two. Longer is obviously better.
Have your Say about the Best Hand Blender
What's the best immersion blender? Leave a comment below and let us know your thoughts.
Also be sure to give this article a share on Facebook, Pinterest, or Twitter. It'll help other foodies, like yourself find this useful resource.
Last update on 2019-08-17 / Affiliate links / Images from Amazon Product Advertising API