Do you want to know the best hand blenders for home use? Then you're most certainly in the right place. Keep on reading for our top picks for this important kitchen tool that'll make your life easier and more delicious too! Or, have a look at the best option: Cuisinart CSB-175R Smart Stick Two-Speed Hand Blender, 2018, Red 
Before we dive deep into the world of stick blenders and immersion blenders, here's a sneak peek at three of our top-rated products here at Kitchen Gadget Reviews
Let's get into the best hand-held and stick blenders to consider for this upcoming year.
Best Hand Blender: Top 7 Choices
How would you like a hand blender that's affordable and yet functional? Our best Hand Blenders consist of top of the line products that are priced reasonably and yet they are feature-filled.
We chose the items which we feel will suit both your food preparation needs and budget. They are the ones you can trust for many years. Each of these blenders has special features that make it a bestseller on Amazon.
Our goal is to help you not to get overwhelmed. There are so many kitchen items available online today. But the best hand blenders in our list are the ones that outperform the others but are reasonably priced.
They are the bestsellers on Amazon today. These ones are the most trusted ones of many homemakers, too! Read on and pick the right one for you and your family.
#1: Cuisinart Hand Blender
Are you looking for a top-quality immersion blender at a very reasonable price? Then this one from Conair Cuisinart should be at the top of your list. Read our buying guide packed with information to help you decide if it's right for you.
The Cuisinart Blender is our No. 1 in the list of top hand blenders because it is one of the most affordable on Amazon. The modern design and brushed chrome color of this item makes it a totally attractive product. You'll be more impressed as this hand blender is a No.1 bestseller in this category.
It's certainly one of the best picks.
Features:
One-touch operation
Variable speeds
200 Watt Motor
Blending and whisking attachments
Comfortable to use
Use for soups, smoothies, desserts, baby food, etc.
One-Touch Feature
This leader in hand blenders is a combination of the classic and contemporary kitchen activities. It is classic for its manual operation. And yet, it's modern too, with its one-touch feature.
This makes it easier for the user to blend ingredients effortlessly. This makes it one of the top kitchen accessories you might want to consider.
Manual Operation
The Conair Cuisinart Hand Blender is a combination of classic and contemporary kitchen activities. It is classic because it still operates manually. One will still enjoy the natural flavor of the fruit or vegetable because it is blended by the force of the hand.
Variety of Speeds
This top-of-the-line kitchen product has a special dual-speed feature. Its high and low speeds allow the user to choose the task he blending intends to do. Whatever one wants to blend, he is sure to achieve the flavor and consistency he desires. It's the 200-watt motor that will make the blending perfect.
What People are Saying About it
—>See More Customer Ratings Here<—
"I love this little guy and use it all the time for soups or a quick smoothie. It's super easy to clean-up and takes up no space on the countertop."
"I've tried out some of the less expensive plastic immersion blenders but find that they don't work as well as this one. I use this for making homemade baby food just about every single day and it works like magic."
"The two speed operation is handy. This makes it easier to control how thick the final product is, and it makes for less possibility of splash-ups."
"This is the most useful tool in the kitchen. It works perfectly and cleaning is simple with the detachable blade unit."
"The Conair Cuisinart Hand Blender is lighter than some other popular brands. I'm amazed that I can use it for either hot or cold liquids."
Drawbacks of the Conair Cuisinart Hand Blender:
Some reports of leaking
An issue or two with the price and shipping
A few complaints about the warranty
'Hard-to-push' button, according to some
Cuisinart CSB-175R Smart Stick Two-Speed Hand Blender, 2018, Red
Powerful & quiet 300 Watt, DC motor
Ergonomically designed grip with 2-speed slide control and Lock/Unlock button for every blending...
Stick design reaches into pots, pitchers and bowls
8-inch Stainless steel blending shaft
3 -cup (24 oz.) mixing cup is included
Perfect for Soups or Smoothies
Prepare a soup for starters you are sure to boost the whole family's appetite. For the baby in the household, you can still make him his most loved vegetable or fruit puree! Or, start your day off with a green smoothie. And the best thing about it is that this hand blender can be had for a very reasonable price.
Ideal for Small Kitchens
The Conair Cuisinart Hand Blender is best for families with a small kitchen. The stick design will definitely solve your space issues. Placing it on the countertop is just like not adding anything in the kitchen at all. Not everyone has space for the massive Vitamix on their countertop!
Easy to Use
You can prepare anything for the family without worrying about the effort you need to exert. As earlier mentioned, this top kitchen product has a special dual-speed feature. Its high and low speeds allow you to decide the blending task you desire. So, what are you waiting for?
More Information and Where to Buy It
You can purchase the Cuisinart Hand Blender on Amazon today. Check now for the best prices and also to see if this product is eligible for fast, free shipping with a Prime membership:

---
Compare Immersion Blenders
If you take a look online, you'll notice that there are a ton of options for stick blenders. It can be difficult and overwhelming to choose the right one for your needs.
Not to worry though. We've done the hard work for you and narrowed down the choices to some of the best immersion hand blenders. Check out this handy comparison chart below if you want to compare hand blenders:
#2: Hamilton Beach Hand Blender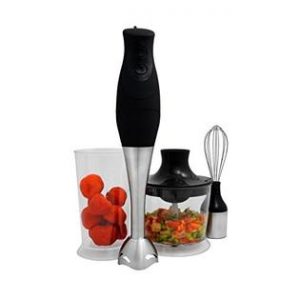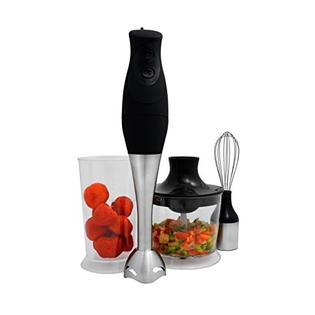 Our 2nd in the best Hand Blenders is yet another best-selling kitchen product on Amazon. If you are always doing a major production in the kitchen when preparing meals, this is for you! It is easy to manage that you can use it many times in a day.
All-In-One Kitchen Appliance
Those who already own it call the Hamilton Beach Hand Blender an all-in-one kitchen tool. They say it is a one tiny tool with so many food prep functions. Even if you are a working mom, you'll find this blender a perfect companion in the kitchen.
Features:
222 Watt Motor
Chopping attachment (in the bowl)
Blend, mix, chop, puree, etc.
Dishwasher safe attachments for easy clean-up
Control grip makes it very easy to use
Make Meals Instantly
Because of quick blend and mix features, you can make meals at an instant. Chopping garlic, onions, herbs and nuts is effortless because this equipment is run by a 225-watt motor. This power kitchen product has a separate blending wand so mixing the ingredients is much easier.
Blending with this top-of-the-line cooking equipment can be done directly in the serving container or jar. This means a lot of savings and time and effort for the homemaker. You don't need to use a separate serving bowl so, you won't have to wash another dish as well.
Customer Reviews
—>See Customer Reviews on Amazon<—
"Although I did read some of the negative reviews, I still decided to buy it because of the price point. It's $5-10 cheaper than most of the other low-end ones. Despite this, I was pleasantly surprised by this thing. The attachments work well for the various operations and I've been using it for almost two years now with no problems."
"It's a bit louder and heavier than my old one because of the bigger motor. However, this also means extra power and I'm able to use this thing for morning smoothies now. It sure beats getting out my big blender and then having to clean it when I'm done. It has to be in the running for one of the best immersion blenders you can buy."
Learn More about this Immersion Blender
See: Hamilton Beach Hand Blender Review.
You can easily get it today. Check now for the best prices and don't forget to see if this product is eligible for fast, free shipping with a Prime membership:
---
Learn How to Make Baby Food with a Hand Blender
If you'd like to try making your own baby food, then you'll need to check out this video below. It's cheaper, healthier and not as difficult as you might think:
#3: Epica Heavy Duty Hand Blender
We included the Epica Heavy Duty Hand Blender in our list of best hand blenders because it is one of the highest-ranking kitchen products on Amazon. We are recommending this blender for its heavy duty features.
It is designed for homemakers and cooking lovers who do multi-tasking at home and it does a ton of things in the kitchen. You'll probably find yourself pulling it out of the cupboard almost every single day! It really is that good.
Specs:
Powerful 350 watt motor (but reasonably quiet operation)
BPA free
One-click attachment release
Multi-speed settings for various kinds of foods
Easy clean-up and countertop storage
Full refund guarantee
Control Grip for easy use
Simple, Yet Powerful
The simple yet powerful features of this bestseller are what make it a perfect must-have for you and for those with so many roles in the family. Since this has multiple speed options, blending is made easier and faster.
This top of the line hand blender has different speed selections that allow you to blend different ingredients to make different meals. Blending for soups and mashed potatoes (also consider a kitchen ricer for this purpose) is not the only function this blender can do. It can perfectly blend fruits for all-day smoothies, too.
What People are Saying About this Best Hand Blender
—>See Customer Reviews and Ratings on Amazon<—
"This thing is a champion and I've never going back to my Kitchenaid hand blender again! It is very powerful, but I just use the regular speed and find that it works fine. I do appreciate the extra power for grinding up the carrots and kale in my smoothie though."
"I'd give this thing 10 stars instead of 5 if I could! It's a bit more expensive than the low-end ones, but what you're getting? It's a kitchen beast and actually wouldn't be out of place in a commercial kitchen or restaurant."
Learn More About this Hand Blender
See: Full Review of the Epica Heavy Duty Hand Blender.
You can get the Epica Heavy Duty Hand Blender on Amazon today. Click the button below to find out more about it:
---
#4: KitchenAid Hand Blender
Of all the items on this list, the KitchenAid Hand Blender may be one of the most expensive. However, we can guarantee that it is worth its price.
This is such a user-friendly product, not to mention lightweight for easy-bringing. It weighs only 2 pounds so you can carry it around the house.
Features:
Soft-grip, non-slip handle for easy operation
Whisk attachment
BPA free
Easy to Clean with dishwasher safe attachments
85 Watts of power
Includes a blending cup
Triple speed for different blending tasks
5 foot long cord
Stylish silver color
Ideal for smoothies, milk shakes, baby food and blended soups
Detachable blending arm
Ideal for making homemade baby food
Great for the Health Conscious Family
This control grip immersion blender is so perfect for blending veggies and fruits. So, if you are health-conscious, this is an ideal blender for you. You can even start convincing your kids to eat veggies with your freshly blended thick soup.
It does an excellent job at pureeing cooked vegetables if you want to start your kid off early with healthy baby food!
3 Speeds
Many cooking enthusiasts prefer this product because of its impressive features. This affordable price is offered with free shipping. The KitchenAid Hand Blender is so unique! Unlike the other ones with just 2 speeds, this one has 3! You can blend ingredients, crush ice, chop nuts, puree fruits and veggies, and whisk eggs using the appropriate speed.
KitchenAid KHB2351CU 3-Speed Hand Blender - Contour Silver, 8 inches
The Removable 8" Blending Arm with Fixed Blade locks into the motor body for easy operation. The...
The soft grip handle offers a non-slip and comfortable grip when continuously blending ingredients
The Whisk Attachment can be used to quickly whip egg whites to fluffy peaks and cream or emulsify...
2 1/2-Cup BPA-Free Chopper Attachment with lid locks is ideal for chopping herbs, nuts, cheese,...
The 3-Cup BPA-Free Blending Jar with Lid to serve or store for later, top-rack dishwasher safe, 5...
Easy to Use
Because the KitchenAid Hand Blender is lightweight, the user can comfortably handle the blending. The soft grip feature of this innovative kitchen gadget allows for continuous blending of more ingredients.
Make a Variety of Things
So light at 2 pounds, the KitchenAid Hand Blender is easy to bring anywhere in the house. It is designed perfectly for health-conscious people. Mothers can start convincing their kids to eat veggies by turning them into a thick soup. They can make refreshing fruit shakes or green smoothies too. All of these are so possible with this super performance hand blender.
A Top-Quality Kitchen Appliance
The KitchenAid Hand Blender has almost zero-negatives. The problems raised are those that can still make this hand blender function even if unaddressed. This is a powerful machine that provides only perfectly blended soups and desserts.
Easier than Ever to Cook at Home
Experience the convenience in preparing dishes for the family. Have the multi-tasking hand blender and start serving healthy and mouthwatering liquid foods at home.
What Do People Think About It?
"It just seems to work well and is quite durable—it's lasted longer than most of the other ones I've tried over the years. It's not super powerful, but it's great for blending up soups and cream sauces. I actually find the lower power more comfortable to control."
"I seriously love how most of the things are dishwasher safe. This is amazing for my busy life! It is the best hand blender? It just might be! It's good for just about anything you can think of, including blending cooked vegetables for baby food."
Where to Buy Hand Blenders?
You can easily buy the KitchenAid Blender online today. Check now for the best prices and also to see if this product is eligible for fast, free shipping:

KitchenAid Immersion Blender Review
Do you want to learn more about the KitchenAid Hand Blender set? Then you'll want to check out this short video below for all the details you need to know about this popular product:
---
#5: Cuisinart Smart Stick Hand Blender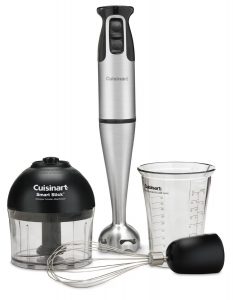 Our last but definitely not the least in the Best Hand Blenders is also a star in the kitchen. The Cuisinart Hand Blender is so versatile that it can do multi-function.
Even those who are not expert in the kitchen prefer this because it is easy to use. This blender is elegant in its brushed stainless steel housing. The measuring beaker guarantees perfect result because of the exact measurement of the solid and liquid ingredients.
Key Features:
Variable speeds
200 Watt motor
Stylish housing
Blend and whisk attachment
Easy grip handle
Extremely Versatile
Certainly, the ability to manage a mixture of various tasks can turn one into a culinary expert in the kitchen. You are sure to prepare dishes effortlessly with the push-button control for instant blending.  The versatility of this hand blender is what makes it a favorite in the kitchen.
What Do People Think About It?
—>See More Customer Reviews Here<—
"This little guy does a great job at blending up soups or a small batch of refried beans or hummus. I use it almost everyday. In my opinion, it's the best hand blender out there and the blade has stayed sharp for a really long time."
"It's a bit bigger than I thought it would be, and doesn't work great for blending up drinks. However, for soups or a big pot of just about anything? It's pro level! It's a nice choice if you want some big results when blending!"
Learn More about this Immersion Blender
See: Cuisinart Smart Stick Hand Blender Review.
You can purchase the Cuisinart Immersion Blender on Amazon today:
---
#6: Koios Immersion Blender Review
KOIOS 800-Watt/ 12-Speed Immersion Hand Blender(Titanium Reinforced), Turbo for Finer Results,...
POWERFUL HIGH-QUALITY MOTOR - The hand blender devices feature 12-SPEED + TURBO / 800-Wattage...
304 STAINLESS STEEL &TITANIUM-REINFORCED BLADE - The unique 4 BLADES TITANIUM PLATED BLADE easily...
ANTI-SPLASH - Enjoy perfect results with no mess. The stainless blade is partially covered by a bell...
VERSATILITY- KOIOS 3-in-1 hand blender and attachments included Hand Blender, Whisk & Milk Frother...
LIFETIME SUPPORT- Never worry about its life. To ensure the highest quality standards, every hand...
The Koios hand blender has become quite popular in recent years for a number of reasons. Here are just a few of the most important ones.
2-Year Warranty
We LOVE to recommend products from companies who stand behind their products. Most other hand blenders available today offer a 1-year warranty, but KOIOS doubles that with two years. Combine that with the excellent, 90-day money-back guarantee and you certainly have a winner.
A Ton of Power
Coming in at 500 watts, this KOIOS blender has more power than some traditional style blenders! That's certainly impressive for something that you can hold in your hand. But, smart construction means that this thing won't fall apart or break down easily.
Key Features of one of the Best Immersion Blenders
500 Watts
Heavy-duty copper motor
12 speeds
Ergonomic grip
Includes a whisk
Ideal for smoothies, soups, stews, mayo, salsa, batters and more
Dishwasher safe parts
Easy to clean
Comfortable touch silicone buttons
Includes a cookbook
Engineered in Germany
2-year warranty
90-day money-back guarantee
User Reviews for the Koios Hand Blender
—>Read More Customer Reviews Here<—
"Awesome little hand blender that has a ton of power for making pureed soups. It's so much easier than transferring boiling hot liquid into the blender and I now feel like I can't live without this thing."
"The second you get this thing into your hands, you know that it's a high-quality appliance. It's heavy, durable and gets the job done quickly and easily. Clean-up is very easy too and just takes a quick rinse, or you can put the removable parts into the dishwasher."
"Great for making baby food. I generally just blend up a bit of whatever we're eating for meals and it's super quick and easy. So much better than mucking up a whole blender."
Shop Now for the Koios Stick Blender
Does it sound like the right option for your kitchen? It's certainly one of our favourites to consider. Check it out for yourself over on Amazon and don't forget to see if it's eligible for fast, free shipping with a Prime membership:
---
#7: Utalent 5-in-1 Stick Blender
Immersion Hand Blender, UTALENT 5-in-1 8-Speed Stick Blender with 500ml Food Grinder, BPA-Free,...
EASY TO CLEAN & SAFE. Detachable attachments are easier to clean, chemical free with ETL, dishwasher...
MILK FROTHER ATTACHMENT: Portable hand-held milk frother makes milk foam for your coffee.
MORE POWERFUL. 250 Watt powerful hand blender with 8 - speed + turbo for milk shakes, soups or baby...
HIGH-EFFICIENCY BLENDER. Thick stainless steel mixing wand with 4 - blade system. Make food mixing...
5-in-1 ATTACHMENT & WARRANTY: mixing wand, milk frother, 500ml Food Chopper, 600ml Beaker, Egg Whisk...
If you're looking for one of the best-rated hand blenders, then you don't need to look much further than this one from Utalent. It's got a ton of power, it's the easiest to clean out of all the options on this list and also is backed by a nice 2-year warranty. There really isn't much that's not to love about this one.
Features
5 in 1 functionality
8 speeds
Ideal for baby foods, purees, whisking eggs, smoothies and more
Easy to clean
Attachments are dishwasher safe
BPA free
Milk frother attachment
250 watts
4 blade system
2 year warranty
User Reviews 
"Would for sure recommend this to anyone who likes to cook. It has enough power to blend just about anything and it's so easy to wash as the bottom detaches and just pops into the dishwasher. Great design and I love the generous warranty too."
"Really comfortable to use this thing and it blends soups or smoothies in no time at all. Very reasonably priced and I'd highly recommend it to any home cook."
Buy this Best Rated Hand Blender Today
This is certainly one of the best stick blenders available today at a really affordable price. Find out more details about it on Amazon and don't forget to check and see if it's eligible for fast, free shipping with a Prime membership:
Immersion Blender vs Blender
Okay, so you already have a blender (like the Vitamix or Oster Versa) that might sit on your counter all the time. I know that we use our Vitamix every single day, and sometimes multiple times.
If you already have one of these, does it make sense to invest in an immersion blender? Let's find out!
Buy an Immersion Blender If…
You make soup a lot. It's so much easier to blend it in the pot, rather than dumping boiling hot liquid into a Vitamix.
You want to make homemade baby food in small quantities. An immersion blender excels at making small batches of stuff, with very minimal clean-up after.
You like to make homemade salad dressings. They're nicer when mixed up a bit (mix that oil + vinegar), but it's a pain to do this in a big blender (check out our recommendations for salad spinners).
You like creamy mashed potatoes. Imagine doing this in a blender? Not so much! However, a hand blender does work extremely well for this, and you can just do it in the pot you boiled the taters in.
If you don't do any of these things, then consider just sticking with a regular old blender that sits on your countertop!
Small Children in the House?
Also, if you have small children that like to touch and pick up things on your kitchen counter, then a hand blender might not be your best choice. The blade is exposed and can actually be quite dangerous. Keep those little fingers away, okay?
What Should I Look for in the Top Hand Blenders?
There are a number of factors that you'll want to consider before buying your hand blender. Here are just a few of them to think about.
Cord, or Cordless
If you're looking for the most power, then you'll want to opt for for the one with a cord. They're also more durable, because you don't have the battery wearing out after too many charges thing going on.
However, if you don't have a lot of power outlets in your kitchen, you may like the convenience of a cordless one.
Speed 
The best blenders allow for a range of speeds, including slower and faster options. After all, it's quite different to make an icy cocktail or to blend a delicate soup.
Power
If you're looking for a blender that can say mix up some hummus or refried beans, then you're going to want something serious that can handle that. Get the most watts in your price range, all other factors being equal.
The Best Hand Blenders are Dishwasher Safe
We generally prefer hand blenders that can be washed in the dishwasher. Others require washing by hand, which isn't so bad if you do it right away. But, if you forget? It's not ideal.
Accessories
Some of the newer hand blenders come with a number of accessories like a whip or a slicer. These can be quite convenient, but in our experience, they sometimes don't really work that well. So, don't let this be a factor in whether or not you opt for that specific one.
Length of Hand Blenders
If you plan to use your blender to blend a big pot of soup, be sure to get one long enough to reach down to the bottom of a soup pot.
Warranty
Blenders are one of those things that seem to break all the time. Be sure to find one that comes with a warranty of at least a year or two. Longer is obviously better.
Immersion Blender Reviews
As with any product, it's always savvy to look at customer reviews. A website like this one is a good place to start. Or, you can also take a look at the reviews on Amazon. We generally recommend checking the 3-4 star ones because you'll get the most accurate representation of the product's pros and cons.
Price
You can spend at little as 20 bucks, or upwards of 50 on one of these stick blenders. We generally recommend getting the most expensive one you can afford. They'll last for far longer, have a better warranty and will just work better in terms of having more power and being able to blend up harder food and large amounts of things more easily and quickly.
Hand Blender FAQs
Here are some of the most common questions that you may have about using an immersion blender.
Hand Mixer vs Immersion Blender: What's the Difference?
A hand mixer is designed to mix ingredients such as eggs and sugar when you're making cookies. An immersion blender is designed to turn things into a more liquid form such as smoothies, cream soups or hummus. Although they're quite different in purpose, they're both small kitchen appliances that you hold in your hand.
Can a Hand Blender Crush Ice?
Crushing ice for drinks like a margarita with a hand blender is not recommended. The shape and design is not compatible with crushed ice, nor does it have enough power to do this. To crush ice effectively, a powerful countertop blender with at least 500 watts of power is strongly recommended.
Can you Make Meringue with a Hand Blender?
You can make meringue for a delicious and impressive pie by using a hand blender instead of hand mixer. Use your immersion blender in an up and down motion at high speed. This will whip those fluffy egg whites to perfection. For best results, consider using a tall, narrow container instead of a wide, shallow mixing bowl.
How to use a Hand Blender?
There are a few simple steps you can follow to use your hand blender:
Follow the manufacturer's instructions above all else
Plug it in
Choose the correct accessory for the job as well as container (narrow is better than wider)
Turn it on before or after putting it in the food, depending on the substance
Start with low power setting and move to high
Try to create a suction vortex as foods moves in and under the blade
Hold at a slight angle and keep blending until you reach the desired consistency
Avoid using it with boiling hot foods, unless the manufacturer specially says this is okay
Turn it off, unplug it and then tap with other hand to remove food
Wash according to manufacturer's instructions
What is a Hand Blender?
A hand blender is an easy to use small kitchen appliances that's especially useful for pureed soups, single blended drinks or milkshakes. It's basically a wand that you hold with one hand and then lower into liquid types foods. They vary greatly in power and overall quality, along with price.
How to Whip Cream by Hand Blender?
To use a hand blender to whip cream, use a large measuring cup or other narrow, deep container and ensure the cream is very cold. A mixing bowl is not ideal for creating the suction vortex necessary. If you want to avoid splatters, keep the blade submerged and then whip to desired consistency. Add sugar or flavouring if desired.
What are the Uses of a Hand Blender?
There are various uses for a hand blender. Some of the most popular things to make with an immersion blender include the following:
Pureed or cream soups
Drinks
Whipped cream
Smoothies
Milkshakes
Beating eggs
Pancake batter
Homemade mayo
Pesto
Salad dressing
Hummus
Pureeing tomato sauce (more information: How to Store Tomatoes)
Hollandaise sauce
How to Make a Smoothie with a Hand Blender?
To make a smoothie in a hand blender, combine fresh or frozen fruit and veggies, nuts and seeds, juice, milk or water and ice (optional) in a tall container (liquid measuring cups work well). Immerse the hand blender and turn it to high. Keep blending until smooth and pour into a glass to serve.
Where to Buy Hand Blenders?
You can easily find hand blenders in most big box stores as well as kitchen appliance shops. However, we generally recommend that you buy hand blenders online because you'll find the best prices, as well as biggest selection for all the brands, colours and options.
What is the Best Stick Blender?
You can easily have a look at some of the best stick blender options in this handy chart we put together for you:
How to Use a Hand Blender Without Making a Mess?
If you want to use a hand blender without making a huge mess, here are a few quick tips:
Don't overall the container (2/3 max)
Use a tall, narrow container instead of a wide flat one
Hold the container firmly with your free hand
Consider a splash guard (many immersion blenders come with them)
Blend from the top to bottom
Start low for the power setting and then increase
Consider a cordless hand blender
Not Sure Which Immersion Blender is Right For You?
Not to worry. We've got you covered. Have a look at the top-rated option here at Kitchen Gadget Reviews:
Cuisinart CSB-175R Smart Stick Two-Speed Hand Blender, 2018, Red
Powerful & quiet 300 Watt, DC motor
Ergonomically designed grip with 2-speed slide control and Lock/Unlock button for every blending...
Stick design reaches into pots, pitchers and bowls
8-inch Stainless steel blending shaft
3 -cup (24 oz.) mixing cup is included
Have your say about the Best Hand Blender
What's the best immersion blender? Is it one of them from this list, or are you considering another brand? Leave a comment below and let us know your thoughts. We'd love to hear from you.
Also be sure to give this article a share on Facebook, Pinterest, or Twitter. It'll help other foodies, like yourself find this useful resource.
Last update on 2021-04-09 / Affiliate links / Images from Amazon Product Advertising API