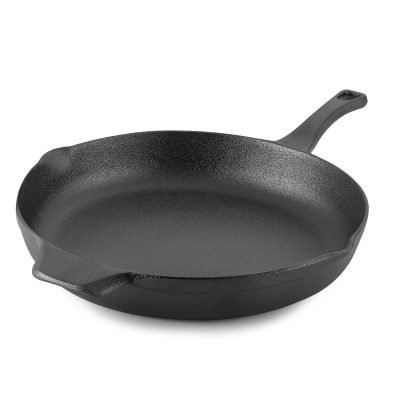 Calphalon Pre-Seasoned Cast Iron Skillet Review
The Calphalon Pre-Seasoned Cast Iron Skillet is one of the most versatile and flexible pieces of cookware available on Amazon today. Any cooking enthusiast or homemaker can prepare dishes in the kitchen easily with this top-quality frying pan.
Perfect for a Variety of Dishes
Kids are sure to love hash browns and sunny-side-up eggs for breakfast. Dads are sure to enjoy pan-grilled chicken or fish for lunch or dinner. Indeed, all of these dishes, and more, are so possible for individuals whose passion is satisfying his or her housemates through sumptuous meals. It all starts with top-quality cast iron cookware.
Ideal for the BBQ or Campfire
This inexpensive product is so perfect for the induction, electric or gas stove. Many people use it for outdoor grilling, oven baking and barbecuing over campfire. Certainly this pre-seasoned cast-iron skillet is worth one's money.
Retains Heat Easily
The best thing about this cookware piece is it heat retention feature. One can simply throw in batches of dishes to cook without having to wait for the pan to heat every time you want to cook something.
Shop Now
The Calphalon Pre-Seasoned Cast Iron Skillet is available on Amazon. Check now for the lowest prices on Kitchenware.

The Specs:
12 x 2 x 18 inches
7 pounds
Equal heat distribution guaranteed
Heat retention feature
Flexible that it can perfectly suit gas, electric and induction stoves
Good for the broiler and oven too
People that Like the Calphalon Pre-Seasoned Cast Iron Skillet are Saying:
"I Love this pan. The pre-seasoning works great. Everything I have tried to cook in this pan has come out great and did not have sticking problems."
"This is a great, HEAVY cast iron skillet. I've cooked with it a few times and had no issues with it in the oven or on the stove."
"This is a quality pan. We use this all the time and it holds the perfect amount of food for two normal-sized overeaters. Seriously, we use this thing almost every single meal."
"It skillet cooks evenly and browns great. I use cast iron cookware a lot and really like this pan. Also, it has a lifetime warranty."
How to Clean a Cast Iron Pan, the Easy Way
You can learn more about seasoning and cleaning a cast iron pan here: How to Take Care of Cast Iron. Or, check out this short video below:
Drawbacks of the Calphalon Pre-Seasoned Cast Iron Skillet:
Heavy that some may find it difficult to handle
The oil must be spread evenly or the pan will rust
A bit expensive for some
A few complaints about uneven distribution of heat
The Takeaway on the Calphalon Pre-Seasoned Cast Iron Skillet:
If you want versatility and flexibility in your kitchen, consider the Calphalon Pre-Seasoned Cast Iron Skillet. As mentioned, this Amazon bestseller can cook dishes in so many ways.
All Kinds of Stoves
You need not buy separate stove either, for this cookware to perfectly fit. Whether you are using an electric, gas or induction stove, you can certainly use this skillet. This piece is already pre-seasoned so you won't have to worry about any sticking too.
Long Handles
Forget about the handling issues you hear and read. This product has long handles for you to easily lift it when for whatever purpose. And, you know why you should get the Calphalon Pre-Seasoned Cast Iron Skillet?
Lifetime Warranty
Well, you are guaranteed of total satisfaction all your life! Yes, you read it right! This high-quality skillet comes with a full lifetime warranty. Imagine!
Shop Now
Make all the dishes your whole family loves to eat with this high-quality cast-iron skillet. Go to the Amazon page to buy the Calphalon Pre-Seasoned Cast Iron Skillet today.

Have your Say about this Cast Iron Frying Pan
What are your thoughts about the Calphalon cast iron skillet? Leave a comment below and let us know what you think.