Best Blenders for Smoothies | Best Smoothie Blenders
The Best Blenders for Smoothies
Many people nowadays are becoming increasingly health conscious. They don't survive a day without exercising. Meal after meal, they also count their calorie intake to make sure they are eating the right amounts of food. But, more important than the sheer quantity of food is the kinds of food you're putting into your body.
For health buffs and those with medical conditions caused by an unhealthy lifestyle, the best option to start your day off is with a delicious green smoothie. Smoothies usually contain a mixture of fruits and vegetables to guarantee a balanced diet. In this article, we present the best blenders for smoothies to partner you in your healthy lifestyle.
But of course you'll need a recipe! Here's our Simple Green Smooth Recipe to help you out.
We picked the best blenders for smoothies to help you decide which one addresses your blending needs. What we included in our list are the blenders you can afford. But more than the price are the powerful features that will provide you the best tasting and highest quality smoothies. Read on for our tip picks for smoothie blenders.
No. 1: Oster Versa Professional Blender
The Oster Versa Professional Blender is considered a powerhouse blender that has the ability to crush anything you put in it.
Try to compare this powerful blender with the other professional blenders available today and you'll see the difference. This one's much cheaper and yet it performs just as well. The only negative to the Oster Versa is that it's a bit louder than the other high-performance blenders.
As a quick aside, we here at Kitchen Gadget Reviews personally have this one in our kitchens and we LOVE it. LOVE, LOVE, LOVE. It's far cheaper than the wicked expensive Vitamix and performs just as well, minus the noise factor.
See: Full review of the Oster Versa Professional Blender.
No. 2: Vitamix Professional Series 750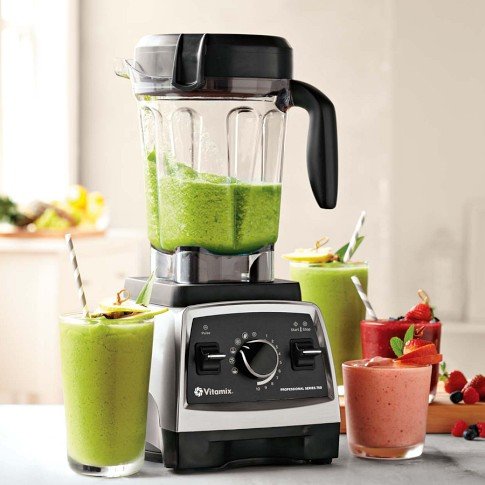 We are recommending the Vitamix Professional Series 750 as one of our best blenders for smoothies because of its power feature. And, despite its heavy-duty performance, this top-of-the-line smoothie blender is a quiet performer.
Yes, you won't hear any noise as its machine runs. Enjoying smoothie blended from this Vitamix machine is like having a cold shake professionally made in a known restaurant or coffee shop.  It really is the blender you'll most often see in restaurant kitchens and coffee shops!
See: Full Review of the Vitamix Professional Series 750.
No. 3: KitchenAid 5-Speed Blender
The KitchenAid 5-Speed Blender is a great alternative to the more expensive Oster Versa or Vitamix blender. This is ideal for your everyday smoothie.
Because it is more affordable, you can easily have it in your kitchen. Its powerful 670-watt machine can do anything from crushing ice to blending soups and making smoothies. With such a powerful machine, you are already treated to a 5-speed smoothie blender that can last for many years.
See: Full Review of the KitchenAid 5-Speed Blender.
No. 4: Ninja Professional Series Blender
Of the four best blenders for smoothies we're recommending, the Ninja Professional Series Blender is the most affordable. Its 1000-watt powerful machine can make smoothies as if you've ordered it from a nearby coffee shop.

If the blender you're looking for is something that can crush ice perfectly, this is the one! Like the KitchenAid blender, this is also an ideal pick for everyday blending. You can do everything and anything with this high-quality smoothie blender.

See: Full Review of the Ninja Professional Series Blender.

We hope you enjoyed our article about the Best Blenders for Smoothies. Here's to a healthier and happier future!



Tags: best blender, blender review, oster versa, Oster Versa review, vitamix, vitamix review


Categorised in: Blenders