Do you want some delicious home made pizza with crispy crust, despite not having a pizza oven? Then you'll need to get yourself a pizza stone. Keep on reading for our guide to this one from Chef's Star to learn whether or not it's right for you.
Review of the Chef's Star Ceramic Pizza Stone
The Chef's Star Ceramic Pizza Stone is a highly-rated baking product on Amazon today.  holidays. Parents get to save more on pizzas with this pizza stone. It also guarantees freshness since all members of the family see it baked right before their very eyes.
The Chef's Star Pizza Pan is definitely worth one's money. Eating pizza baked on this is like enjoying a slice freshly baked from a brick oven.
What makes this product even worth the money is that, one can use it with the other baked goodies, too. It even has a rack made of chrome to help the user serve the pizza effortlessly.
The Chef's Star Ceramic Pizza Stone is available on Amazon:

Compare Pizza Stones
For all the best in making pizza, check out this article: The Best Pizza Stones. Or, take a look at our comparison chart below:
Are you ready for some great pizza with crispy crust? A pizza baking stone is one of the most-used products in our kitchen.
The Specs:
16 x 16 x 2 inches
6 pounds
15-inch round baking stone (one large pizza)
Easy to clean
Even distribution of heat
Chrome rack
Very durable
Can be used for cooking other things too like cookies
If you're looking for a gift for that foodie or home cook who has everything, consider one of these. Trust us, they'll love it. Give them one today!
Tips for Making Homemade Pizza
If you need some help making homemade pizza, then you'll want to check these out: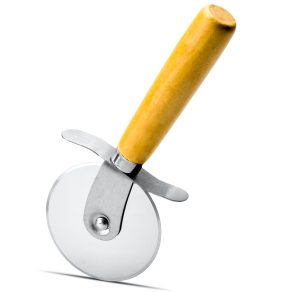 People that Like the Chef's Star Pizza Pan are Saying:
—>Read More Customer Reviews Here<—
"The size of the stone was a true 15 inch pizza stone and it perfect for those who like the traditional circle as opposed to square or rectangle. It came with a little pizza cutter that cuts better than I expected but it is the stone that steals the show. The size comes out to be equivalent to a large at a restaurant and feeds my family of 4 easily."
"This is a fabulous addition to any kitchen! I have always wanted a pizza stone and for this the price was right. I made pizza the other night and the crust was nice and crunchy and heated evenly using this stone. I'm not a chef, but I have to say that it was really, really delicious."
"This pizza stone is a solid product and produces a nice crust. The crust is done perfectly while still allowing the toppings to get hot. Just be sure to follow the instructions for best results. It's really easy to make perfect pizza with this thing. Don't forget to use a pizza peel as well to make things easier when transferring it."
Learn How to Use a Pizza Stone
Drawbacks of the Chef's Star Ceramic Pizza Baking Stone:
Some reports that it was defective when shipped (but replaced easily by Amazon)
Complicated direction, according to some
A few issues with the quality
The Takeaway on the Chef Pizza Stone:
Do you prefer your pizza to taste as if it's baked in a brick oven? Not all pizza parlors and Italian restaurants serve it as you wish. But you can always achieve this quality through a homemade pizza.
And the only way to satisfy your palate is to bake the pizza using the Chef's Star Pizza Stone. This 15-inched round stone pizza provides even distribution of heat so you are guaranteed the best-tasting Italian crust.
Nice, Even Heat Distribution
Owning a Chef's Star Pizza Pan turns you into an instant chef at home. You don't have to be a culinary expert to make the best-tasting pizza. What's good about this product is that you can experiment with different pizza toppings and still achieve the same excellent result. And since the round plate distributes heat evenly, you can be confident that the pizza is hot, fresh and delicious from the crust's tip to end.
Not Just Pizza
Satisfy your craving for freshly baked homemade pizza. Get your family this high-quality pizza stone to bake not just pizza but other breads or cookies too. It even makes a nice serving board for things like meat and cheese platters. The handles make it super convenient for this purpose.
Shop Now
Visit Amazon to buy the Chef's Star Ceramic Pizza Stone today. Shipping is often free with Amazon Prime.
It's pizza baking made easier than ever.

Have your Say about this 15 Inch Pizza Baking Stone
Is it a buy, or are you considering another brand? Leave a comment below and let us know what you think about it.
And don't forget to share this on Facebook, Twitter, or Pinterest.