Are you looking for an affordably priced, top-quality pizza stone that'll last you a lifetime? This one from Lodge Pro should certainly be at the top of your list. Read our buying guide packed with information to help you decide if it's right for you.
Review of the Lodge Pro-Logic Cast Iron Pizza Pan
The Lodge Pro-Logic Cast Iron Pizza Pan is the No. 1 best-selling pizza pan and stone on Amazon today. The reason people opt for this product is that they can use this not just to cook the pizza dough.
Easy to Wash by Hand
Most moms love using this for their roasted chicken, pork and veggies. They don't need a dishwasher to manage cleaning this pizza pan. This highly rated kitchen is so easy to wash by hand.
14-Inch Pizzas
The Lodge Pro-Logic Cast Iron Pizza Pan is round and 14 inches in size. It heats evenly and retains excellent heat for a long period of time. It's also very reasonably priced, for a high-quality cast-iron product.
Can do Lots of Things in the Kitchen
With such a good deal, this unique item can do almost everything at just a price of one. Homemakers can fry, bake, grill, or broil ingredients to ensure the whole family's health. The safety handles are designed for the pan to be easily moved around the kitchen or any part of the house.
Shop Now
The Lodge Pro-Logic Cast Iron Pizza Pan is available on Amazon. Check now for the lowest prices and also to see if it's eligible for free shipping with a Prime membership:

Compare Pizza Stones
Maybe cast-iron isn't your thing? Then, you'll need to check out our Top 5 Best Pizza Stones. Or, have a look at our comparison chart below:
How to Make Pizza with a Cast Iron Pizza Pan
The Specs:
16 x 15 x 2 inches
11 pounds
Cast iron material for quick and even heating of the pan
With safe handles for easy grip
With (limited) warranty for life
Can also be used to grill and roast other dishes like chicken, fish, veggies and pork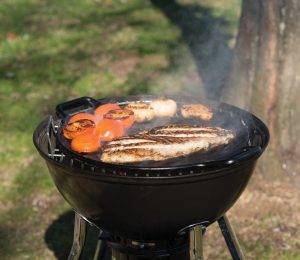 People who Like the Lodge ProLogic Cast Iron Pizza Pan are Saying:
—>Read More Customer Ratings and Reviews Here<—
"Not much to say, except that I love it! But if you're serious about making pizza, this is the only pan you'll ever need, regardless of the technique."
"This is the best pizza pan I've ever used by far. And I should know, I've had several, including one of those round stones. Don't forget to pick up a pizza spatula too which helps to transfer the sticky dough around."
"This is the absolute best pizza pan that money can buy. You will get perfect crust every time without fail. We cut our pizza while it's still in the pan and then serve it from there too. It stays hot for a really long time."
Drawbacks of the Lodge ProLogic Cast Iron Pizza Pan:
A little heavy for some (all cast iron is heavy though)
A few issues with cooking the crust
A problem or two with even cooking
Some complaints about the price
BBQ Pizza with the Lodge Cast Iron Pizza Stone
The Takeaway on the Lodge Pro-Logic Cast Iron Pizza Pan:
Do you have just limited space in the kitchen? If you do, then what you need is the Lodge Pro-Logic Cast Iron Pizza Pan. This No.1 bestseller on Amazon can do many different cooking styles. This means that you don't have to buy a separate griller, broiler or fryer to prepare family meals.
A Beast in the Kitchen
This single pizza pan is definitely a versatile performer in the kitchen! Whether it is pizza or any other dish you want to prepare, you can definitely do it!
A Top Seller
This top-of-the-line pizza cooker has almost zero-negatives! The issues you hear and read about this product are just minimal and do not impact its being a bestseller. Definitely, this cast iron pizza pan is reasonably priced!
Where Can I Buy It?
Make this multifunctional cookware your best buddy in the kitchen. Get it while there are stocks left for you. Go to the Amazon page to buy the Lodge Pro-Logic Cast Iron Pizza Pan today.

Have your Say about this Cast Iron Pizza Stone
What are your thoughts about this pizza stone from Lodge Pro? Leave a comment below and let us know what you think.
Also be sure to give this article a share on Facebook, Pinterest, or Twitter.
Last update on 2021-04-09 / Affiliate links / Images from Amazon Product Advertising API