The 10 Most Popular Ice Cream Flavours in the World
Who doesn't want ice cream right now? We all love this cold, sweet treat right? An individual's childhood would never be complete if he did not enjoy a taste of it. Ice cream symbolizes one's happy memories as a child. It also depicts special occasions and family bonding. Because of this, ice cream makers have developed different flavours over the years.
In fact, today, there are countless concoctions available in the market today. In this page, we present the 10 most popular ice cream flavours in the world. They each have their distinct taste that sets them apart from one another.
Some flavours may appear typical as they are the all-time favorites, especially of kids. However, most of the flavours we included here are the so-called "crazy flavours" that may tickle your interest. Well, that is, if they are available in your country.
If you see some flavors here which you feel are impossible to find in the ice cream store, fret not. You can always make your own ice cream. Invest in a high-quality ice cream maker (see our choices in the Top 5 Ice Cream Makers) and you are sure to make all the flavours you and your family desire.
Here are the 10 most popular ice cream flavors in the world:
Rocky Road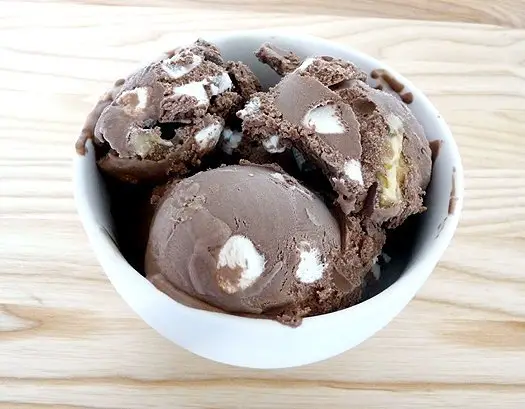 First on our list of most popular ice cream flavours is Rocky Road. This is a decadent mix of chocolate ice cream, marshmallows and chopped nuts. This world-famous ice cream flavor was first introduced by William Dreyer in California in the year 1929. Stories have it that during that time, Dreyer doing an experiment with some ice cream flavours. While doing so, he used his wife's scissors to cut up marshmallows and nuts as add-ons to his plain chocolate-flavoured ice cream. To date, walnuts are frequently used for Rocky Road ice cream.
2. Goat Cheese Cashew Caramel, gelato and sorbet
This ice cream flavor originated from Chicago. It is made with flavorful goat cheese, caramel and salted cashews. This ice cream flavor tastes like cheesecake, making it a unique flavour. Following the cheesy ice cream is yet unique-tasting flavour where sesame seeds, chocolate and figs are mixed to make a gelato. There is also the cucumber rosewater sorbet, for a refreshing ice cream experience.
3. Sweet Corn Gelato
From New Jersey, this ice cream flavor is made of sweet corn, blended sugar, cream, a small amount of caramel corn and sea salt. The blended ingredients are topped with whipped cream. According to ice cream history, the Sweet Corn Gelato is considered a favourite dessert in places like casinos.
4. Cream Cod ice cream
This is one of the most unique-tasting in our list of the most popular ice cream flavours in the world. Some find it strange as it is served as a fried fillet fish filling beautifully arranged in a plate of fish 'n' chips. Physically, this ice cream flavor fro London may look like a hot and delicious dish. the fried fish covers a pepper-vanilla batter before getting processed by deep-frying. The chips that come along on the plate are made from potato ice cream.
5. Crammed Jammin' Cream Doughnut 
Coming in at #5 on our list of popular ice cream flavours is this unique one. In New Zealand, this ice cream flavor is considered work of a genius. Why? Simply because makers of this flavour developed such an ice cream that combines donuts! Australian news has it that because of this unique creation, the Crammed Jammin' Dream Doughnut won the New Zealand Ice Cream Awards, and the Best Ice Cream title a couple of years ago. Added to this concoction are sugar donuts, sweet raspberry sauce, cinnamon and vanilla ice cream. As a result, the finished product tastes like a cold jelly donut.
6. Tequila Ice Cream
Some may find this flavour weird but it is the Mexicans' way of relaxation. Yes! To relax, they indulge in a cold, refreshing ice cream. Tequila is identified not just for margaritas. It is for ice cream too! When the Tequila is sweetened, it produces the attractive floral quality that partners beautifully with the tropical fruits.
For the last (but definitely not the least) 4 flavors in our list, we treat you with America's Top 4 flavours:
Cookies N' Cream
Many ice cream lovers consider this the greatest ice cream they've ever had. It is a combination of vanilla ice cream and crushed chocolate cookies. The two ingredients are blended and frozen for a couple of hours. Those who love this mouthwatering ice cream flavor describe Cookies N' Cream as an ice cream with yummy crunch, not to mention the frostiness that melts in the mouth.
Vanilla Ice Cream
This is considered a classic ice cream flavor. Those who want their ice cream plain and simple opt for the vanilla ice cream. According to many Americans who are health-conscious people, Vanilla is the least sinful sweet treat they've ever consumed.
Chocolate Peanut Butter
Americans love chocolates and they love peanut butter too! This is the reason this ice cream flavor is also a top favorite in the U.S. It is a cold dessert filled with decadent chocolates and a churn of peanut butter. The good thing about this flavor is that, you can still enjoy it even if you're not from the U.S. There are lots of homemade Chocolate Peanut Butter ice cream recipes available online today.
Vanilla Fudge ice cream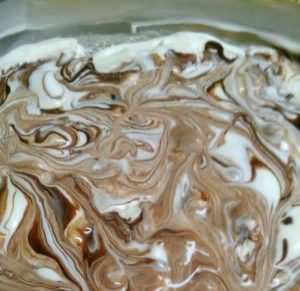 Rounding out our list of the most popular ice cream flavours is this classic. This is one of the sweetest among the most popular ice cream flavours in our list. It is smooth and creamy. This ice cream flavour's creamy and smooth hot fudge is chocolate-flavored, so rich enough but not so sweet. Therefore, the vanilla flavour is still perfectly accentuated. People love the Vanila Fudge ice cream on top of their slice of cake or brownie bar.
Want to Make Your Own Homemade Ice Cream?
Did you enjoy our list of popular ice cream flavours around the world? If you want some of the most delicious ice creams you've ever tasted, you should make your own homemade ice cream! It's really easy and simple to do with a top-quality ice cream maker. There are a lot of choices out there, but we've down the hard work for you and narrowed down the options to the top 5.
See Reviews of the Top 5 Ice Cream Makers for help in making the best choice.
Or, you just go with our #1 pick for top-quality ice cream makers: The Conair Frozen Yogurt and Ice Cream Maker, easily available on Amazon: