Presto Electric Foldaway Skillet Review | Best Electric Skillet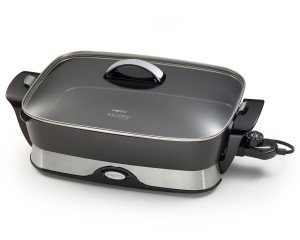 Review of the Presto Electric Foldaway Skillet
The Presto Electric Foldaway Skillet is a Bestseller in Electric Skillets. At such a low price for an electric skillet, one is surely offered a good buy.
The Presto Electric Foldaway Skillet has a deluxe non-stick surface both inside and out. Its skillet pan and cover are both designed safe for dishwashing. Best for fries, stews, bakes, roasts and grills, this top-of-the-line skillet is an ideal pick for homemakers be it for every day meals or special occasions.
This kitchen appliance's built in spout has a dual function as a sprout and spoon rest. Its base and handles detachable not just for easy cleaning, but storing too.
This affordable skillet is designed not too big to address the space issue in the kitchen. And, though looking ordinary, this machine works extraordinarily. Its unique handles can be folded down to separate the base and the skillet pan. Folded handles result in compact storage. There's a limited warranty that comes with this functional electric skillet.
The Presto Electric Foldaway Skillet is available on Amazon:

Compare Electric Skillets
For all the options, check out our: Top 5 Best Electric Skillets. Or, have a look at our comparison chart below:

The Specs:
20 x 12.5 x 8 inches
Heavy cast aluminum base
Non-stick surface inside and out
Folding handles for compact storage
Energy-saving
Tempered glass cover
Stay-cool handles
People that Like the Presto Electric Foldaway Skillet are Saying:
"This thing is really easy to put together and take apart."
"It nicely cook chicken breasts and clean-up is easy too. I find myself using this skillet for more and more stuff as the years go by!"
"Cooking meat is really, really fast with this thing. I love it!"
Drawbacks of the Presto Electric Foldaway Skillet:
Some hear popping noises
Space problem for some
Some reports of inaccurate temperature setting
The Takeaway on the Presto Electric Foldaway Skillet:
Does your family love fried dishes? Then, the Presto Electric Foldaway Skillet should be your No. 1 must-have. This kitchen machine can cook generous servings of meals, but it does not consume much of the space in your kitchen.
Whether you are frying, grilling or baking, you are sure to achieve the taste and texture you desire. Its control master heat control retains your desired temperature automatically. Therefore, you can leave it while cooking. This means more chores accomplished for you.
You need not exhaust all your savings for a high-quality electric skillet. Indeed, with just a little money to spend, you make everyone at home (and even your guests) happy with your happy cooking!
You can buy the Presto Electric Foldaway Skillet on Amazon today:



Tags: affordable electric skillet, electric skillet


Categorised in: Electric Skillets