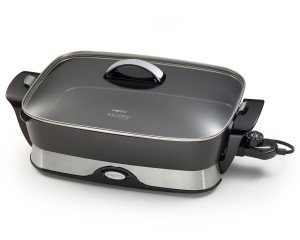 Are you looking for a top-quality electric skillet for you home kitchen? Then this one from Presto should be at the top of your list. Read our complete buying guide packed with information to help you decide if it's the right one for you.
Review of the Presto Electric Foldaway Skillet
The Presto Electric Foldaway Skillet is a Bestseller in Electric Skillets. At such a low price for an electric skillet, one is surely offered a good buy.
Non-Stick Surface
The Presto Electric Foldaway Skillet has a deluxe non-stick surface both inside and out. Its skillet pan and cover are both designed safe for dishwashing. Best for fries, stews, bakes, roasts and grills, this top-of-the-line skillet is an ideal pick for homemakers be it for every day meals or special occasions.
Presto 06857 16-inch Electric Foldaway Skillet, Black
Heavy cast aluminum base features a deluxe nonstick surface, inside & out. skillet pan & cover are...
Built-in spout for pouring liquids from skillet doubles as a spoon & spatula holder when cooking &...
Fold down handles to detach skillet pan from base. with handles folded in, the base & handles store...
Dimensions: 19. 81" x 12. 25" x 8. 06"; Pan dimensions: 15. 75" x 11. 87" x 2. 87" approximately
Tempered glass cover & stay-cool handles allow skillet to double as a buffet server
Convenient Features
This kitchen appliance's built in spout has a dual function as a sprout and spoon rest. Its base and handles detachable not just for easy cleaning, but storing too.
Affordably Priced
This affordable skillet is designed not too big to address the space issue in the kitchen. And, though looking ordinary, this machine works extraordinarily. Its unique handles can be folded down to separate the base and the skillet pan. Folded handles result in compact storage. There's a limited warranty that comes with this functional electric skillet.
Where Can I Get it?
The Presto Electric Foldaway Skillet is available on Amazon. You can often find the best prices there, and don't forget to see if this product is eligible for free shipping with a Prime membership:

Compare Electric Skillets
For all the options, check out our: Top 5 Best Electric Skillets. Or, have a look at our comparison chart below:

If you frequently cook things like pancakes, you may want to consider something with lower sides. Take a look at our top choices here: Best Electric Griddles.
The Specs:
20 x 12.5 x 8 inches
Heavy cast aluminum base
Non-stick surface inside and out
Folding handles for compact storage
Energy-saving
Tempered glass cover
Stay-cool handles
Presto Electric Skillet Review
People that Like the Presto Electric Foldaway Skillet are Saying:
"This thing is really easy to put together and take apart. It's small enough that you can store in just about any cupboard in your kitchen, but big enough that you ca actually cook a decent amount of food in it."
"It nicely cook chicken breasts and clean-up is easy too. I find myself using this skillet for more and more stuff as the years go by!"
"Cooking meat is really, really fast with this thing. I love it! We take this when we go camping in our RV and don't want to get the stove all messy, or pack various frying pans and such. You can literally cook just about everything in this."
—>Read More Customer Reviews and Ratings Here<—
Drawbacks of the Presto Electric Foldaway Skillet:
Some hear popping noises
Space problem for some
Some reports of inaccurate temperature setting
The Takeaway on the Presto Electric Foldaway Skillet:
Does your family love fried dishes? Then, the Presto Electric Foldaway Skillet should be your No. 1 must-have. This kitchen machine can cook generous servings of meals, but it does not consume much of the space in your kitchen.
All Kinds of Cooking
Whether you are frying, grilling or baking, you are sure to achieve the taste and texture you desire. Its control master heat control retains your desired temperature automatically. Therefore, you can leave it while cooking. This means more chores accomplished for you.
Reasonably Priced
You need not exhaust all your savings for a high-quality electric skillet. Indeed, with just a little money to spend, you make everyone at home (and even your guests) happy with your happy cooking!
Shop Now
You can buy the Presto Electric Skillet on Amazon today. Check now for the best prices on this, along with all the other kitchen appliances:

Have your Say about the Presto Electric Skillet
What are your thoughts about this unique foldaway skillet? Leave a comment below and let us know.
Also be sure to give this article a share on Facebook, Twitter, or Pinterest. It'll help other aspiring home cooks, like yourself find this useful resource.
Last update on 2021-04-09 / Affiliate links / Images from Amazon Product Advertising API