Are you looking for some of the top soda makers? Then you're certainly in the right place. We'll give the rundown on seven of our favourites, or you can just have a sneak peak below at the best sparkling water makers:
What is the Best Sparkling Water Maker?
Sodas have been getting a bad rep for a number of reasons. Firstly, there are numerous materials like plastic and metal that's involved in the packaging that makes it hard to recycle.
Second, it takes a huge but out of our monthly budget as buying ready-made soda drinks can be expensive. You can save a ton of money by making your own at home. 
Finally, there are the scientific findings you read in newspapers and magazines about the harmful health effects of drinking carbonated beverages that are loaded with processed sugar, chemical additives, and colorings.
Perfect for Hot Summer Days
But does it really mean that we give up on the very thing we seek to refresh ourselves after working and sweating ourselves at work, especially in hot summer days? Not at all!
Enjoy a cool refreshing drink like sparkling juices, lemonade, or a cocktail at the end of a long day with one of these carbonated water makers.  You can do this quickly and easily in no time at all.
Good News for Soda Lovers
Well, we have good news for all you soda lovers out there because there is a way for you to enjoy your fizzy drinks without having to endure all of the problems and conditions mentioned previously. What are we talking about? Why soda makers of course.
These devices are non-electric that are used to carbonate regular tap water and transform them into freshly-made soda water that you can make and enjoy in the comforts of your own home, at your office or any other place outdoors.
Let's Get to our List of the Best Soda Machines
And since it's quality soda that you crave, here's a list of some of our favorite and hottest soda makers available out there today. They're a great addition to any home kitchen. 
#1: SodaStream Jet Starter Kit Soda Maker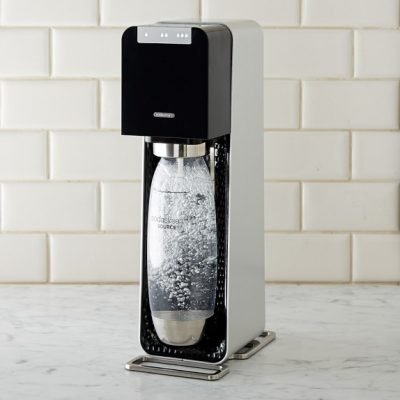 It's only fair to start with the grand poobah of soda makers and that is SodaStream. The Jet Starter Kit comes with everything you'll need to make fresh homemade carbonated beverages. Not only is it elegant and compact, but it's also easy to use, which is how SodaStream usually operates.
It's our top rated product and the one that we recommend for most people. This brand dominates the soda maker market for good reason. It's just that good.
Sodastream Jet Sparkling Water Maker: Easy to Use
All you have to do is twist and lock the bottle in place and push the control button on the device to start the carbonation process. It's both convenient and economical and is compatible with the 60L and 130L CO2 cylinders, which is ideal for those who like to carbonate regularly.
What's Included?
The kit comes with all the right items including a Jet Sparkling Water Maker, a 1L BPA-free reusable carbonating bottle, a mini CO2 carbonator, and a 60L CO2 carbonator.
Pros
Easy to transport

CO2 power source (can bring empty cylinder to many major retailers for a replacement), often sold separately

Simple and easy to use

Compact and lightweight

BPA-free plastic bottles

Quick carbonation
Produces a lot of pressure
Cut down on sugary drinks
Great for the planet with no waste
Cons
Basic model with limited features

Requires a full water bottle
What do People Think About It?
—>See More Customer Reviews and Ratings Here<—
"Works pretty well, but it does take a little bit of tweaking to get the perfect amount of fizz to it. I press hard, and use 2, 5 second pumps. I picked up a nice drinking glass set which is perfect for having people over."
"You probably won't save a ton of money by switching to someone like this from canned soda. But, I do love that I can control what goes into mine, and also that I'm not creating a ton of waste. The Sodastream Jet works well and overall, I'm really happy with it."
What Kind of Drink Can I Make With It?
Here's one simple recipe that the company recommends for making Rosemary Limeade. We tried it out and it was refreshing and delicious!
1 cup lime juice

3/4 cup sugar

Peel from 2 limes

Two  sprigs fresh rosemary, plus more for garnish

1 Litre cold Sparkling Water
Boil the lime juice and sugar together until the sugar dissolves. Add the lime peel and rosemary and boil for 1 more minute. Remove from heat and let cool in the fridge.
Add the water and syrup together into glasses with ice. Garnish with more fresh rosemary.
Where Can I Get It?
Does it sound like the right soda machine for you? Check it out for yourself online, and don't forget to sign up for a prime membership because you'll often get free shipping:

Sodastream Jet Review
#2: DrinkMate Carbonation Soda Maker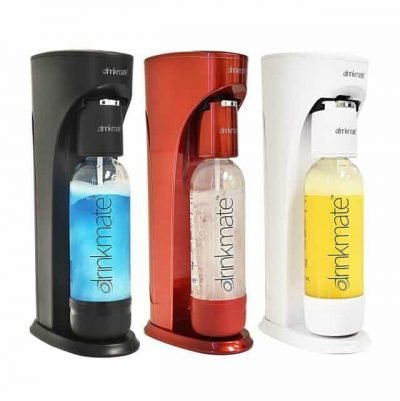 DrinkMate is a worthy contender for best soda maker and a commendable alternative to SodaStream. If you're an adventurer who likes to sample a range of carbonated beverages, then that's what the Carbonated Soda Maker aims to do. Some brands don't encourage creativity with their products, but DrinkMate, on the other hand, doesn't shy away from that and that's reflected in a nice homemade wine spritzer.
No Clean-Up Required with the Drinkmate Carbonated Water Machine
This appliance allows you to carbonate and liquid there is and couldn't be any easier for users to learn how to operate it. That's because this product doesn't require any batteries or electricity and is fairly easy to clean up. It's also sleek and compact and comes in exquisite colors of black, white or red, hopefully, one that matches your kitchen set-up.
Control Over Fizziness Level
The patented Fizz Infuser gives you complete control of how much carbonation you have in your drinks, allowing you to make absolutely genuine fizzy beverages.
DrinkMate Sparkling Water and Soda Maker, Carbonates Any Drink, CO2 Cylinder Not Included (Matte...
The DrinkMate is the ONLY carbonation beverage maker that allows the user to carbonate ANY BEVERAGE...
Patented detachable Fizz Infuser and two release buttons allow better control on release of CO2
Smaller footprint saves counter space; Ease of use, easy to clean - No Electricity or batteries...
Quick connect bottle is BPA-free with volume mark line
The Drinkmate works with the most common brand of 14.5 oz (60L) CO2 carbonators out there. To find a...
What Do People Think About the Drink Mate Soda Maker?
—>See More Customer Reviews and Ratings Here<—
"I was pretty addicted to Diet Coke and the amount of recycling each week was frankly getting quite embarrassing. I made the switch to carbonated water with a little bit of lime or lemon juice and it's been kind of a game-changer. It's way healthier and also a whole lot cheaper."
"I used the Sodastream for a few years until it broke, but decided to give the DrinkMate a try because I wanted to use it for things other than water. Seriously love it and find it far more user-friendly than the Sodastream. It was very intuitive to use, right out of the box."
"Worked great for a few months, but then just stopped. However, I contacted the company and they send me a free replacement that's now been going strong for almost a year. Overall, am very happy with my purchase and I'm happy to not be throwing all those soda cans into the trash anymore."
Pros
Can turn any liquid into a fizzy drink

The unique cap prevents a mess

Small, compact footprint

Simple to understand and easy to operate

No electricity or batteries required

Gas cylinder can be exchanged at many retailers
Cons
Requires SodaStream CO2 canisters

Not dishwater safe
Where to Get It?
Does it sound like the right kitchen appliance for you? Check it out over on Amazon.com:

Compare Sparkling Water Machines
Do you want to see the head-to-head comparison of some of our top picks for these products? Then you'll certainly want to check out this handy chart we put together for you:
#3: Aarke Premium Stainless Steel Carbonator
This unique soda maker, unlike its plastic counterparts, is a sleek and elegant stainless steel version from the house of Aarke that looks as good as the bubbles it makes. It would be a lovely addition to your kitchen countertop. Though it's minimalist and compact, it carbonates like the best carbonated water makers out there.
We LOVE this new soda maker that just came onto the market in the past few years. It's a top of the line appliances at a surprisingly reasonable price and is one of our favourite machines.
A Beautiful Addition to your CounterTop
There's an interesting and satisfying buzzing sound that comes from the machine, indicating that the carbonation has kicked in and you're ready to release, unscrew and enjoy. This Aarke product lets you prepare fine fizzy beverages without the need for electricity or even batteries.
AARKE - CARBONATOR II (PREMIUM CARBONATOR/SPARKLING WATER MAKER) (Stainless Steel)
✅NEW MODEL - Same Great Looks as first generation model with updated internal features
✅KIT INCLUDES - 1 Carbonator (Sparkling Water Maker), 1 PET Bottle, 1 User Manual (Gas Cylinder is...
✅NONTOXIC BOTTLE - Our Bottle is safe, nontoxic and made from high quality PET plastic
✅SLEEK AND COMPACT - The Aarke carbonated water machine requires no batteries or electricity, and...
✅EASY TO USE - Requires separate purchase of 60L 14.5 oz Co2 carbonator cartridge, which is easily...
What Do People Think About the Aarke Carbonated Water Machine?
—>Read More Customer Ratings and Reviews Here<—
"I've had this soda maker for a couple of years now and it's stood up to the test of time really well. Seriously, it still works perfectly and it's showing no signs of wear and tear. I love the design that looks go nice on my countertop. Better than the other brands, hands down."
"This is an awesome bubble machine that works really well. My whole family, including my three years old loves drinking carbonated water. We have a small drink addiction, but this makes it healthier! When he goes to bed, the wife and I make some cocktails with it."
"So easy to use and exactly what I needed. The amount of recycling from cans of soda water was frankly getting a bit embarrassing! I use it to carbonate flat soda and beer too. Shipping was fast and easy too. It takes up only a little space on the counter, making it perfect for smaller kitchens."
Pros
Elegant stainless steel design

Simple to use 

No electricity or batteries required

Small and portable

A high performance system
Takes only seconds
Cons
Expensive

60L carbonator cartridge not included
Shop Now
If you want to pick up this top-quality, sleek looking kitchen appliance, you can find it easily online. Don't forget to check and see if this product is eligible for free shipping with a Prime membership:

#4: SodaStream Genesis Sparkling Water
SodaStream does it again with the compact and affordable Genesis model that's ideal for camping and caravanning trips. It's another product that gives you high-quality fizzy beverages without the need for electricity and batteries. Everything you need to enjoy fresh home-styled sodas and carbonated flavored drinks is a simple push of a button.
Reusable Bottles
It uses reusable BPA free plastic bottles, and because it's one of SodaStream's older models, there are plenty of prices available from various online retail stores. It's also pretty easy to operate that even the kids can use it for themselves.
Pros
Affordable

Sleek and minimalist

Small countertop footprint

Reusable bottles

Lightweight
Cons
Uses plastic bottles instead of glass carafes

No automatic bottle lock
Purchase it Now
Head over to Amazon to learn more about it:

#5: KitchenAid Sparkling Beverage Maker
If you're looking for a soda maker that comes in a vast range of attractive and contemporary colors that's ideal for any kitchen design aesthetics while at the same time is easy to operate and give you fine-tasting fizzy drinks, then the KitchenAid sparkling beverage maker is what you need.
Elegant Design
You only need to fill the included bottle with fresh water, use the carbonated lever are automatically given fizzy water on tap to which you can add all kinds of flavors according to your personal tastes. It's built out of die-cast metal that's easy to clean and an elegant all metal design. It even comes with a complete one-year hassle-free replacement warranty.
What do People Think About It?
—>Read More Customer Reviews and Ratings Here<—
"Beautiful machine that looks really nice on my countertop! However, it can get a little bit expensive, both the machine itself and then the refill cartridges. Cheaper that cans of soda for sure, but not if you're drinking it as an alternative to regular water."
"Love that I don't have to screw the bottle into it, like with the Soda Stream and others similar units. It's seriously the most user-friendly soda maker, and probably the nicest looking one as well. For sure one of the best sparkly water makers."
"I had a few issues with durability. Mine lasted only a few months, but KitchenAid replaced it because it was still under warranty (one year I think). Hopefully this one will last a little bit longer. I combine this with my Mr. Coffee Iced Tea Maker and I have the ultimate at-home drink combination!"
Pros
Re-usable bottle included

Sleek and minimalist

Large capacity

Compact and lightweight

Easy lever operation
Cons
Expensive model

Uses BPA-free plastic bottles instead of glass carafes
Find out More
Do you want to learn more about this popular bubbly water maker? Read this: KitchenAid Sparkling Beverage Maker Review. Or, check it out for yourself over on Amazon:

#6: SodaStream Source Sparkling Water Maker
Rounding out our list of the best soda makers is another one from Soda Stream.
Once more, SodaStream demonstrates why it's one of the best, if not the best soda maker around, this time with the Source Sparkling Water Maker. And it wouldn't be so if it wasn't easy to use and make sodas, sparkling water and beverages with just a single press of a bottom for that matter.
Customized Carbonation Level
But what really differentiates this model from its competition is that you can customize the level of carbonation with three options to choose from. When you hold the button down, the LED indicator lights up to show you the level that you're on. There's even a convenient automatic locking mechanism that seals the bottles tight to prevent any leakages.
Attractive Design
Not to mention the attractive and modern design that it boasts to make any home look good. With such amazing features, it's no wonder this little powerhouse made it into our list of best soda makers.
What do People Think About It?
—>See More Customer Ratings and Reviews Here<—
"The power model is a nice upgrade from the Sodastream that I bought years ago. It's a bit thinner than previous models so takes up less space on the countertop. However, it has a bit of weight to it and is more substantial. Very easy to set up and use and I like it better than the Drinkmate."
"Easier to use than the old ones with just a press of a button. Seriously, love this thing and I would never waste my money on carbonated water from the store. Probably our favourite kitchen appliance. They make a really nice gift too."
"Our family just doesn't drink that much water straight out of the tap, which is why use this thing! It's far better for our health than juice or pop. For a special treat, we add some ice and flavoured syrup, but for everyday use, we usually just throw in a splash of lemon or lime juice."
Pros
Sleek and compact design

Easy bottle insertion

No manual screw required

No electricity/batteries included

Reusable bottle included

Easy to carbonate water with
Cons
Does not include a carbonator

Uses BPA free plastic bottles instead of glass carafes
Shop Now for one of the Best Soda Makers
If you want to buy one of the best soda makers, you can head over to Amazon.com to find the lowest prices:

How to Use the SodaStream Source
Do you want to find out how to use this popular soda maker machine for home? Then check out all the details you need to know in this short video below:
#7: FIZZpod Soda Maker
FIZZpod Soda Maker - Fizzy Drink Machine with 3 PET Bottles, 3 Caps, 1 Carbonator Cap and Manual -...
🥤 MAKE EXCITING REFRESHMENTS - Enjoy healthy fizzy beverages at the comfort of your home. Start...
🥤 CREATE FUN & TASTY DRINKS- This tool is not only a sparkling water maker. Featuring patented...
🥤 USES STANDARD 60L CO2 CYLINDERS: The FIZZPod Does Not Come with a CO2 cylinder, however all...
🥤 MODERN SODA MAKER - Lightweight and convenient, this soda maker is a delightful piece to have....
🥤 GIVE THE GIFT OF HEALTH - Searching for the perfect present for a loved one who loves fizzy...
Features
Comes with 3 PET bottles, 1 carbonator cap and manual
Can carbonate just about anything, not just plain water
Can re-carbonate flat beer or soda
Comes in three colors (black, white and grey)
Uses standard size C02 cylinders in North America
Can take off and attach bottle without any hassle
Very reasonably priced
Customer Reviews
"Honestly, I'd give this thing 10 stars if I could! It looks great on my counter and also carbonates the water very well."
"FIZZpod is really easy to use and just has a lot of advantages over Sodastream, namely that you can carbonate just about anything with it. I wouldn't be surprised to see this thing become one of the most popular sparkling water makers in a few years from now."
"Has a super small footprint on a countertop which makes it nice for small kitchens. Plus, it looks sleek and stylish. But most important, it does an awesome job at making sparkling beverages and I honestly would recommend this to anyone."
Shop Now
Do you want to pick up one of the best new carbonated water makers available today? Then head over to Amazon to pick up the FIZZpod. Click below to find the best prices and don't forget to see if this product is eligible for fast, free shipping with a Prime membership:

Who Should Consider Soda Makers?
There are a number of people who might want to consider this option for their house. Here are some of the most common reasons for buying something like the Soda Stream:
You're tired of buying bottles of club soda, lugging them home, and then dealing with the recycling after.
You're worried about our Earth and want to reduce the amount of trash and recycling you have.
If you want to improve your health and make the switch from sugary drinks to a healthier, tasty alternative.
You want to save a bit of money over the long-term
If you want to go beyond the standard soda flavours and experiment with some of your own.
What to Look for in Soda Makers?
There are a number of factors that you'll want to consider when choosing a soda maker. Some of the most important ones are:
Stylish Design
This is one of those appliances that's probably going to sit on your countertop all the time. So, if you're worried about it looking nice, then SodaStream may not be your first choice. Instead, opt for the Aarke Stainless Steel Carbonator.
Method of Carbonation 
Most machines rely on a canister of some kind for carbonation (mostly Sodastream cylinders, although DrinkMate does have one too). There are simple enough to exchange at many major retails and it's actually not that of a hassle as one single cylinder can actually last for a long time. In some major cities, there is even a courier who will do this for you.
There are some alternative methods being developed such as sodium bicarbonate tablets, or a pod filled with carbonator beads. There are also some units that make use of one-time CO2 cartridges. However, these things don't really work that well as you can't adjust the fizziness level, and they also don't give enough carbonation for most people.
Price for Soda Makers
Of course, price is a big consideration when deciding which kitchen appliance to buy. However, unlike something like blenders or a toaster oven, there isn't really a massive range of prices and options to choose from for soda makers. In reality, they are all quite similar in these aspects, so it's less of a factor than for other things.
Soda Makers Ease of Use
Some machines require you to screw in the bottle, and then hold down the button until the water is done carbonating. This can be a little bit annoying, especially when compared to those units where you just place the bottle on the unit, press a button once and it does all the work for you.
Glass or Plastic Carafe
Many carbonators come with a plastic carafe. Just make sure it's BPA free and you'll be good to go. However, it does break down over time and may need to be replaced.
We generally prefer the glass ones because they will basically last forever. However, they can break if you're not careful with them.
What you Can Carbonate
Many, if not all of the Soda Stream models only allow you to carbonate water, while others allow to put some fizz back into flat soda or beer. That's just the start and you can actually do a ton of things with these kinds of machines.
What's in the Box for Soda Makers
Be sure to check carefully what you're getting with the package you select. Some are a starter kit and includes everything you need to get up and running. While others already assume that you have a carafe and canister for example.
Customer Reviews
As with anything, it's always prudent to check and see what people are saying about the product before dropping some hard-earned cash, right? In this case, we recommend taking a look at the 3-4 star reviews for soda makers on Amazon because they'll usually give you the best indication of a product's true strengths and weaknesses.
Soda Maker FAQs
There are a number of popular questions that people have about sparkling water makers. Here are the answers to some of the most common ones:
Is it Worth Buying a Sodastream?
If you drink a lot of bubbly water, it can be worth it to buy a Sodastream or other sparkling beverage maker. The main reason for this is that you'll save money when compared to buying it from the store plus you'll minimize your impact on the environment.
How do Soda Makers Work?
Soda makers work by adding carbon dioxide from a pressurized cylinder to regular water in order to create a carbonated beverage. Most soda machines come with the machine itself, CO2 cylinder and one or more reusable containers.
Can you Use Tap Water in Sodastream?
Not only can you use tap water in a SodaStream or other carbonated beverage maker but it's in fact recommended. After the water is carbonated, add flavourings of your choosing.
Is Sparkling Water Bad for your Health?
There is no evidence that sparkling water is bad for you, either for the teeth or bone health. However, adding lots of sugar, alcohol or other calorie filled additions is what often makes this type of beverage not ideal for the health.
Have your Say about the Top Soda Makers
What's your pick for the best soda machine? Is it one of the options from this list or do you have your eye on another one? Leave a comment below and let us know what you think. We'd love to hear from you.
Also be sure to give this article a share on Facebook, Twitter, or Pinterest. It'll help other drink enthusiasts, like yourself find this useful resource.
Last update on 2021-04-09 / Affiliate links / Images from Amazon Product Advertising API