Sodas have been getting a bad rep for a number of reasons. Firstly, there are numerous materials like plastic and metal that's involved in the packaging that makes it hard to recycle. Second, it takes a huge but out of our monthly budget as buying ready-made soda drinks can be expensive. Finally, there are the scientific findings you read in newspapers and magazines about the harmful health effects of drinking carbonated beverages that are loaded with processed sugar, chemical additives, and colorings.
Perfect for Hot Summer Days
But does it really mean that we give up on the very thing we seek to refresh ourselves after working and sweating ourselves at work, especially in hot summer days?
Good News for Soda Lovers
Well, we have good news for all you soda lovers out there because there is a way for you to enjoy your fizzy drinks without having to endure all of the problems and conditions mentioned previously. What are we talking about? Why soda makers of course. These devices are non-electric that are used to carbonate regular tap water and transform them into freshly-made soda water that you can make and enjoy in the comforts of your own home, at your office or any other place outdoors.
Let's Get to our List of the Best Soda Makers
And since it's quality soda that you crave, here's a list of some of our favorite and hottest soda makers available out there today.
#1: SodaStream Jet Starter Kit Soda Maker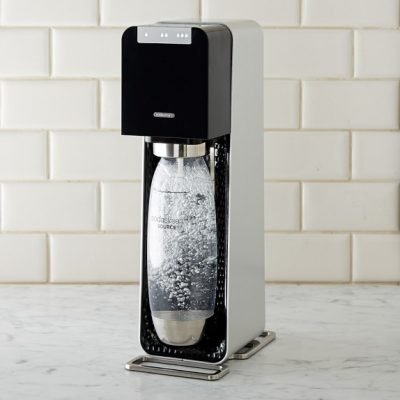 It's only fair to start with the grand poobah of soda makers and that is SodaStream. The Jet Starter Kit comes with everything you'll need to make fresh homemade carbonated beverages. Not only is it elegant and compact, but it's also easy to operate, which is how SodaStream usually operates.
All you have to do is twist and lock the bottle in place and push the control button on the device to start the carbonation process. It's both convenient and economical and is compatible with the 60L and 130L CO2 cylinders, which is ideal for those who like to carbonate regularly.
The kit comes with all the right items including a Jet Sparkling Water Maker, a 1L BPA-free reusable carbonating bottle, a mini CO2 carbonator, and a 60L CO2 carbonator.
Pros
Easy to transport

No electricity or batteries required

Simple and easy to use

Compact and lightweight

BPA-free plastic bottles
Cons
Basic model with limited features
Where Can I Get It?
Does it sound like the right soda machine for you? Check it out for yourself online, and don't forget to sign up for a prime membership because you'll often get free shipping:

Sodastream Jet Review
#2: DrinkMate Carbonation Soda Maker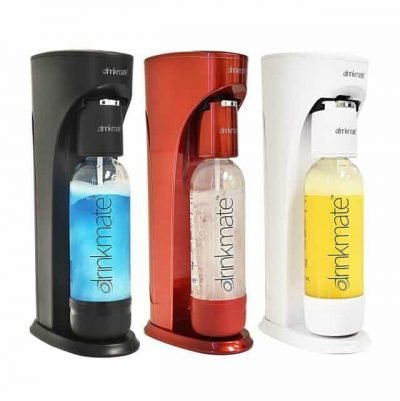 DrinkMate is a worthy contender for best soda maker and a commendable alternative to SodaStream. If you're an adventurer who likes to sample a range of carbonated beverages, then that's what the Carbonated Soda Maker aims to do. Some brands don't encourage creativity with their products, but DrinkMate, on the other hand, doesn't shy away from that and that's reflected in a nice homemade wine spritzer.
This appliance allows you to carbonate and liquid there is and couldn't be any easier for users to learn how to operate it. That's because this product doesn't require any batteries or electricity and is fairly easy to clean up. It's also sleek and compact and comes in exquisite colors of black, white or red, hopefully, one that matches your kitchen set-up.
The patented Fizz Infuser gives you complete control of how much carbonation you have in your drinks, allowing you to make absolutely genuine fizzy beverages.
Pros
Can turn any liquid into a fizzy drink

The unique cap prevents a mess

Small, compact footprint

Simple to understand and easy to operate

No electricity or batteries required
Cons
Requires SodaStream CO2 canisters

Not dishwater safe
Where to Get It?
Does it sound like the right kitchen appliance for you? Check it out over on Amazon.com:

#3: Aarke Premium Stainless Steel Carbonator
This unique soda maker, unlike its plastic counterparts, is a sleek and elegant stainless steel version from the house of Aarke that looks as good as the bubbles it makes. It would be a lovely addition to your kitchen countertop. Though it's minimalist and compact, it carbonates like the best ones out there.
There's an interesting and satisfying buzzing sound that comes from the machine, indicating that the carbonation process has kicked in and you're ready to release, unscrew and enjoy. This Aarke product lets you prepare fine fizzy beverages without the need for electricity or even batteries.
Pros
Elegant stainless steel design

Simple to use and easy to operate

No electricity or batteries required

Small and portable
Cons
Expensive

60L carbonator cartridge not included
Shop Now
If you want to pick up this top-quality, sleek looking kitchen appliance, you can find it easily online:

#4: SodaStream Genesis Sparkling Water
SodaStream does it again with the compact and affordable Genesis model that's ideal for camping and caravanning trips. It's another product that gives you high-quality fizzy beverages without the need for electricity and batteries. Everything you need to enjoy fresh home-styled sodas and carbonated flavored drinks is a simple push of a button.
It uses reusable BPA-free plastic bottles, and because it's one of SodaStream's older models, there are plenty of prices available from various online retail stores. It's also pretty easy to operate that even the kids can use it for themselves.
Pros
Affordable

Sleek and minimalist

Small countertop footprint

Reusable bottles

Lightweight
Cons
Uses BPA-free plastic bottles instead of glass carafes

No automatic bottle lock
Purchase it Now
Head over to Amazon to learn more about it:

#5: Kitchenaid Sparkling Beverage Maker
If you're looking for a soda maker that comes in a vast range of attractive and contemporary colors that's ideal for any kitchen design aesthetics while at the same time is easy to operate and give you fine-tasting fizzy drinks, then the KitchenAid sparkling beverage maker is what you need.
You only need to fill the included bottle with fresh water, use the carbonated lever are automatically given fizzy water on tap to which you can add all kinds of flavors according to your personal tastes. It's built out of die-cast metal that's easy to clean and an elegant all metal design. It even comes with a complete one-year hassle-free replacement warranty.
Pros
Re-usable bottle included

Sleek and minimalist

Large capacity

Compact and lightweight

Easy lever operation
Cons
Expensive model

Uses BPA-free plastic bottles instead of glass carafes
Find out More
Do you want to learn more about this popular bubbly water maker? Read this: KitchenAid Sparkling Beverage Maker Review. Or, check it out for yourself over on Amazon:

#6: SodaStream Source Sparkling Water Maker
Rounding out our list of the best soda makers is another one from Soda Stream.
Once more, SodaStream demonstrates why it's one of the best, if not the best soda maker around, this time with the Source Sparkling Water Maker. And it wouldn't be so if it wasn't easy to use and make sodas, sparkling water and beverages with just a single press of a bottom for that matter.
But what really differentiates this model from its competition is that you can customize the level of carbonation with three options to choose from. When you hold the button down, the LED indicator lights up to show you the level that you're on. There's even a convenient automatic locking mechanism that seals the bottles tight to prevent any leakages.
Not to mention the attractive and modern design that it boasts to make any home look good. With such amazing features, it's no wonder this little powerhouse made it into our list of best soda makers.
Pros
Sleek and compact design

Easy bottle insertion

No manual screw required

No electricity or batteries included

Reusable bottle included
Cons
Does not include a carbonator

Uses BPA-free plastic bottles instead of glass carafes
Shop Now
If you want to buy one of the best soda makers, you can head over to Amazon.com to find the lowest prices:

Have your Say about the Top Soda Makers
What's your pick for the best soda machine? Leave a comment below and let us know what you think. Also be sure to give this article a share on Facebook, Twitter, or Pinterest.