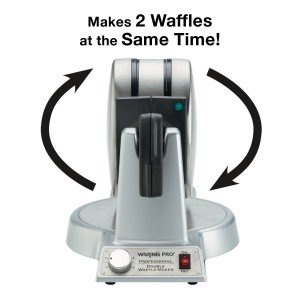 If you're looking for a top-quality waffle iron, this one from Conair makes a nice choice. It's easy to use, makes some delicious waffles and is also very reasonably priced.
Read our buying guide packed with information to help you decide if it's the right waffle maker for you.
Conair Double Belgian Waffle Maker Review
The Conair Double Belgian Waffle Maker has some excellent reviews from users.
The Conair Double Belgian Waffle Maker is certainly not the ordinary waffle maker that sits in the corner of your kitchen. It can make more waffles than the others. Therefore, it is best too, for people who already own a coffee shop, restaurant or dessert station.
Two Waffles at a Time
More toppings and fillings come to mind for some sumptuously bright ideas with this popular waffle maker.  It's simply because this waffle maker can bake two Belgian waffles at a time.
Rotating Feature
What makes this waffle-making product extra special is its rotating feature to bake all sides evenly. Not only that, this kitchen bestseller's rotary thermostat and browning control knob meet the eater's expectations in terms of how he wants his waffle baked. This waffle maker has another feature that the other brands don't usually have—the 'on and off' switch.
Where Can I Get It?
The Conair Double Belgian Waffle Maker is available now on Amazon. Check now for the lowest prices and also to see if this product is eligible for free shipping with a Prime membership:

Compare Waffle Irons
For even more options for the best waffle irons, be sure to check out: Best Waffle Makers. Or, take a look at this comparison chart below:
The Specs:
1400-watt (more powerful than comparable appliances)
Can bake 2 waffles at a time
Extensively deep 1-inch pockets
3 audio beep tones
2 LED indicator light
Browning control knob
Drip tray
Non-stick surface
1 year warranty
Love waffles? Then you'll need to check out this amazing Belgian Waffles Recipe.
People that like the Conair Double Belgian Waffle Maker are saying:
—>Read More Customer Reviews Here<—
"The ability to cook two waffles at the same time looked like a great feature to feed everyone at the same time. This thing makes some legit Belgian waffles that your family is going to love."
"We are impressed. My first try at Belgian restaurant-style waffles is a success and something that I only thought I could have at restaurants is now easy to make at home."
"The machine is easy to use and clean. It makes good waffles consistently. It does take a while to perfect your technique though, so keep on trying and don't give up too easily on it."
"This machine makes the crispness of the waffle that I like. You can adjust the machine to your desired level, so be sure to try a few different ones to see what you like best. We pull this out on the weekend for a special family treat that everyone loves."
Conair Waffle Maker Demo
Drawbacks of the Conair Double Belgian Waffle Maker
A few reports of the cover that's not tightly secure
Some complaints on difficulty in cleaning (see How to Clean a Waffle Iron)
Some reports of uneven cooking
The Takeaway on the Conair Double Belgian Waffle Maker
When you're cooking for your family or friend, your variety of flavored waffles will be a sure hit with the Conair Double Belgian Waffle Maker. With free shipping on Amazon, you don't need to spend much.
Make 2 Waffles at the Same Time
One of the best features about this machine is the ability to make two waffles at the same time. This is perfect for a big family brunch or a hungry family on Sunday morning. You won't have to spend a ton of time slaving over the waffle iron to have a plateful of delicious, fresh waffles.
Make Weekends More Fun!
Seriously, who doesn't love waffles on a lazy weekend morning. Get the kids to help you make them and everyone can sit down to enjoy a delicious breakfast together.
Where to Buy It?
Visit Amazon now to buy the Conair Waffle Maker today. Shipping is often free with a Prime membership. Have a look online to check for the best prices on kitchen appliances:

Have your Say about this Popular Waffle Iron
What are your thoughts about this double Belgian waffle iron? Leave a comment below and let us know your thoughts.
Also be sure to give this article a share on Facebook, Twitter, or Pinterest. It'll help others, like yourself find this useful resource.
Last update on 2019-07-16 / Affiliate links / Images from Amazon Product Advertising API