Let's be real here…we all know that waffles are delicious! If you want to make this special treat for your family for breakfast, you'll need to find the best waffle maker.
We're here to help you find it! Keep on reading for our top recommendations to help you pick the right one for your family.
Best Waffle Makers: Top 6 Picks
Make sure you are making your family delicious treats for their snacks. One of the most delicious things you can prepare for them is waffles. With this cooking gadget, you'll be able to save lots of money instead of going out for expensive breakfasts.
It may be challenging to look for the best waffle maker that will meet your needs and preferences. Below are the best waffle irons you may want to consider.
You may still find it hard to choose among these five best kitchen gadgets. Looking through the specs and reviews on Amazon can sometimes be overwhelming so we took the initiative of picking the best features that can describe each item.
Let this list help you decide which of these top 6 waffle makers is right for you and your family. Here's a sneak peek of our favourites:
Best Waffle Maker
Do you want to find out more about the best waffle irons? Keep on reading for all the details you  need to know.
#1: Presto FlipSide Belgian Waffle Maker
The Presto Belgian Waffle Maker is our No. 1 choice because it is one of the most affordable waffle makers on Amazon. This machine is user-friendly featuring four easy-to-cut sections.
It's Belgian waffles made easy, and it's actually one of our favourite kitchen appliances at our house.
7-Inch Diameter
It also has an extra-thick grid that bakes a seven-inch diameter Belgian Waffle. What's good about this waffle maker is that it has a dual function that guarantees convenient rotation while cooking the waffle, and at the same time, locks to store the waffle in a safe manner.
Countdown Timer
There is no reason for burning with this kitchen gadget. Its countdown timer digitally displays the time as a signal that waffle cooking has been completed.
With its FlipSide and lock features, any member of the family can confidently prepare a sumptuous waffle for the whole family.
Easy to Clean
We LOVE how easy this machine is to clean with just a damp cloth. The non-stick coating actually works very well and you'll find that you don't have to use a ton of oil or cooking spray. This helps to prevent gunk from building up and save you time with clean-up.
Learn More about the Presto Flip Side
See: Review of the Presto Belgian Waffle Maker.
You can get the Presto Flipside Belgian Waffle Maker  on Amazon today. Making waffles couldn't be easier with this one, one of our top picks!

Presto Flipside Review
Do you want to find out more about this quality waffle iron? Then you'll definitely want  to check out this review video over on YouTube:
Compare Waffle Irons
If you want to see how your favourite quality waffle maker stacks up against the competition, be sure to check out this handy comparison chart below:
# 2: Oster Belgian Waffle Maker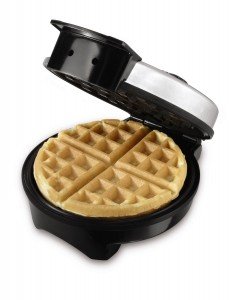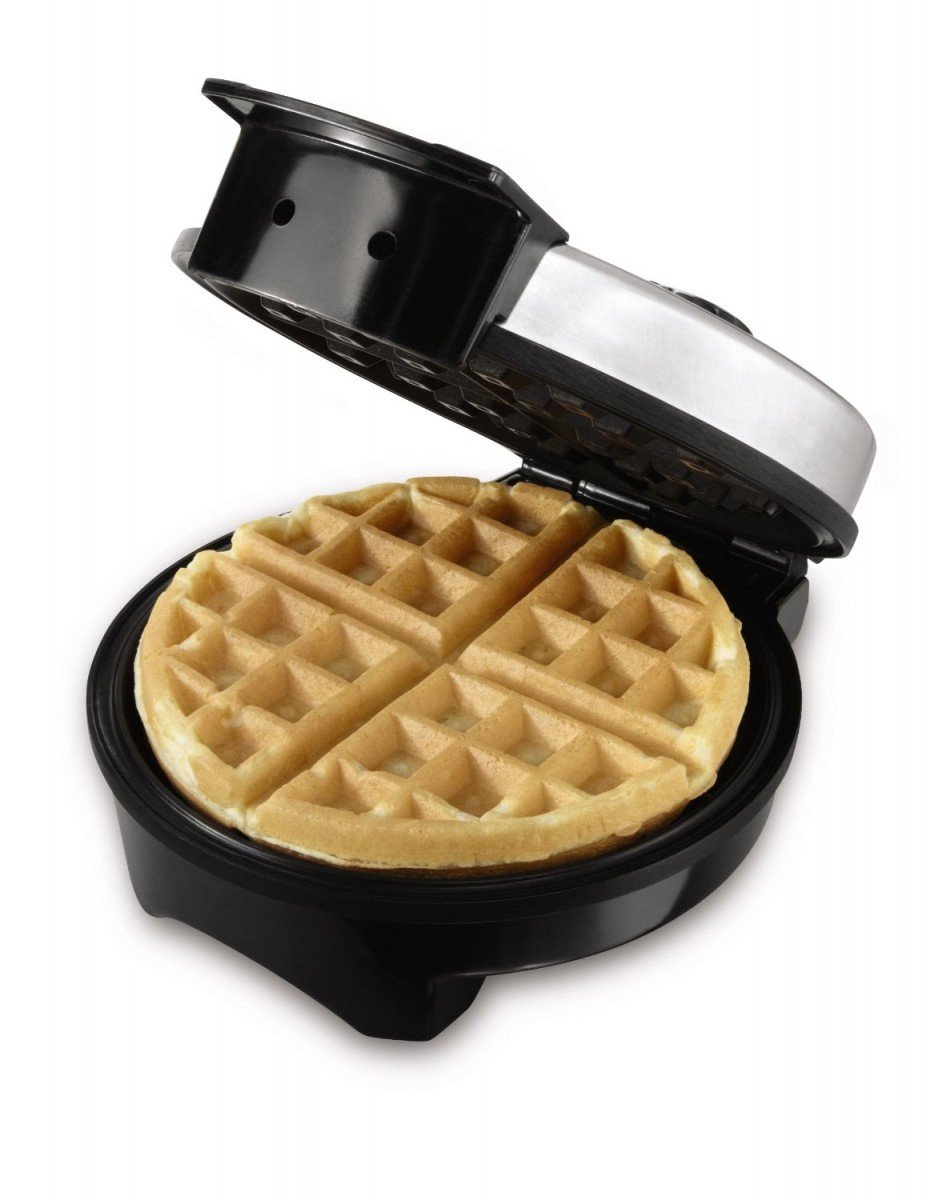 Are you looking for a top-quality waffle iron at a reasonable price? Then this one from Oster should be at the top of your list. Read our buying guide packed with information to help you decide if it's the right one for you.
The Oster Belgian Waffle Maker is among bestselling waffle makers in the market today.  This machine is designed simple and light in weight that's so ideal for basic waffle making. It is lightweight too that the newlyweds who have just started to build a family prefer it.
Perfect for 1-2 People
The Oster Belgian Waffle Maker is best too, for those who live alone in an apartment or bachelor's pad. For an economical price, one or two persons can easily indulge in home-made waffles.
Lots of Convenient Features with this Best Selling Waffle Maker
What make this a preferred home-making gadget by many people are its power on and indicator lights signalling that the waffles are cooked and ready to be eaten. The adjustable temperature control makes the user confident that he can make perfect waffles even if he is not a great cook.
Cool Touch Handle with Oster Waffle Irons
The nonstick cool touch handles guarantee safety and protection while baking the sweet treats and even after that. The Oster Belgian Waffle Maker lets the user choose whether he wants his waffle crisply, light or fluffy.
Very Durable Non-Stick Coating
One of the things we love best about this is the nonstick, duo-ceramic coating. The company claims it can last 8x as long as regular coatings that most other companies use.
In our experience, we found this to be true. It's super durable and shows no sigsn of any wear and tear, even after a year of heavy use. If you check the reviews carefully on Amazon, you'll notice that many people have had the same experience.
Shop Now for the Oster Waffle Iron
The Oster Belgian Waffle Maker is available online. Check now for the lowest prices on kitchen appliances and don't forget to check and see if this product is eligible for free shipping:

Key Features:
Stainless housing
Adjustable temperature for best results in waffles and a variety of crispiness levels
Polished chrome housing makes this nice enough to leave on your countertop
Power on and ready indicators
8-inch round plate for baking
Nonstick cool touch handles for safety and protection
Easy to clean this waffle iron
Titanium infused duo-ceramic non-stick coating that lasts 8x longer than regular coatings
Quick-cooking time (30% faster than similar models from other brands)
People that like the Oster Belgian Waffle Maker are Saying:
"This waffle iron cooks beautifully never sticks and has some nice size portions. I love making Belgian waffles at home and this iron makes it a true pleasure. Oh, and don't forget to pick yourself up a whip cream dispenser too to really take your homemade waffles to the next level."
"This is a great little waffle maker. It is perfect for my small space and doesn't take up a ton of space in the cupboard. We usually make waffles every weekend, unless we pull out the pan for crepes!
"It's good to play around with the settings to get the right level of crispness. Super easy to clean with just a quick wipe with a damp cloth (wait for it to cool down first though!)"
"This creates a perfect size waffle for 1 person. I've had absolutely no sticking problems with this waffle iron. Just make sure it's heated up before you start cooking for the best results. And it's super fast too."
Drawbacks of the Oster Waffle Maker
Reports of tendencies of not closing evenly because of the light weight
Some comments of being not for family use
Very few complaints about difficulty spreading the batter evenly
Absence of the 'on and off' switch
Oster Waffle Maker Review
The Takeaway on the Oster Belgian Waffle Maker
If you're a couple who just got married and moved into your new home, think twice no more. Have the Oster Belgian Waffle Maker in the kitchen and make your breakfast memorable every day. For individuals living solo in an apartment or pad, this is a must-have too, especially if you're always in a hurry to go to school or work in the morning.
Very Affordable
This very affordable waffle maker will help you cook up something delicious to last you all day. Waffles are great starters for the day and they are even greater when you make them by yourself at home.
Perfect for a Small Family
Even if you read the drawbacks you'll see that they are not bad remarks at all! Most of these are but's and if's because bigger machines are preferred for family or group consumption. So, if you are searching for something just for you alone, or for you and your partner, then, this is the best pick!
Where Can I Get the Oster Belgian Waffle Maker?
Ignore the negatives and treat yourself (and your partner) with a highly-rated waffle maker that will give you bright mornings every day. Click below to buy the Oster Belgian Waffle Maker today.

---
#3: Cuisinart Classic Waffle Maker
The Cuisinart Waffle Maker will never be excluded in this list of top-rated waffle makers because we believe that there are still a lot of people who prefer the traditional waffles.
Affordably Priced
Another reason why it is included in our high-quality waffle makers list is because of its affordable price. With this quality product, the whole family can already enjoy the whole household's all-time favorite waffles.
It's our top option for someone looking for the best inexpensive waffle maker.
5 Different Browning Settings
What sets this waffle machine apart is its set of dual indicator lights. It has 5 different settings for browning control. Do you prefer crispy waffles? Or, a little bit chewier. This one has got you covered!
And because it's a top-quality waffle maker, this kitchen product features a round nonstick cook plate with four quarters. You'll love the flexibility of it.
An Excellent Warranty
Purchase comes with a 3-year warranty so this is definitely worth the buyer's money. We LOVE a company that stands behind their products with an excellent warranty like this.
Make Weekends More Fun!
Seriously, who doesn't love waffles on a lazy weekend morning. Get the kids to help you make them and everyone can sit down to enjoy a delicious breakfast together.
Where to Buy It?
See Cuisinart Waffle Iron Review.
You can get the Cuisinart Classic Waffle Maker on Amazon today:

Cuisinart Waffle Iron Review
Does this inexpensive waffle maker sound like the right choice for your home kitchen? You may want to take a look at this review video to see it in action:
---
#4: Conair Double Belgian Waffle Maker
Even though it is more expensive, we included the Conair Double Belgian Waffle Maker in our good waffle makers list because we still find it reasonably priced considering its special feature.
Makes 2 Waffles at the Same Time
Since this kitchen appliance can make 2 waffles at a time, it is ideal not just for home use, but for business too. If that's the case, then, one can have the Conair Double Belgian Waffle Maker for a waffle business.
LED Indicators
The new waffle business owner is sure to impress his customers for an evenly cooked waffle. Yes, this waffle maker has round-shaped plates with rotating function for best results. It also features 2 LED indicators and three different beep tones to signal that waffles have already been cooked.
Rotating Feature
What makes this waffle-making product extra special is its rotating feature to bake all sides evenly. Not only that, this kitchen bestseller's rotary thermostat and browning control knob meet the eater's expectations in terms of how he wants his waffle baked. This waffle maker has another feature that the other brands don't usually have—the 'on and off' switch.
Easy to Clean
Most people who use this find it very easy to clean after it cools with just a slightly wet cloth. A few wipes and you're good to go for next time. Of course, be sure to clean up any spills or burnt bits right away.
Learn more here: How to Clean a Waffle Iron.
Key Features
Can bake 2 waffles at a time
Extensively deep 1-inch pockets
3 audio beep tones
2 LED indicator light
Browning control knob
Drip tray
Non-stick surface
1 year warranty
Customer Reviews for the Cuisinart Double Belgian Waffle Maker
—>Read More Customer Reviews on Amazon<—
"The ability to cook two waffles at the same time looked like a great feature to feed everyone at the same time. This thing makes some legit Belgian waffles that your family is going to love. And of course, pick yourself up a whip cream maker too to really take your waffle making game to the next level!"
"We are impressed. My first try at Belgian restaurant-style waffles is a success and something that I only thought I could have at restaurants is now easy to make at home."
"The machine is easy to use and clean. It makes good waffles consistently. It does take a while to perfect your technique though, so keep on trying and don't give up too easily on it."
"This machine makes the crispness of the waffle that I like. You can adjust the machine to your desired level, so be sure to try a few different ones to see what you like best. We pull this out on the weekend for a special family treat that everyone loves."
Learn More About It
You can get the Conair Double Belgian Waffle Maker on Amazon today. Making waffles couldn't be quicker! Click the button below to find out more about this popular waffle iron, and also to check for the best prices:

---
# 5: Hamilton Beach Belgian Style Waffle Baker Review
Are you looking for a top-quality waffle iron at a very reasonable price? Then the Hamilton Beach Waffle Maker should be at the top of your list.
Read our buying guide packed with information to help you decide if it's the right choice for you.
Hamilton Beach Belgian Waffle Maker with Adjustable Browning Control, Black Nonstick (26080)
MAKE WAFFLES QUICKLY AND EASILY: Make fluffy Belgian waffles in just a few minutes
ADJUSTABLE BROWNING CONTROL: Adjustable browning control makes the waffle crispy on the outside,...
EASY TO CLEAN: Nonstick waffle plates wipe down easily
POWER AND READY LIGHTS: Power on and ready lights indicate when the waffle maker is turned on and...
COMPACT, UPRIGHT STORAGE: Takes up minimal space in cabinets
The Hamilton Beach Belgian Style Waffle Baker is not the ordinary single round waffle baker. It is famous for its square waffles that can bake 2 pieces at a time. This gives the user ample savings for a high-quality kitchen product. It is feature-filled waffle maker that no one will ever imagine is offered at such a cheap price.
Compact, and Light in Weight
This reliable kitchen companion is compact that's so ideal for space-saving. Small families and solo-living individuals prefer the Hamilton Beach Belgian Waffle Baker because it is not so heavy. This means that they can easily bring it anywhere spacious inside the house to bake waffles. This electronic baker has nonstick grids that keep the user away from any worry that the batter might stick.
A Ton of Features You'll Love
This simple yet functional waffle maker is unique in a way. It has impressive features including a preheat light indicating that the device is on. The said light also signals when it is time to add the batter for baking. Another equally special feature of this best-selling Hamilton product is its shade selector ranging from light to crispy.
Make Weekends Delicious
Why not treat yourself, or your family to something special on the weekend, right? Get a pot of coffee on, and start to heat up your waffle iron. Then, make the batter and get some delicious toppings for your waffles.
Sounds awesome, right? It is. Your family and friends will love the results with this thing and will keep coming back for more, every single weekends! Make it a tradition.
Shop Now for Hamilton Beach Waffle Irons
The Hamilton Beach Belgian Waffle Baker is available on Amazon. Check now for the best prices and also to see if this product is eligible for free shipping with a Prime membership:

Key Features:
With non-stick grids that can bake 2 waffles at a time
With 'power on' and 'preheat' lights
Compact for space-saving solutions
Upright storage
Stainless Steel
3 shade selectors
Takes just a few minutes
Easy to clean
Removable plates and drip tray are dishwasher safe
Makes a 7″ round waffle
Flipping action for thicker, fluffier waffles
Sleek, modern look
People that Like the Hamilton Beach Style Waffle Baker are saying:
—>See More Customer Ratings and Reviews Here<—
"This is a simple waffle maker which you just have to simply plug in, put the waffle mix inside, set the timer, and eat the delicious waffles."
"This waffle baker is really great! It makes evenly cooked, light, fluffy and crisp waffles. Be sure to use the Hamilton Beach Waffle Recipe which is amazing!"
"Our skills using this have reached a notch just below expert. I'll be using it regularly for years to come. I checked all the Hamilton Beach waffle maker reviews online and they were certainly right on the mark. A nice purchase for sure." 
" This waffle maker is just too cute! It is the perfect size for me and it works perfectly IF you follow the instructions that come with it."
Drawbacks of the Hamilton Beach Belgian Style Waffle Baker
Absence of the 'on and off' switch
Funny-looking machine according to others
Some complaints of the size against the price
A few reports of uneven baking
Hamilton Beach Waffle Maker Review
The Takeaway on the Hamilton Beach Belgian Style Waffle Baker:
Are you spending too much on waffles at the coffee shop? Now is the best time to stop that! Start being practical and make your own waffles at home with the Hamilton Beach Belgian Style Waffle Baker.
Easy to Follow Instructions
This machine has simple and easy to follow functions. Then you won't have to worry about the complicated procedures of baking. This waffle baker comes complete with light indicators. These lights tell you when the machine is ready for baking.
Delicious Weekend Breakfasts at Home
Don't make the small space at home an excuse either! This leading Hamilton item is compact and can be positioned upright to save ample space in the kitchen. Not only that, you can make different waffle toppings and fillings anytime of the day inside the comfort of your home.
Where Can I Get the Hamilton Beach Waffle Iron?
Forget about the flaws you hear and read about this wonder baker. They are issues will never affect you when you try baking the waffles yourself. Click the Amazon page to buy the Hamilton Beach Belgian Style Waffle Baker today.

---
#6: Calphalon Waffle Maker
If you're looking for one of the best waffle makers that money can buy, then look no further than Calphalon. Sure, it's a bit more expensive than some of the other options on this list but you get what you pay for. In this case, you're getting a serious machine that turns out delicious, fluffy waffles to your precise level of crispiness every single time.
Keep on reading to find out what we like so much about the Calphalon Waffle Maker. We think you'll love yours as much as we  love ours.
IntelliCrisp Feature
The IntelliCrisp feature allows you to choose between 5 shades of browning. Just touch the button and the machine will do the rest. Compare this to some cheap waffler makers and the difference is obvious. No more guesswork here. Just perfection every single time.
Even Cooking Surface
The ceramic cooking plates deliver more heat, more evenly compared to traditional non-stick surfaces. This means that every single part of your waffle, even the corners will be perfectly cooked.
5 Waffle Shades
We know that some people like their waffles a bit softer while others prefer them more crispy. There's no need to sacrifice with this waffle iron. Everyone can have exactly what they want easily and without hassle.
Vertical Storage
If you live in a small space or have a kitchen without a lot of storage space, then you're going to love the vertical storage feature. This is a huge space-saver and kind of a game changer. This reason alone is enough reason to consider this one from Calphalon.
Shop Now
Do you want to pick up one of the highest-rated waffle irons? This one from Calphalon is a premium option that's a cut above much of the competition in terms of features, functionality and durability. Head over the company website to get it today:

---
 What to Look for in a Waffle Maker
If you're looking to buy a new waffle iron, there are a number of factors that you'll want to consider. Here are a few of the most important ones for help finding the perfect one for your home.
Number and Size of Waffles
Some make 1 big waffle, others make 2. You can find some that make a large circle, while others make a square or rectangle. Which one is best? This category is truly a matter of personal preference.
However, keep in mind the size of your family. For  1-2 people, you won't need that big of machine. For 4+ people? Opt for a double to save time.
Speed
How long does the unit take to heat up, and how long does it take to bake a waffle. This might be an imporant factor when you have ravenous wolves at your house on a Sunday morning!
Type of Waffles
Some units specialize in Belgian waffles, while others make regular ones.
Crispiness Level
Most units come with an indicator light that tells you when your waffles have reached perfection! If you find that the waffles out of your machine are a bit less crispy than you prefer, just leave them in for an extra 30 seconds or 1 minutes.
However, some of the higher-end machines have adjustable browning levels, so opt for this one if you like crispy, or chewy waffles.
You'll want to find out whether or not it produces consistent results, every single time.
Ease of Use
Can you figure out how to use it easily, without too much hassle or effort? Some are easier than others most certainly.
Ease of Clean-Up for Waffle Makers
Some of them have removable, dishwasher safe plates which makes clean up a breeze. However, most of them are not actually that difficult to clean because of the non-stick coating on the plates.
Ease of Storage
Are there places to hide the cord when not in use? Does the unit easily stand upright to save space on your counter or when in the cupboard? Is it compact and sleek, 0r big and bulky?
Safety
Does the handle get really hot, or does it stay cool when cooking. Same with the outer surface of the cooking plates. Is there a magnetic breakaway cord.
If you have young children in your house, you'll want to consider this.
Price of Waffle Makers
Waffle irons come in a wide range of prices. Some of the more expensive ones have all the bells and whistles you could hope for. The more inexpensive ones are just basic units that still do well at making waffles, but they just don't have all the features.
The choice is yours!
Waffle Quality
Are they fluffy on the inside, but crisp on the outside? Mouth watering, thick and delicious? This is probably the most important factor! This partly has to do with your batter, but the machine does play a role in this as well.
Are you ready to get your breakfast on?
Waffle Maker FAQ's
There are a number of common questions that people have about waffle irons. Here are the answers that you need to know.
What is the Difference Between a Belgian Waffle Maker and a Waffle Maker?
A Belgian waffle maker makes bigger waffles in both diameter and thickness than a regular waffle maker. Belgian waffle irons also have a deeper grid pattern. The batter for Belgian or regular waffles differs slightly so be sure to look for a specific recipe that's compatible with your waffle iron.
How do I Use a Waffle Maker?
There are a few simple steps to follow to use your waffle maker.
Make the waffle batter
Preheat the waffle maker
Grease the plates (if required, some are non-stick)
Pour the batter onto the plate in a spiral motion
Close the lid and let cook until the indicator light goes off
Remove the waffle using a plastic, wood or rubber cooking utensil
Let cool and wipe your waffle maker clean
Why do you Flip Belgian Waffles?
Some Belgian waffle makers allow you to flip  the waffle to evenly spread the batter. This is ideal for commercial use where visual presentation is important. It also allows you to save on batter but still get a nice, even, thick waffle that doesn't have edges missing.
Should Waffle Batter be Thin or Thick?
Waffle batter should not be so thick that it clings to your whisk or pouring device. Nor should it be so thin that it's basically like water. Ideally, waffle batter has the consistency of pancake batter or honey which allows for thick, fluffy waffles.
Do you Spray Waffle Irons?
Check your user manual for instructions as whether or not you should spray a waffle iron can vary by brand. If it's non-stick, you probably don't have to. Another factor is the amount of oil or butter in the batter. More of it means that your waffles probably won't stick during the cooking process.
Do you Need to Clean a Waffle Iron?
In general, you need to clean your waffle iron but it's not that hard to do if there's nothing stuck on it. When cool, wipe it down with a dry paper towel and then use an old toothbrush to brush away any crumbs. Use a wooden chopstick to remove any stuck on bits.
Why do My Waffles Stick to the Waffle Iron?
Waffles stick to the waffle iron for a number of reasons. The first is that it's not hot enough when you pour the batter in. Secondly, if the surface isn't non-stick, you may have to use cooking spray or butter. Finally, allow the waffle to cook completely before trying to remove it or it may stick.
Can you Put a Waffle Iron in the Dishwasher?
In general, waffle irons don't have removable plates so you can't put them into the dishwasher or a sink with hot, soapy water. Instead, wipe waffle makers clean with a dry, or damp paper towel and prevent a big mess in the first place by using a reasonable amount of batter.
Are Waffles Healthier than Pancakes?
Most people think that waffles and pancakes contain the same amount of calories and fat per serving. However, pancakes are actually healthier than waffles in that they contain less fat and around 100 fewer calories per serving.
Can you Make Waffles Without Oil?
It's not recommended to make waffles without oil because it helps to smooth out the consistency of it. Oil (or butter) also helps to create the crunchy coating on the outside of the waffle when it cooks and prevents sticking to the waffle iron.
How Long do you Leave Waffles in a Waffle Maker?
You should leave waffles in a waffle maker for about 5 minutes. However, this depends on the model and brand of waffle maker you are using so read the instruction manual and go by the indicator light on your device (if it has one).
How do you Know When a Waffle is Done?
The waffle iron you're using will usually tell you when it's done with a beep or an indicator light. Don't lift the lid on waffle makers to peek because it can ruin the waffle. If there is no indicator, wait until you don't see steam coming from your waffle iron and then you'll know it's done.
How Hot Should a Waffle Iron Be?
Most waffle irons have only a single temperature setting which is already optimized for cooking waffles between 355 and 360 degrees F. Too hot and the exterior will burn but the interior won't be done cooking. Too cool and you won't get the crispy exterior on your waffles.
Have your Say about the Top Waffle Iron
Which of these waffle makers are you considering? Is it one of these brands, or are you considering another option? And most importantly, do you like crispy waffles, or ones that a bit chewier? Leave a comment below and let us know your thoughts. We'd love to hear from you.
Also be sure to give this article a share on Facebook, Pinterest, or Twitter. It'll help other waffle enthusiasts, like yourself find thi useful resource.
Last update on 2021-04-09 / Affiliate links / Images from Amazon Product Advertising API