Are you looking for some of the best yogurt makers available today? Then you're most certainly in the right place! Read our buying guide, packed with information to help you decide on the right yogurt maker for your needs.
Reviews of the Top 5 Yogurt Makers 
If you're looking to buy a yogurt maker, it can be a little bit overwhelming. There are so many choices out there and many of the products are very, very similar. You can waste a ton of time searching around for the best yogurt maker for you and your family.
However, we've done the hard work for you! We've reviewed the top 5 yogurt makers so you can make the best choice, minus all the hassle. Get ready for healthy, delicious yogurt in your future! It's perfect in so many diet plans, so enjoy!
#1: Cuisinart Electronic Yogurt Maker
If you're looking for a bread-machine style yogurt maker (just add the ingredients and press a button!), look no further than the Cuisinart Yogurt Maker.
Makes a Huge Batch of Yogurt
Capable on making 50 ounces in a single batch, or 6 x 8 ounce containers, it's a nice pick for a large family or institution looking to have delicious, heathy, fresh yogurt without all the fuss and hassle.
Specs:
Built in cooling system that automatically chills the yogurt when it's done.
Start and stop at the touch of a button
Time control allows varied levels of fermentation
BPA free
Runs on 120 volts
Works with milk or soymilk
For best results, eat within 3 days of making although you can keep it for 8 days in the fridge
Stainless steel control panel
Customer Reviews
—>See Customer Reviews on Amazon<—
"As far as I know, this is the only yogurt maker with an auto shut-off and automatic cooling feature. It's SO convenient to have this, and really makes the whole thing very hassle free. Sure, it's a bit more expensive than some of the other ones, but this one does ALL the work for you."
"This thing works very well and my family eats the yogurt from it almost every day. However, there's a learning curve with it, so keep experimenting with the process and don't give up too easily if it doesn't turn out like expected the first few times."
More Information About It
See: Full Cuisinart Yogurt Maker Review. 
You can easily get the Cuisinart Electronic Yogurt Maker on Amazon today:

Cuisinart Yogurt Maker in Use
Do you want to see this popular automated yogurt machine in action? Then you'll want to check out this video below for all the details you need to know:
#2: Yogourmet Electric Yogurt Maker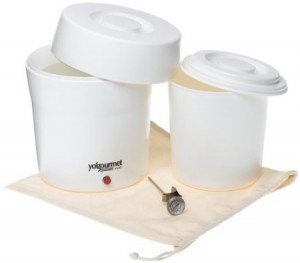 The Yogourmet Electric Yogurt Maker is an economical choice for anyone looking to make large quantities of yogurt in a single batch. Capable of making 2 quarts, this machine has one of the largest volumes available.
Unique Bath Water System
It has a unique water bath system, which keeps the temperature consistent around the whole container. It also can make fresh cheese, sour cream or buttermilk so it will pay for itself in just a couple of months.
Plus, he price is most certainly right!
2 Quarts in 4.5 Hours
The Yogourmet large-capacity yogurt maker is capable of making up to two quarts in just 4.5 hours, which is up to half of the other machines on the market today. This makes it an excellent choice for large families, summer camps, or other institutions.
Weighing in at around 4 pounds, it will leave a very small footprint in your kitchen. This versatile machine can also make fresh cheese, sour cream and buttermilk.
Features:
Maintains the ideal temperature due to unique design
Dishwasher safe inner container so it's easy to clean
Tight lid keeps yogurt fresh
Takes around 4-5 hours
Makes thick, creamy yogurt
Includes a thermometer, instruction manual and cotton bag
What People are Saying About It
—>See Customer Reviews on Amazon<—
"With this machine, you can make no-fail yogurt in hours. I've never had a bad batch come out of here in the three years I've been using it.
"My family eats fresh yogurt almost every single morning with breakfast, so we have two of these things that are almost constantly going. They make delicious yogourt, every single time. We just throw a bit of honey on top and some berries and we have simple breakfast."
"This machine makes the best yogurt I've ever tasted It's very easy to use and makes a large batch of homemade yogurt in just a few hours. My family makes at least a couple batches a week and eats it on granola with berries for breakfast."
"It's works great for 2% milk. Planning on trying out a coconut recipe now for my friend who is a vegan. Curious to see how it turns out. Really good value as this is one of the cheaper yogurt makers out there."
Keeps Yogurt at the Perfect Temperature
The one negative for this machine is that there is no adjustment for the outside, ambient temperature. It will keep the water bath at a perfect level for making yogurt if the temperature in your house is cool, or normal room temperature.
If you Live in a  Hot Climate…
However, if you live in a hot climate and don't have air conditioning in your house, the machine can get up to 120 degrees, which will destroy the bacteria cultures that turn milk into yogurt.
Learn More About It
Buy the Yogourmet Electric Yogurt Maker on Amazon today. Click the button below to find out more, and don't forget to see if this product is eligible for fast, free shipping with a Prime membership:

Compare Yogurt Makers
If you search for yogurt makers online, you'll notice that there are a ton of choices, from normal yogurt to Greek yogurt, and single serve cups to bulk yougurt makers. It can even be a bit overwhelming trying to choose the right one for your needs.
But, not to worry. We've done the hard work for you and narrowed down the choices to some of the best ones available today. Check out this handy comparison chart for everything you need to know:
#3: Aroma 8 Cup Digital Yogurt Maker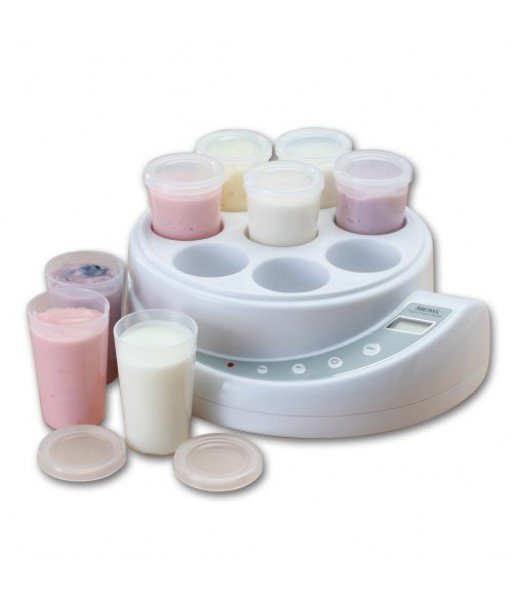 The Aroma 8-Cup Digital Yogurt Maker is a great choice for a small family or couple looking to make individual portions of yogurt to have in their fridge. You can put the dishwasher safe lids on, then just grab and go.
Small Cups for a Quick Snack
The small cups are perfect for lunches or a snack on the go. Plus, it's easy to make different flavours of yogurt in a single batch.
This digital yogurt maker is very user-friendly with a countdown timer and automatic shut-off, making it a shoe-in on any list.
Features:
Weighs under 3 pounds
1 year warranty
Digital display and programmable timer
BPA free plastic cups
Auto shut-off
Dishwasher safe lid and cups
Where to Buy it?
See: Aroma 8-Cup Digital Yogurt Maker
You can buy this yogurt maker on Amazon today:

#4: Dash Bulk Greek Yogurt Maker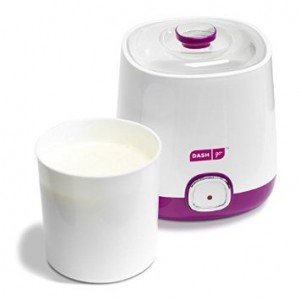 The Dash Bulk Yogurt Maker is the perfect choice for a large family or institution who is looking to make large quantities of yogurt in a single batch.
Capable of making one quart of Greek yogurt, this sleek and simple machine is an economical choice.
If you're looking for a machine that does all the work for you, this isn't the one! It's more of an incubator than a fully automatic machine.
What it will do is keep your yogurt at the right temperature for as long as the machine is on.
Specs:
Makes up to 2 quarts of Greek yogurt (perfect for a restaurant or commercial kitchen)
Includes 2 buckets with lids
Includes a strainer for Greek yogurt
LCD display
Parts are dishwasher safe
1 year warranty
Customer Reviews for this Greek Yogurt Maker
—>Read More Customer Reviews Here<—
"It's easy to use and operates very consistently. I'm never going to buy yogurt from the store again! It's cheaper than some of the fully automatic ones, which is why I tried this out. It's easy enough to use for sure."
"For the price and ease of use, this thing is a serious win. My family loves to eat granola with the homemade Greek yogurt for breakfast at least a couple of times a week. We throw some fresh berries on there too, or use some other ways to flavour it."
Shop Now for the Dash Yogurt Maker
See: Review of Dash Bulk Yogurt Maker
You can easily get this yogurt maker on Amazon today:

Dash Yogurt Maker Review
#5: Euro Cuisine Yogurt Maker
This Yogurt Maker is a nice choice for a small family looking to make delicious fresh yogurt at home.-
This machine comes with 7, 6 ounce containers with lids which are dishwasher safe. This machine comes with a 3-year warranty, 2 years longer than most of the other ones on the market, so it really is a product that you can trust. This factor alone puts it firmly onto any list of the best ones.
Specs:
7, 6oz containers for snacks on the go that are dishwasher safe
On-off switch and indicator light
BPA free
3-year warranty
Timer indicates when yogurt is finished
Homemade yogurt in 6-10 hours
Clear lid allows you to view the process from start to finish
What Do People Think About It?
—>See More Customer Reviews Here<—
"I absolutely LOVE being able to control what goes into my yogurt. I prefer organic milk, not that much sugar and a ton of fruit. My family loves the results and this machine is super easy to use. It's quickly become one of favourite kitchen appliances."
"The recipes that come with the machine are excellent and if you follow the directions in them, it's almost no-fail. My family has been making a batch of yogurt a couple times a week now for the past year and can't get enough!"
Learn More about One of the Top Yogurt Makers
Do you want to find out more about one of the top yogurt makers on the market today? Then you'll want to check out our review right here: Euro Cuisine Yogurt Maker Review. 
Or, you can buy it on Amazon today. Click the button below to learn more and also to check for the lowest prices online:

What Should I Look for in a Yogurt Maker?
If you're not sure what factors you should be considering, then here are a few things to consider:
#1: Kind of Yogurt Makers
There are two main styles: electric and non-electric.
The simpler, non-electric ones use a water bath to water the milk and aid in fermentation. You just have to put the milk into the container, and then set it into the water bath. This one requires you to actively monitor it.
The second, electric yogurt machines have built-in timers. All you have to do it put the milk in, hit the button and wait.
#2: The Capacity 
There are some machines that make a big tub of yogurt. If you have a big family, or just really love yogurt, you'll want to consider these ones.
Others make just a few small glasses.
The average is around 1-2 quarts, and you'll need to factor in that the homemade stuff has a shorter life-span than yogurt you buy from the store. You should aim to eat it within three days.
On the upside: it contains no preservatives!
#3: Pots
We prefer the class jars for the small servings cups. Some machines come with plastic cups, in which case you should make sure they don't contain BPA.
#4: Temperature Control for Yogurt Makers
Making yogurt is a bit of a finicky process. It requires precise temperatures and timing, so be sure to buy a machine that allows you to do this.
You'll also want an auto shut-off. This is convenient if you want to make yogurt when you'll be in and out of the house.
#5: Design
If you want to keep your machine on the countertop in your kitchen, opt for something sleek and stylish that matches with the rest of your kitchen appliances.
#6: Easy Clean-Up
The best ones are dishwasher safe to make for the easiest of clean-up! They'll also have a lid that you can put on your glasses or tub to put it straight into the fridge without making additional dishes.
If you're lazy like me about this, it's definitely something to consider.
Have your Say about the Best Yogurt Maker
Which yogurt maker are you considering buying? Is it one of them from this list, or are you considering another option?
Leave a comment below and let us know what you think. We'd love to hear from you.
Also be sure to give this article a share on Facebook, Pinterest, or Twitter. It'll help other yogurt enthusiasts, like yourself find this useful resource.