Are you looking for a top-quality, but affordable waffle iron? Then this one from Cuisinart should be at the top of your list. Read our buying guide packed with information to help you decide if it's the right one for you.
Cuisinart Round Classic Waffle Maker Review
The Cuisinart Round Classic Waffle Maker is another top-of-the-line waffle maker today. . Waffle lovers who want their waffles traditionally round are sure to love this kitchen equipment from Cuisinart. First-time waffle bakers need not worry! This cooking companion has dual indicator lights that tell you if waffle is ready for eating.
Variety of Browning Settings
For someone serving the waffle for a loved one who prefers his waffle a little browner, this is possible with the Cuisinart Round Classic Waffle Maker. The 5-setting browning control leads the baker to how he wants his waffle cooked.
Non-Stick Plates
Because this is one of Amazon's bestsellers, it is equipped with user-friendly features. One special feature of this traditional waffle maker is the four-quartered nonstick plate for easy and even slicing.
Space Saver
The Cuisinart Round Classic Waffle Maker is the answer to your space problem in the kitchen. Its stand-on-end feature helps you store it safely without taking too much space on the counter or the kitchen cabinet. There is a 3-year warranty that comes with this waffle baker, but this machine is very durable and should last you for years.
Where Can I Get It?
The Cuisinart Round Classic Waffle Maker is available on Amazon:

Compare Waffle Irons
For even more options, be sure to check out our Top 5 Waffle Irons. Or, have a look at this comparison chart below.
The Specs:
Dual indicator lights
5-setting control for browning
Stand-on-end feature for space-saving
With 3-year warranty
Bonus! Check out our delicious Belgian Waffle Recipe.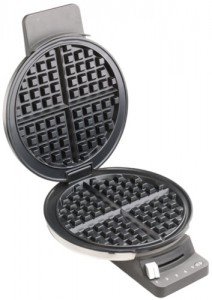 People that Like the Cuisinart Round Classic Waffle Maker are Saying:
"We have operated this product for 6 months now and we find it an excellent waffle maker. For the money, it is a definitely a solid buy. It's really and simple to use."
"Waffles are done in what seems like a blink of the eye. I can't recommend it highly enough and my family just loves having fresh, delicious waffles on the weekend.!"
"This is the best waffle iron I have ever owned. It is very reasonably priced, too! AND, also very easy to clean. You can just grab a damp cloth and give it a quick wipe. It really is that easy, unlike some of the other waffles presses that I've tried."
Cuisinart Classic Waffle Maker Review
Drawbacks of the Cuisinart Round Classic Waffle Maker
Some complaints of the waffles not being crispy
A few people look for other kinds of waffle than the traditional
Some reports of tendencies to easily burn the waffles because of the light weight
Reports of uselessness of the different heat settings
Takeaway on the Cuisinart Round Classic Waffle Maker
In this modern generation, there are still many homemakers who prefer the traditional cooking. If you are one of them, then, the Cuisinart Round Classic Waffle Maker is a perfect choice for you. The 3-year warranty is more than enough proof that the user is guaranteed of the product's best qualities, usefulness and value for money.
Make Classic Waffles at Home
Don't worry about the negatives especially if there are more positives contradicting the said unfavourable remarks. In fact, what the people who like the product have already testified how excellent their classic waffles are when baked with this machine. Not only that, you have three years to prove yourself this high-quality machine's worth.
Shop Now
Get yourself the Cuisinart Round Classic Waffle Maker and enjoy the classic waffle just like before. Visit the Amazon page to buy the Cuisinart Round Classic Waffle Maker today.

Have your Say about the Cuisinart Waffle Maker
What are your thoughts about this popular waffle iron? Leave a comment below and let us know what you think.
Also be sure to give this article a share on Facebook, Pinterest, or Twitter.