If you're looking to make delicious frozen treats at home then you'll definitely want to consider the Hershey soft serve ice cream machine. Read our buying guide, packed with information to help you decide if it's the right choice for your family.
Review of the Hershey's Soft Serve Ice Cream Machine
The Hershey's Soft Serve Ice Cream Machine is the soft ice cream maker for all chocolate lovers. Now, families can enjoy their favorite chocolate in soft serve ice cream form anytime they want.  It can make up to a quart of either frozen yogurt or ice cream so make room for a second scoop. This soft ice cream maker can also serve more desserts enthusiasts with its capacity.
Easy to Use
The Hershey's Soft Serve Ice Cream Machine allows one to make homemade ice cream a la professional. Moms and dads can prepare sweet snacks for the family anytime of the day and it is even more practical! What makes this kitchen product a perfect must-have is that it easily dispenses the handle for a more convenient management.
Also for the Health Conscious
This soft serve ice cream machine is for the health-conscious member of the family too. It processes fresh fruits too and produces the same smooth consistency of the ice cream. But, what makes this kitchen gadget very special is that, it can transform the kitchen at home into an ice cream parlour for the family's (and guests') comfort.
Whether it is a Sunday family day, or a holiday get-together with relatives and friends, this one's a perfect attraction in one corner. Just have the young ones (and the young once) lined up and wait for their swirl of soft ice cream.
Where to Buy It
The Hershey's Soft Serve Ice Cream Machine is available on Amazon. Check now for the lowest prices and don't forget to check and see if this product is eligible for fast, free shipping with a Prime membership:

Compare Soft Serve Ice Cream Machines
For even more options, check out the Top 5 Soft Serve Ice Cream Machines. Or, have a look at our comparison chart below:
The Specs:
12 x 16 x 11 inches
7.8 pounds
Large bowl to make a quart of soft ice cream or yogurt
Parts are easy to take apart for cleaning and reassemble for reusing
Easy-to-dispense handle for convenient ice cream-serving
People that Like the Hershey's Soft Serve Ice Cream Maker are Saying:
"This machine is so much fun for the family and friends to use to make soft serve ice cream! You can make ice cream with toppings and mix-ins just like in the ice cream shop!"
"The machine is very easy to operate and simple to clean. I'll be using it often for birthday parties and other special occasions."
"My whole family loves this machine. It is great to have soft serve maker at home! The kids always want to get it out and make some ice cream. We do it quite often because it's easy to set up and get running and then clean up is pretty easy too. Overall, a nice addition to my home kitchen and I'm very happy with this purchase."
Hershey Ice Cream Machine Review
If you want to know more about the Hershey ice cream maker, then you'll want to check out this short review video below to find out all the details.
Drawbacks of the Hershey's Soft Serve Ice Cream Machine:
Pretty loud for indoor use
Issues with the footprint due to its plastic material
Difficult to assemble, according to some
Some complaints about inaccurate instructions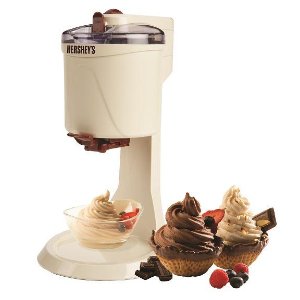 Takeaway on the Hershey's Soft Serve Ice Cream Machine:
Love Hershey's? You'll surely love the Hershey's Soft Ice Cream Machine more! Yes, you read it right. Not because this machine is a Hershey's product, it is exclusive for the brand alone. You can certainly throw in any flavour or ingredient you want and this will still churn your favourite soft serve ice cream or healthy yogurt.
Easy to Use
Don't worry if you don't have any ice cream maker experience yet. Let this machine be your initiation and you'll be surprised with the results! You'll definitely be proud of yourself once you've served a twirl of soft ice cream on a cone, bowl or ice cream glass.
Let your Creativity Flow
You'll find this new passion of making soft ice cream of yours, even more exciting. The many options you are given brings out your creativity as you can customize your newly churned soft ice cream with your choice of candy bits or small slices of fruits.
Now is the time to stop worrying about inaccurate instructions others are complaining. You won't need any manual with the easy instructions found in the machine itself anyway! So, what are you waiting for? Turn your kitchen into an ice cream shop and start churning!
Where Can I Buy It?
Shop now on Amazon to buy the Hershey's Soft Ice Cream Machine today. Click the button below to learn more about it now:

Make Strawberry Ice Cream with the Hershey Soft Serve Ice Cream Machine
Do you need some recipes to get started with your new soft serve ice cream maker? You can check out this short video below:
Or, check out some of our most trusted recipes for some inspiration as well:
How to Make Chocolate Ice Cream
Of course, be sure to follow the instructions that come along with your machine for the best results.
Soft Serve Ice Cream Machine FAQ's
Here are some of the most common questions that people have about this kind of kitchen appliances.
How Does a Soft Serve Machine Work?
Soft serve machines work by freezing and adding air/volume to special liquid soft serve ice cream mixes. They operate around 18 degrees F to keep the product frozen, but still soft enough to come out of the machine. There are soft serve for both home and commercial use.
Is Soft Serve Healthier than Ice Cream?
Soft serve is made by incorporating air into the ice cream mixture while freezing it. Compared to regular ice cream, soft serve mixes usually have a lower fat percentage. Therefore, an identical bowl of soft serve could be considered to be healthier than ice cream because it will have fewer calories and grams of fat.
Is Soft Serve Ice Cream Real Ice Cream?
Soft serve is made from the exact same ingredients as normal ice cream but comes from a machine that adds air during the freezing process to give it a smoother texture and it also doesn't allow it to harden as much. Sometimes it has a lower fat percentage but soft serve is certainly real ice cream.
Can You Rent a Soft Serve Ice Cream Machine?
If you're having a party or event, you may want to consider renting a commercial soft serve ice cream machine. Check with party rental shops for details, but the machine often comes with various kinds of soft serve mix. This is a better option than a home soft serve machine that has a very low capacity.
How Often Should you Clean a Soft Serve Machine?
Soft serve ice cream machines for home use must be cleaned after each use. Be sure to follow the manufacturer's instructions and clean your machine thoroughly, ensuring that no ice cream residue is left anywhere. Proper sanitation is key for soft serve machines because of the dairy content of the ice cream mixture.
Have your Say about the Hershey Ice Cream Maker
What are your thoughts about Hershey's ice cream maker? Is it a winner, or are you considering another a brand? Leave a comment below and let us know what you think.
Do you have any recipes or tips and tricks? We'd love to hear about them!
Also be sure to give this article a share on Facebook, Pinterest, or Twitter. It'll help other ice cream enthusiasts, like yourself find this resource.