Do you want to enjoy a delicious sweet treat at home? Then you'll need to seriously consider one of our top picks for a soft serve maker for home. Read our buying guide, packed with information to help you find the right one for you.
Top 5 Soft Serve Ice Cream Makers:  Your Best Picks for Sweet and Healthy Treats
While a lot of people all over the world love ice cream, more and more individuals are beginning to love its softer version. That's what the soft serve is here for, to give the ice cream enthusiasts another option aside from the conventional ones they have been used to.
Are you among these people who are big fans of these cold desserts? If you are, why not make them homemade? And to make your own soft serve ice cream, invest in a high-quality ice cream maker. Here, we recommend the Top 5 Soft Serve Ice Cream Machines to help you choose the right machine.
Affordably Priced Machines for Home Use
You need not spend much. What we have in our list are the most affordable ones in the market. We have picked the five best machines tomake things easier for you. There may be innumerable similar items that may just confuse you.
Here are the top options to consider:
Read on and we guarantee you'll find the ONE for you and your family. There's one to suit every budget!
No. 1:  Yonanas Fruit Soft-Serve Maker
We're ranking the Yonanas Fruit Soft Serve Maker because it's the No. 1 bestseller on Amazon today. It is a perfect machine for the health-conscious families.
With this one, your kids won't find eating fruits boring with this best-selling ice cream machine. The 100-percent fruit soft serve ice cream makes this undoubtedly the best ice cream maker!
Easy to Use with a Sleek Design
The Yonanas Fruit Soft-Serve Maker is so easy to operate with its very light weight and compact design.
This fruit soft serve machine will help you convince your children to eat fruits. You can easily make mouthwatering cold dessert by simply combining different fruits with ice cream texture and taste.
Features of this Fruity Soft Serve Maker:
Can make soft serve from 100% frozen fruit that is low in calories
Fun and easy to use
Very easy to clean as many parts are dishwasher safe
Can also be used to make a wide variety of desserts
Delicious dairy free frozen dessert
Doesn't require salt to freeze the soft serve
What are People Saying About It

—>See More Customer Reviews Here<—
"If you expect it to taste like vanilla soft serve or something like that, you're going to be disappointed. It's only logical that if you put in a banana, it's going to taste like banana when it comes out! That said, we LOVE using ours for a super healthy frozen treat."
"This machine creates low-calorie ice cream that is was better than anything you'd buy in the store. My whole family loves making custom creations and delicious frozen desserts. I do either soft serve, or I sometimes pull out my popsicle mold and whip up a batch of those."
More Information about this Home Soft Serve Machine
See: Full Review of the Yonanas Fruit Frozen Dessert Marker.
You can easily get the Yonanas Fruit Soft Serve Maker on Amazon. Check now for the lowest prices and don't forget to see if this product is eligible for fast, free shipping with a Prime membership:

Yonanas Frozen Treat Maker Review
Do you want to kick your desserts to the next level and make them way healthier? Then you'll need to check out this video to learn how to make fruity, healthy frozen treats for the whole family.
Compare Soft Serve Ice Cream Machines
Are you looking for the best soft serve machine? If you take a look online, you'll see that you have a ton of choices. There are so many that it can, in fact be a little overwhelming and difficult to make the right choice.
But, not to worry.We've done the hard work for you and found the best machines on the market today. Check out this handy comparison chart for our top choices:
No. 2: Hamilton Beach Soft Serve Ice Cream Maker
Our second in the list is one of the most affordable in the market today. It is in fact, the lowest-price machine on our list. Like our No. 1 in the list, the Hamilton Beach Soft Serve Maker is also ideal for health buffs.
You'll surely opt for this one especially if you're a big fan of sorbets and healthy yogurts. Sorbets and yogurts are less sweet so they are guaranteed healthier.
Make Healthy Sorbets and Frozen Yogurt
More and more family members will be encouraged to live a healthy lifestyle with this best-performing gadget. Its two 12-ounce freezer bowls can make more healthy yogurts and sorbets for everyone at home.
And for your kids who still prefer ice cream, they'll be amazed that they're served their favorite dessert in just 6 to 12 minutes.
Features of this Soft Serve Ice Cream Machine
Recipe book included
You can make and serve it from the same bowl, cutting down on dishes
It's possible to make healthier frozen desserts and ice cream alternatives
Can do it in minutes
2 bowls included
Takes only 6-12 minutes
Best for making a small batch of ice cream
What People are Saying About It
—>See More Customer Reviews Here<—
"It took a while to figure out how to use this thing, but by the fifth batch, we had perfection! Don't give up and keep trying, you will eventually have some delicious soft ice cream."
"It's well made and super easy to use. My 10 year old daughter loves this thing and wants to make ice cream all the time. Be aware that the freezer bowls are not that big. It's about enough for 2 large servings. Delicious frozen desserts—yes please!"
Learn More About this Home Soft Serve Ice Cream Machine
See: Hamilton Beach Soft Serve Maker Review.
You can purchase the Hamilton Beach Ice Cream Maker on Amazon. Check now for the best prices and also to learn more about this popular product:

No. 3: Hershey's Soft Serve Ice Cream Machine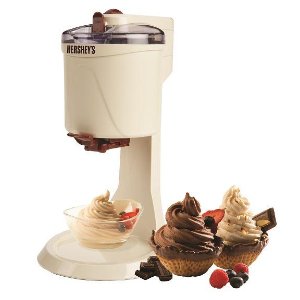 Chocolate is the most popular ice cream flavor of all time. Now you know why we're including this in our list. The Hershey's Ice Cream Machine is the soft ice cream maker for all chocolate lovers.
Enjoy Delicious Desserts with this At Home Soft Serve Machine
Now, your whole family can enjoy your favorite chocolate in soft serve form anytime you want.  You can make up to a quart of either frozen yogurt or ice cream to make room for your second serving.
It's a ton of fun for the whole family with this professional-quality soft serve maker.
Make Sweet Treats with Confidence
Therefore, can confidently prepare sweet snacks at home anytime of the day and it is even more practical! What makes this kitchen product a perfect must-have is that it easily dispenses the handle for a more convenient management.
More Details about this Soft Ice Cream Maker
See: Full Review of the Hershey's Soft Serve Ice Cream Machine.
You can buy it easily on Amazon. Check now for deals that may include free shipping:

No. 4: Nostalgia Soft Serve Ice Cream Maker
We're including the Nostalgia Soft Serve Maker as a perfect gift idea for your Mom or wife this Mother's Day. This machine is designed lighter in weight compared to the other machines available today and that's why it comes in at #4 on our list.
Indeed, it is made lightweight so your mom can easily move them around your kitchen. Your mother will definitely be happy to own this one especially if she is a frequent party host at home.
Make Cold Treats Effortlessly
Meaning, the queen of the family can treat everyone at home with a cone or cup of soft ice cream. Serving the cold dessert with this ice cream maker is so easy and effortless.
The easy-pour spout can help the user serve ice cream fast. Recognize the hard work of your mother as she selflessly attends to the household chores. Buy her this kitchen equipment with blending chambers that can be detached for easy cleaning.
Where to Buy One of the Best Soft Serve Makers
See: Full Review of the Nostalgia Soft Serve Ice Cream Maker.
It's available on Amazon. Check now for the lowest prices and don't forget to see if it's eligible for fast, free shipping with a Prime membership:

No. 5: Cuisinart Soft Serve Ice Cream Maker
The Cuisinart Soft Serve Maker is the last (but definitely not the least) in our Top 5 Soft Serve Ice Cream Machine. We ranked it 5th because it is the most expensive. But don't get us wrong. There are a ton of things to love about it.
The Best Ice Cream Machine for Kids
We are just basing our comparison of prices on the other machines we have here. Perfect for a hot sunny day, this kitchen equipment is designed to make homemade yogurt, sorbet and soft serve ice cream.
If you're looking for a machine that is more automatic than some of the others, this is the one for you. You basically just dump ingredients in, and soft serve comes out! Plus, you can combine it with special toppings to make this homemade treat even more exciting.
Mix It In Ice Cream Maker: A Must-Have
Now that it's summer in many parts of the country, this is a perfect must-have at home. What's good about this machine is its double-insulated freezer bowl.
The Cuisinart Ice Cream Maker is a heavy-duty machine. Indeed, this party equipment's price is quite reasonable for long-lasting benefit. Your kids will surely be amazed to see you make an ice cream swirl, live!
Features of One of the Best Soft Serve Ice Cream Machines
Easy lock lid
See-through window, so you can watch the freezing process
Makes, as well as dispenses ice cream
3 condiment mix-in option to make a treat of your choice
Cone holder
On/Off dial
Double-insulated freezer bowl
Removable parts make for very easy cleaning
Can make frozen yogurt and sorbets as well
Almost fully automatic and makes soft ice cream in around 20 minutes
What People are Saying about the Cuisinart Soft Serve Machine
—>More Customer Reviews on Amazon<—
"I love how handy this thing is. You basically just have to put the ingredients together and then it dispenses a soft-ice cream cone with some special goodies mixed in. My kids LOVE this thing and we pull it out for almost all special occasions, including birthday parties. It's basically fully automatic and super easy to use."
It works perfectly, every single time and we also find that clean-up is a breeze. My wife and I are in our 60's, but we make soft ice cream at home at least twice a week! It's certainly a fun way to spend the night and makes it better than anything you might buy at the store."
"Maybe the ultimate ice cream machine for kids. We love pulling this out at birthday parties instead of birthday cake and letting the kids make their own ice cream sundaes and cones. Really awesome and makes for a super memorable experience. Love the built-in condiment dispensers."
Learn More about this Soft Serve Maker
See: Full Review of the Cuisinart Soft Serve Ice Cream Maker.
You can purchase it on Amazon. Just be sure to share with your friends, okay? Head over there right now to check for the best prices and don't forget to see if this product is eligible for fast, free shipping with a Prime membership:

Do you Need the Cuisinart Soft Serve Ice Cream Maker?
Are you looking for a soft serve ice cream machine for home? Then this one from Cuisinart should certainly be at the top of your list. Check out this short video for all the details you need to know about it:
Things to Consider When Buying an At Home Soft Serve Ice Cream Maker
There are a number of key things you'll want to consider when buying one of these kitchen appliances. Here are some of the most important factors:
Ease of Cleaning for Home Soft Serve Machines
If something is a major hassle to clean, then chances are that you're probably not going to use it! The best machines have dishwasher safe parts and are easy to clean in just a few minutes.
The worst ones? You can spend 10-20 minutes dealing with it! And of course, you should clean it after each use because it uses dairy products in it which can go sour in even a day or two.
Freezing Time
Some machines take quite a while to freeze the ingredients that you put in, while others do this in a very short amount of time. Sure, you can overcome this problem with a bit of organization, but you could just get a machine that gets the job done more quickly. Some take as little as 20 minutes.
Capacity of Soft Serve Ice Cream Machines for Home
We generally recommend opting for one of the smaller machines if you're going to use it for a small family. They're easier to clean and will usually take a lot shorter amount of time.
However, if you're planning on using it for parties, then you'll want to opt for one of the bigger at home ice cream machines.
Topping Add-Ons
There are some units that features optional add-ons like topping dispensers to make this sweet treat even more fun for kids. It's the perfect thing to have for a birthday party.
Price of Soft Serve Makers
As with anything, price is certainly a consideration for a soft ice cream maker for home use. You can find them quite cheaply for around 50 bucks, while others are well over a hundred. In our experience, the cheapest ones often don't work that well, and if you want it to last for years and work quickly and easily, it's worth spending some money on it.
Customer Reviews for Soft Serve Makers
Actual user reviews are often the best source of information on whether a specific product works well or not. An article like this is a great place to start. Or, check the soft serve machine reviews on a place like Amazon. We generally look at the 3-4 star ones which give the most accurate view on the product's actual strengths and weaknesses.
Fruit Soft Serve, or Regular
There are some fruit soft serve machines that basically take frozen fruit and turn it into a delicious dessert. It's a healthy way to get kids to eat their fruits and can make a nice alternative to ice cream. However, the majority of the machines on this list make dairy based ice cream.
At Home or Commercial Machines
There are a ton of options out there for commercial soft serve machines that are ideal for places like restaurant buffets or convenience stores. If this is what you need, then these at home ones on our list are not appropriate for you. Instead, here are some of our top picks for commercial soft ice cream makers:
Soft Serve Ice Cream Maker FAQs 
There are some common questions that people have about these machines. Here are the answers you need to know
How Much Does a Soft Serve Ice Cream Machine Cost?
You can often buy a soft serve ice machine for home use for under $100 USD. However commercial ones start at around $8000 for a single flavor, countertop one and go up to $25,000 for a floor model soft serve machine that has multiple flavours.
How Long Does Soft Serve Ice Cream Last in the Machine?
Soft serve mix comes in liquid form and usually has a shelf life of around 5 weeks. It should be stored in the freezer and then when you want to use it, thaw it for 24 hours before putting into the machine.
For home use, soft serve ice cream should be consumed on the same day it's made and the machine cleaned thoroughly after each use.
What is Soft Serve Ice Cream Made Of?
Soft serve ice cream is made from the following ingredients:
dairy (cream, milk)
sweeteners (sugar, corn syrup)
flavourings
coloring
Polysorbate 80, Mono + diglycerides (emulsifiers)
Carrageenan, Guar gum, Cellulose gum (stabilizing and thickening)
Sodium Phosphate
What Happens if You Freeze Soft Serve Ice Cream?
If you freeze soft serve ice cream machine, it becomes hard and you lose the advantage of it being softer and and having a more creamy mouth-feel. And because a freezer can take longer than a soft serve machine to freeze your product, it can develop ice crystals more easily.
What is the Temperature of Soft Serve Ice Cream?
Soft serve has a lower milk fat (3-6%) than regular ice cream (10-18%) and also has air introduced during the freezing process. The other major difference is that soft serve is stored at -4 degrees C (25 degrees F) compared to normal ice cream that's stored at -15 C or 5 F.
How do you Clean a Soft Serve Ice Cream Maker?
You can clean a soft serve ice cream maker by taking the machine apart and soaking the parts in warm, soapy water in your sink or bowl. Then, use a sponge or gentle brush to remove and food or stuck on bits thoroughly. Rinse well and let dry completely before reassembling your machine or storing it.
Check out our picks here: Best Sponge Holder.
Is Soft Serve Healthier than Ice Cream?
In general, a 1-cup serving of soft serve has fewer calories than a 1-cup serving or regular ice cream so it could be considered healthier. This is because of the lower fat percentage of the dairy, along with the air that's introduced during the freezing process. However, neither ice cream nor soft serve could be considered to be healthy.
Have your Say about the Best Soft Serve Ice Cream Machine
Which one of these popular home soft serve machines is at the top of your list? Or, are you considering another brand?
Leave a comment below and let us know what you think. We'd love to hear from you.
And don't forget to share this on Facebook, Twitter or Pinterest! It'll help other ice cream enthusiasts, like yourself find this useful resource.
Last update on 2021-04-09 / Affiliate links / Images from Amazon Product Advertising API