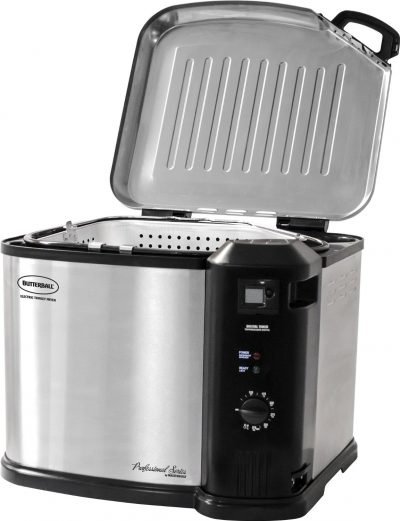 Are you looking for a top-quality indoor turkey deep fryer? Then this one from Butterball should be at the top of your list. Read our buying guide packed with information to help you decide if this electric turkey fryer is the right one for you.
Masterbuilt Butterball Indoor Electric Turkey Fryer Review
The Masterbuilt Butterball Indoor Electric Turkey Fryer is considered a dream kitchen gadget of homemakers who want to serve their family extra special dishes even on ordinary days. With this at home, one needs not wait for the Thanksgiving to come to satisfy everyone's craving for turkey.
Cook up to 20 Pound Turkeys
And since this turkey fryer is large in size, the household cook can buy even the heavyweight turkey he or she finds at the supermarket. One who sees this turkey fryer will definitely find it hard to believe that this is not expensive for such a high-quality piece of kitchen equipment.
Masterbuilt 23014314 Butterball XXL 1650W Indoor Digital Electric 22-Pound Turkey Fryer With...
XXL TURKEY FRYER: This 22-pound turkey fryer is designed to effortlessly fry delicious turkey during...
DIGITAL CONTROL PANEL: Digital control panel and timer let you control all aspects of the frying...
HEAVY-DUTY: Intended for commercial use and features 1650 watts of power. This fryer has been tested...
EASY CLEANUP: Oil drain valve makes for easy clean-up after use. Pot, basket, lid, and drain valve...
INCLUDED ACCESSORIES: Comes with pot, an aluminum basket, lid, and patented drain clips to help...
Does a Variety of Things Besides Deep Frying
Homemakers won't ever panic even during big parties and events at home because this fryer can cook turkey that's as heavy as 20 pounds. It can also boil seafood in and steam veggies in big quantities without worrying about over-spilling.
Where Can I Buy the Butterball XL Turkey Fryer?
The Masterbuilt Butterball Indoor Electric Turkey Fryer is available on Amazon. Click the button below to check for the best prices and also to see if this product is eligible for free shipping with a Prime membership:

Key Features:
12 x 21 x 18 inches
9 pounds
Made of stainless steel
Designed for inside use only
Runs on electricity
Can cook up to 20 pounds of turkey for parties and big events
Has temperature control for perfect cooking
Comes with a cooking basket for oil draining with patented drain clips
Can also be used for chicken, fish, fries or other cuts of meat if you want to deep fry indoors
Easy clean-up with dishwasher safe components
Tested to commercial standards
Extremely durable
Butterball Indoor Turkey Fryer Review
Do you want to find out what other people are saying about this indoor turkey fryer that you can easily find on Amazon? Then you'll want to check out this review on YouTube:
People that Like the Masterbuilt Butterball Indoor Electric Turkey Fryer are Saying:
—>Read More Customer Reviews on Amazon<—
"This fryer is nothing short of awesome! Put the turkey in and 40 minutes later, we raised out of the oil a beautiful, crispy brown turkey on the outside. It's moist and juicy on the inside. Just be sure to get yourself a top-notch turkey slicing knife to complete the job."
"It's hard to believe you can cook a 12-pound turkey in just 40 minutes, but it worked! The turkey was moist, delicious, and picture perfect. I usually cook my turkeys in the oven and keep them moist with basting with a baster but this is far better."
"This fryer is so great! It's very easy to operate and, if you follow the instructions, your turkey will be the talk of the dinner table. Can't say enough good things about this Masterbuilt Turkey Fryer."
Compare Turkey Deep Fryers
Besides this Masterbuilt Turkey Fryer, there are a ton of other choices on the market today if you want to deep fry that next Thanksgiving turkey. Check out this handy comparison chart for all our top picks, from the indoor electric ones to the outdoor turkey fryers that run on propane:
Drawbacks of the Masterbuilt Butterball Indoor Electric Turkey Fryer:
Takes a little long to bring the oil up to correct temperature
Too large and heavy according to some
A few complaints about imperfect cooking of the turkey
Some issues with the oil smelling around all over the place
Requires a lot of oil
The Takeaway on the Masterbuilt Butterball Indoor Electric Turkey Fryer:
Why wait for Thanksgiving when you can always have turkey for your loved ones anytime you want? Yes! This is so possible with the Masterbuilt Butterball Indoor Electric Turkey Fryer.
Cook Turkeys Quickly and Easily
You, your family, and your party guests are guaranteed of constantly delicious fried turkey every time. Not only that, you don't have to panic about the cooking time because frying the turkey with this fryer takes just less than two hours.
Drain Basket for Easy Cooking
It takes 30 minutes or so to heat the oil and then cooking is less than one hour for even the largest turkeys. There is also a cooking basket that comes with this turkey fryer. The said basket drains the oil which the turkey accumulates while being deep-fried.
Fried Turkey all Year Round
Don't wait for the Thanksgiving to come to serve your loved ones a whole delicious Turkey. Make one with this high-quality turkey fryer.
Shop Now for the Butterball Indoor Turkey Fryer
You can easily purchase the Masterbuilt Butterball Indoor Electric Turkey Fryer on Amazon today. Click the button below to learn more about one of the most popular turkey fryers you can buy:

Sign up for Delicious Right Here
Okay, let's be real here for a second. If you're the kind of person who is ALL about outdoor cooking, then you're certainly going to want the BBQ Box in your life. Seriously, the second we signed up for our subscription it was a bit of a game-changer.
They will deliver premium, hand-curated BBQ sauces, rubs, snacks, wood chip samples and recipes straight to your door each month. Sounds awesome, right? It is and it's the perfect way to try new flavours and ideas to level up your BBQ and outdoor deep frying, smoking and grilling game. These guys certainly know what they're doing and we think you'll be as impressed with their choices as we are.
Do you want to find out more about BBQ Box and find out how you can get signed up for a subscription? Head over to the company website to find out more about them and get a discount on your first box:
—>Get 15% Off & Free Shipping for the First Box with BBQBox with code FIRSTBOX15<—
Have your Say about this Masterbuilt Butterball Turkey Fryer Review
What are your thoughts about this popular turkey deep fryer review? Is it the right option for you, or are you considering another option, including an outdoor propane fryer, or an air fryer? Leave a comment below and let us know what you think. We'd love to hear from you.
Also be sure to give this article a share on Facebook, Twitter, or Pinterest. It'll help other deep frying enthusiasts, like yourself find this useful resource.
Last update on 2021-04-09 / Affiliate links / Images from Amazon Product Advertising API