Top 5 Turkey Fryers for Home-Fried Turkeys and More
Are you one of the many people who think it is impossible to own a turkey fryer because of its cost? If you are, we got some good news for you! Stop thinking about the impossible because you can own a high-quality turkey fryer without having to spend much.
With our Top 5 Turkey Fryers here, you will prove yourself that you can actually have in your kitchen an excellent-performing fryer you thought you could not have.
Our Top 5 Turkey Fryers are all based, first of all on their respective prices. Then, our considerations were followed by their functions, features and benefits. Read on and pick the best one that will meet all your cooking needs and preference.
Keep on reading for the turkey fryer reviews!
#1: 30QT ALU Turkey Fryer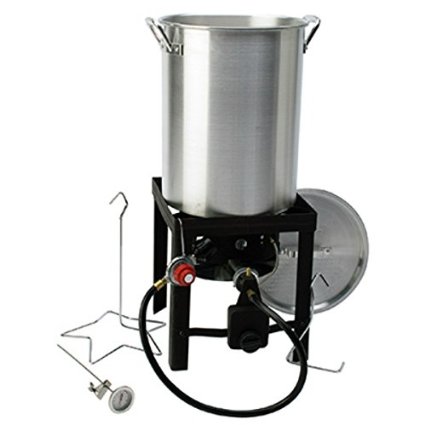 The 30QT ALU Turkey Fryer is the most affordable in our Top 5 Turkey Fryers. Despite this, the product is also considered the sturdiest in this kind of cooking equipment. And since it is reasonably priced, many homemakers opt for this item for their everyday home cooking. You can also fry chicken, roasts, boil vegetables or seafood, etc.
Durable and Easy to Use
Indeed, since this piece of cookware is made of aluminum which is a durable material, you can certainly use it frequently without compromising its condition. And not matter how old this turkey fryer becomes, it will continue to produce high-quality and flavorful turkey.
It has a cast iron burner for the even distribution of heat so this means excellent and perfect cooking. You need not worry about accidentally burning your hands as this high-quality fryer has a heat-shield feature.
Nothing beats a turkey cooked outdoors. Don't believe us? Try it out for yourself and see!
Features:
30 quart aluminum pot
Welded steel stand
38,000 BTU burner (hook up to a propane tank)
Heat shield
Also makes a nice choice for boiling wort when homebrewing
Customer Ratings and Reviews
—>See More Customer Reviews on Amazon<—
"It worked perfectly for our Christmas turkey. The unit is able to accommodate an 18 pound turkey, but you probably want to stick with one 16 pounds or less to be on the safe side. I'm never going back to roasting turkey in the oven!"
"My turkey turned out great and this thing is very decently made. I was pretty impressed, especially considering the price point of this thing. However, I will buy one that's a bit higher quality and has a stainless steel pot when this gives out."
More Details about this Turkey Fryer
See: Full Review of the 30QT ALU Turkey Fryer.
You can easily get the 30QT ALU Turkey Fryer on Amazon today:

---
Learn How to Deep Fry a Turkey
#2: Bayou Classic Stainless Steel Turkey Fryer
The Bayou Classic Turkey Fryer is a highly-rated kitchen item on Amazon today. It belongs firmly at the top of any list of best turkey deep fryers
It is so ideal not just for Thanksgiving celebration but for all special occasions in your family too. Because this fryer is very large in size, it can cook heavyweight turkey, chicken or any kind of meat.
Fried Turkey All Year Round!
With these great functions and features, you need not hire a caterer to serve sumptuous meals on your buffet table. With this top-of-the-line turkey fryer, it doesn't take another Thanksgiving or Christmas day to serve turkey on the table.
Since this is a 30-quart turkey fryer, you can fry turkey, even the large-sized and heavyweight one. Vegetables for side dish and seafood for other palatable treats can also be cooked in this highly-rated fryer. This cookware piece comes with a sturdily made perforated basket that can be used for steaming.
More Information
See: Full Review of the Bayou Classic Stainless Steel Turkey Fryer. But please note that you'll also need a gas burner and stand to go along with this (we recommend this high pressure outdoor gas cooker from Bayou Classic).
You can easily purchase the Bayou Classic Turkey Deep Fryer on Amazon today:

Compare Turkey Deep Fryers
---
#3: Char-Broil Big Easy Oil-Less Turkey Fryer
The third in our Top 5 Turkey Fryers, Char-Broil Oil-Free Turkey Fryer is one of the highest-quality turkey fryers with a high rating on Amazon today.
With this top-of-the-line fryer, even the health-conscious families can eat fried turkey too. With its oil free feature, this cooker requires less oil to cook meat excellently. This means less guilt for you, as the cooking individual and more festive eating mood for your whole family.
Not Just Deep Fried Turkey!
Turkey is not just the dish you can cook with this kitchen product. You can also prepare delicious pork, beef and chicken with this turkey fryer.
The Char-Broil No Oil Turkey Fryer possesses a unique infrared cooking system that stops explosions and flare-ups. The said infrared technology results in crispy and juicy flavour in any kind of dish all the time. This best-selling cookware piece is offered with free shipping for all Prime members.
Learn more here: Deep Fryer vs Air Fryer Showdown.
Specs for the Char-Broil the Big Easy:
For outside cooking (requires a propane tank)
Juicy inside, crispy outside
Roasts a turkey up to 16 pounds
Also works great for chickens, or other cuts of meat
Healthier alternative to deep frying
Compact size for easy storage
Drip tray (delicious gravy!) to collect the juices
Thermometer included to measure the internal temperature of your turkey
Tru-infrared technology
What People are Saying About it
—>See More Customer Reviews Here<—
"I've been using this oil-less fryer for a couple of years now and couldn't be happier. It's cheaper than the deep fryers, especially when you consider that you don't have to buy a vat of oil to use it! Clean up is easier than expected with this thing."
"Super tasty and healthy turkey–way better than what comes out of the oven. Plus, I love that it frees up a ton of space in my oven and kitchen in general on those busy holiday feasts. It's also a bit safer than the other outdoor fryers."
Where to Buy this Best Turkey Fryer
See: Full Review of the Char-Broil Oil-Less Turkey Fryer.
You can easily purchase the Char-Broil Oil-Less Turkey Fryer on Amazon today:

Learn More About This Oil-Free Fryer

---
#4: Masterbuilt Butterball Indoor Electric Turkey Fryer
The Masterbuilt Butterball Electric Turkey Fryer is considered a dream kitchen gadget of homemakers who want to serve their family extra special dishes even on ordinary days.
With this at home, you don't have to wait for the Thanksgiving to come to satisfy everyone's craving for turkey. And since this fryer is large in size, you can buy even the heavyweight turkey you find at the supermarket. One who sees this turkey fryer will definitely find it hard to believe that this is not expensive for a high-quality kitchen equipment.
Reasonably Priced Deep Fryer
And with this reasonable price, you already get to own a fryer that's made of stainless steel for durability.  You won't ever panic anymore even during big parties and events at home because this fryer can cook a big bird that's as heavy as 20 pounds.
It can also boil seafood in and steam veggies in big quantities without worrying about over-spilling. One of the best things about this Butterball Turkey Fryer is that it frees up space in the oven for those big family gatherings.
Features:
Aluminum basket with easy to use drain clips
Drain valve for faster and easier clean-up
Many items are dishwasher safe
Designed for indoor use
Electric power cord offers breakaway feature for added safety
Various sizes to accommodate turkeys up to 22 pounds
Durable construction
Various models in differing sizes
Can also function as a steamer
Lifting rack included
Comes with all the accessories you need to get started
What do People Think About It?
—>See Customer Ratings and Reviews<—
"The is the perfect deep fryer for large items, including turkey. It does take a while to heat up, but it's a huge volume of oil so keep that in mind. Cleaning isn't so difficult because of the drain valve on it."
"I love not having to worry about an open flame like the outdoor turkey fryers, and it's also really easy to clean. My family LOVES the bird that comes out it. I recommend going a couple pounds under the recommended maximum."
Learn More about the MasterBuilt Butterball Fryer
See: Full Review of the Masterbuilt Butterball Turkey Fryer.
You can effortlessly purchase the Masterbuilt Butterball Indoor Electric Turkey Fryer on Amazon today:

---
#5: Waring Pro Rotisserie Turkey Fryer
Rounding out our list of the Top 5 Turkey Fryers is this popular one from Waring Pro. The Waring Pro Rotisserie Turkey Fryer is one of the easiest-to-use turkey fryers in the market today.
You don't have to be an expert in the kitchen to make a delicious turkey dish on Thanksgiving celebration. You need not be a culinary arts graduate either, to serve delectable meals on the table. This cooking equipment has buttons and menu settings that guide you to cook excellently. This item can turn your ordinary day into a very special one.
Durable and Affordable
With just a little amount to spend, you can treat your whole family with festive foods without the need to wait for Christmas, Thanksgiving or a very special event to come. This product is durably made too, so it can last for many decades.
You don't have to worry about your family's health too when eating fried turkey cooked from this high-quality fryer. The Waring Pro Rotisserie Turkey Fryer uses lesser oil than the other conventional fryers do.
Where Can I Buy It?
See: Full Review of the Waring Pro Rotisserie Turkey Fryer.
You can easily buy the Waring Pro Rotisserie Turkey Fryer on Amazon today:

Have your Say about the Best Turkey Fryers
What are your thoughts about these turkey fryer reviews? Leave a comment below and let us know what you think.