If you're looking for a high quality rice cooker, you've come to the right place. Keep reading for all the details about our top picks, or have a sneak peak here:
If you're on the search for the perfect rice, look no further!
Top 5 Rice Cookers for Different Cooking Needs
Make every weekend special with grilled and barbecue dishes. They are more special when partnered with a cup of hot steamed rice. If you don't have a rice cooker yet, let us help you pick the one that suits your cooking or eating needs and preferences through our Top 5 Rice Cookers.
Variety of Features, Sizes and Prices
Our best items in the list vary in features, prices and sizes. We have this variation for the kitchen gadgets to help you decide easier which one is the best. Whether you are living solo, just got married or belong to a big family, there is definitely one from the Top 5 Rice Cookers that's best for you.
10-Cup, 20-Cup Rice Cookers and More
We have the small, compact and lightweight cooker for individuals who are always on the go and living solo. There is also a bigger rice cooker in our list designed for festive meals and generous servings of rice. Read on and pick your choice!
#1: Aroma Housewares Digital Rice Cooker
The Aroma Housewares Digital Rice Cooker is best for you especially if you are having a hard time managing your time between your household chores and work. Since the product is automatic, all you have to do is set it in your cooking desire and leave it to attend to you other mommy duties.
Best Quality Rice Cooker
Cooking rice, steaming veggies and slow-cooking meat are now effortless with this high-quality rice cooker. Not only can you efficiently divide your time between work and household tasks but she gets time for herself too.
Time-Saving Kitchen Appliance
Because the rice cooks faster than the regular stove-top cooker, you can cook other dishes using the same cookware. It is easy to clean this highly technological rice cooker so you can easily cook another dish once the rice is cooked.
This cookware piece is multi-functional so any homemaker can steam fish and veggies, on top of the 20 cups of you she can cook with it. It's an impressive food steamer and rice cooker in one.
Learn More about It
See: Full Review of the Aroma Housewares Digital Rice Cooker.
You can easily buy the Aroma Housewares Digital Rice Cooker on Amazon:


 Compare the Best Rice Cookers
#2: Panasonic Automatic Rice Cooker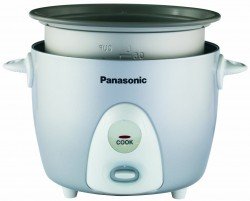 The Panasonic Automatic Rice Cooker is one of the most affordable rice cookers available today. It is compact and so ideal for couples and solo-living individuals. Since it cooks about two to three (uncooked) rice maximum, this rice cooker doesn't leave any room for spoilage.
Cook Sticky Rice for Sushi Too
You can cook rice just enough for you or a companion to finish. Not only does a regular rice eater will enjoy this. Even the Japanese food lovers will be happy with this kitchen gadget because of its ability to cook sticky rice for sushi.
Automatic Shut Off
Featuring a one-touch function, our 2nd in the Top 5 Rice Cookers automatically cooks rice. It shuts off by itself when the rice is fully cooked. You need no expertise to perfect this carb dish. All it takes is one press at the button and you're good to go.
There's no need to worry about the accurate measurement of the water either. This automatic rice cooker comes with a measuring cup for perfect cooking. The cooking pot has a nice, non-stick coating on it to make clean up a breeze.
The Best Budget Rice Cooker
If you're on a tight budget and are looking for the best affordable rice cooker, this one may be it. It's very reasonably priced, but still has some excellent customer reviews and ratings.
Learn More about the Best Affordable Rice Cooker
See: Full Review of the Panasonic Automatic Rice Cooker.
You can easily get the Panasonic Automatic Rice Cooker from Amazon:


Panasonic Rice Cooker Review
#3: Tiger Corporation Rice Cooker
The Tiger Corporation Rice Cooker is designed if you are always on the go. It is a perfect must-have for you who have to rush for work but need to eat carbs to last a busy day. This is not the typical rice cooker as rice is not the only dish it cooks.
Multi-Purpose Kitchen Appliance
By simply choosing the 'tacook' or synchro-cooking function, you can already cook rice and a main dish simultaneously. Other options in the cooking settings include the slow-cooking, plain rice and brown rice cooking.
Just put your meat or veggies in the included steam tray and let the machine do all the hard work for you.
Where to Buy one of the Best Rice Cookers?
See: Full Review of the Tiger Corporation Rice Cooker.
The Tiger Corporation Rice Cooker is available on Amazon:


# 4: Instant Pot Multi-Functional Pressure Cooker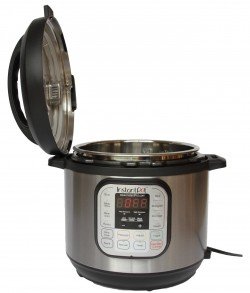 The Instant Pot Multi-Functional Pressure Cooker is you especially if you love to cook different dishes for all occasions.
As a cooking enthusiast, you will surely love this kitchen gadget especially that it is multi-functional. Meaning, it cooks many different dishes beyond just rice and steaming vegetables.
Prepare a Complete Meal with the Instant Pot
A lot of homemakers opt for this multi-cooker because it is a perfect companion when preparing a complete meal from appetizer to soup to dessert. Whether it's for special occasion or not, this pressure cooker is certainly a perfect must-have in every household.
Amazon proudly announces that our 4th in the Top 5 Rice Cookers is actually currently its No.1 Bestseller in the electric pressure cookers category.
A Huge Variety of Uses
Indeed, this multi-cooker can do many things in the kitchen. It can serve as an excellent slow cooker, pressure cooker and rice cooker, however one wants to use it. This versatile cooker may be a bit large in size, but it is undoubtedly easy to use with its one-touch control panel. It's certainly one of the most useful kitchen appliances that you'll ever own!
How does the cooked rice turn out? Perfect, for both white rice and brown rice. If you want to cut down on the cooking time of dishes including rice, consider the Instant Pot.
We LOVE the cooking pot on this thing. It's smooth and the clean up is very easy to do with just about any dish that you might cook.
More Details about the Instant Pot 
See: Full Review of the Instant Pot Multi-Functional Pressure Cooker.
You can easily purchase the Instant Pot Multi-Functional Pressure Cooker on Amazon:


Is the Instant Pot Worth It?
#5: Zojirushi Rice Cooker and Warmer
The Zojirushi Rice Cooker and Warmer is our most expensive product in the Top 5 Rice Cookers. However, since it is one of the most popular brands in kitchen gadgets, we're including it in our list.
This is a kitchen gadget for you if you are a modern cook. It has a digital feature that makes cooking rice easier and more effortless. Today's homemakers are busy with so many things including their homework from the office, the household chores, and attending to the kids' school projects and assignments.
The delay timer means that you can set it and forget it in the morning. Then, when you get home for dinner, you can have some perfect rice waiting for you. It also keeps rice warm for hours.
Digital Rice Cooker Makes the Perfect Cooked Rice
Since this electric cooker is digital, everything is done in just one touch of a button. There's no room for overcooked rice with this kitchen gadget because it automatically switches to 'keep warm' mode once the rice is completely cooked. The induction heating method is something that will make perfect rice, every single time.
There are different menu options to cook rice and all you have to do is pick an option and press it. No need to lift the cover to check how long it still takes for the cooking to complete. The LCD displaying the timer already indicates the cooking status.
Capable of Cooking a Variety of Grains
The best part? It can cook many types of rice with easy: brown rice, white rice, sushi rice, quinoa, porridge, oatmeal, and other grains. If you want something that's going to make perfectly cooked foods or all kinds? This one might be it.
Where to Buy one of the Best Automatic Rice Cookers
See: Full Review of the Zojirushi Rice Cooker and Warmer.
The Zojirushi Rice Cooker and Warmer is easily available on Amazon:


What to Look for in a Rice Cooker?
If you're looking to buy a new rice cooker, then you'll want to consider a number of features.
Capacity
Consider how many people you're cooking rice for: a single person, or an entire family. You can get very small, 2-3 cup rice cookers, or ones that cook 20 cups or even more. Most people find that a 10-cup rice cooker is a nice balance between these two.
It doesn't take up too much space in the cupboard, but it's big enough if you have a dinner party or something like that.
More than Just Rice?
There are some simple ones that make perfectly cooked rice. And that's about it.
At the other end, there's the Instant Pot that makes a million and one things. It's really up to you, and how much money you want to spend on something like this.
In the middle, there are rice cookers that make a variety of grains such as brown rice, quinoa, oatmeal, etc.
Steaming Feature?
Some cookers include a steaming basket and allow you to cook meat or veggies along with the rice. It can be a healthy way to make a complete meal for your family in a short amount of time.
Easy to Use Controls
Some rice cookers feature a digital menu that can do a ton of things. Others just a button that you push down to cook which pops up when it's done.
Either way is fine, but it should be easy to use.
Programmable Settings
You may want to have a delayed feature that allows you to set the cooking time to start later.
Keep-Warm Settings
If you're the type of family who is very busy and eats at different times, you may want to buy a rice cooker with a keep warm setting. This keeps your rice at the ideal temperature for hours.
Removable or Retractable Power Cord
This can make storage very easy.
Detachable Inner Lid
This often gets quite dirty because the water bubbles up when cooking, along with steam. Make sure that you can remove this for easier cleaning.
Nonstick Cooking Pot
Check the reviews for the rice cooker you're considering buying to see if the cooking pot has a surface that's easy to clean. Rice can get sticky!
Have your Say about the Best Automatic Rice Cooker
What's your pick for the best rice cooker? Leave a comment below and let us know what you think.