Do you want to find out the most widely used coffee makers around the world? Then keep on reading for our top picks to make yourself a delicious cup of joe at home!
Most Popular Coffee Makers in the World for Flavorful Coffee
Coffee shops have seen growth in business throughout the years. Anywhere in the world, these establishments have become a favorite venue of many people. Students do their research and study their lessons while enjoying their large-sized frappe.
Entrepreneurs and marketing professionals meet up at the coffee shop for planning, presentation and other business-related transactions. Since coffee drinking for any purpose is a popular trend worldwide, many households have started investing in coffee makers for home use.
They want to experience the coffee shop ambiance and quality of coffee right inside the comfort of their home.  Here, we present some of the most popular coffee makers in the world.
These most popular coffee makers in the world are designed to make flavorful coffee and other delicious beverages, hot or cold.
Among the top brands known worldwide include Cuisinart, Mr. Coffee, and Zojirushi. These are the bestsellers among the coffee lovers nowadays. They have become favorites for their features, functionality and above all, their price. If you are a coffee enthusiast, you will definitely love this page as we give you tips, advice and how-to's for excellent homemade coffee.
Top 5 Ways to make Coffee
There are a number of devices that you can use to make yourself coffee at home. Here are some of our top picks from a French Press, to Espresso machine or drip coffee machine.
#1: French Press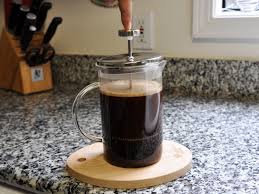 There are still people who prefer their coffee made manually instead of by a machine. To achieve best results in coffee, individuals use the French press. Making coffee with this one is reasonably easy. The French press' cylindrical pot with built-in filter presses the hot (not boiling) water through the ground coffee. To make flavorful coffee with a French press:
Simply place the pot on a flat and dry surface.
Add about 7-8 grams of coffee to the pot. Pour about 200 ml hot (not boiling) water into the pot. Stir gently.
Carefully, insert the plunger.
Stop it just above the water level and ground coffee but do not plunge yet.
Leave it for about 4 minutes.
Press the plunger slowly.
Coffee is ready for serving.
If you don't have too much space in your kitchen coffee press is what you need to make flavorful coffee. Check out our Top 5 French Presses for your choice of coffee press.  If you can't decide still, which among the 5 coffee presses is best for you, see the full review of the Sterling Pro Double Wall Stainless Steel French Coffee Press. It's the No.1 in our list and you might consider it to be your best pick.
# 2: Drip Coffee Machine
The Drip Coffee Machine is your typical coffee maker. If you opt for the conventional, this one's for you. There is no special coffee ingredient to make the hot drink with this machine. There is no complicated instruction to follow either, when using a drip coffee machine. All you need are coffee grounds, water and the machine for your deliciously brewed coffee.
If you are planning to buy a new coffee machine, we recommend five of the Amazon bestsellers. Check out our Top 5 Drip Coffee Machines to help you pick the machine that will meet your coffee needs.
This machine is not too big so it is best for those with space issues in their kitchen. This is one of our most affordable machines in the list, too, not to mention its being highly rated.
You may also just want to check out our top-rated one by Mr. Coffee right here:

How to Make Coffee in a Coffee Maker
Check out this short video to learn how to make yourself that perfect cup:
#3: Espresso Machine
The Espresso machine is a special kind of coffee maker. This is designed for those who want their coffee extra strong. The hot beverage made from this machine is usually served through small cups or shots instead of cups. Additionally, espresso machines function not just as espresso makers. They make frappe and cappuccino, too.
This means that members of the household who are not that enthusiastic about very strong coffee can also benefit from an espresso machine.  If you want a more flavorful coffee, invest in an espresso machine.
Our Top 5 Espresso Makers will help you find the best machine for your shot of espresso or a cup of frappe or cappuccino.  For the budget-conscious person, the Nespresso Pixie Espresso Maker is our most affordable in the list. Despite its low cost, this machine's quality and durability are the other reasons for you to opt for it.
#4: Keurig Coffee Makers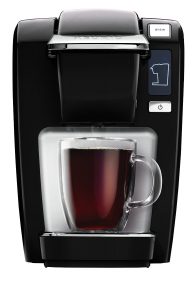 Keurig is one of the most trusted brands in coffee makers.  Aside from the fact that it brews delicious and aromatic coffee, most of this label's machines have different settings for the cup sizes and strength of taste.
Not only that, if your family have different preferences when it comes to hot drinks, the Keurig Coffee Maker is an ideal choice. It is designed for all ages. Parents can enjoy coffee anytime of the day with a Keurig Coffee maker.
The better news is that, this machine can brew tea for relaxation too. It also makes hot cocoa for the kids. There are different machines you can find from Keurig.
Check out our Top 5 Keurig Coffee Makers and see which one is best for you and your loved ones.
To help you get decided, we highly recommend the Keurig K350 Coffee Maker. It is reasonably priced and yet it performs as if it is the most expensive coffee maker available.
#5: Chemex Coffee Makers
This is another way of making coffee without the conventional machine. It is a vase-type pour-over method to make big batches of coffee. Coffee made through this method can be compare to espresso because of the very strong taste it produces.
Indeed, the taste becomes stronger especially when the coffee is cooled. However, the hot drink made from this maker has a smoother texture.
How do you Make your Morning Cup of Joe? 
What's your preferred method for making a cup of coffee in the morning, afternoon, or any time of day for that matter? Is it one of the methods on this list, or do you prefer another way? Leave a comment below and let us know what you think. We'd love to hear from you.
Also be sure to give this article a share on Facebook, Pinterest, or Twitter. It'll help other coffee enthusiasts, like yourself find this useful resource.