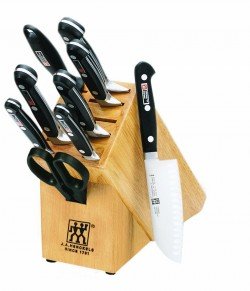 You don't need to be a professional cook or chef to own a high quality knife set. You don't even need an ample amount to purchase this valuable kitchen tools set. Just a few hundreds of dollars are all you need to own a whole package of knives which the culinary experts use at a fancy restaurant or five-star hotel. Yes! You read it right.
Today's bestselling knife sets no longer cost thousands of dollars or so. And, as you determine the worth of the product, price is not the gauge anymore. Quality, label and its Amazon rating are three things you can also consider. To help you choose the right set we have selected the Top 5 Knife Sets for you.
Top 5 Knife Block Sets
Our Top 5 Knife Sets have all reasonable costs and yet they are of highest quality. The items we have in the list vary in label but we guarantee you that they are brands you can truly trust. Aside from the price, another basis we looked into when we listed down these Top 5 Knife Sets is their rating on Amazon.
Read on and find out which among our knife sets here will address all your cooking and food preparation needs. By the way, our Top 5 Knife Sets are brilliant gift ideas too!
#1: AmazonBasics 18-Piece Knife Block Set
The AmazonBasics 18-Piece Knife Block Set is one of the most affordable knife sets you can get today. Despite its low cost, it has many different features that even the most expensive knives have.
With this top of the line product, you can definitely transform yourself into a culinary expert even if you are just cooking for your personal pleasure or your family's meal every day. Since the package contains different slicers and cutters, you can slice and cut your ingredients excellently and efficiently.
You can also consider giving this as a gift especially that its packaging and presentation are worthy to wrap as all-occasions gift.
Each knife has easy grip and soft handle so any user can guarantee his safety and convenience in the kitchen. Cleaning this knife set is so easy. All you have to do is hand-wash it. Since the knives promise longer-lasting sharpness here, be extra careful so as not to cut your finger.
Each blade in the set is made of stainless steel so you can make sure of longer-lasting benefit from it. And, even if AmazonBasics includes a sharpener, you won't need it for quite a while. The knives have long-lasting sharpness, after all.
See: Full Review of the AmazonBasics 18-Piece Knife Block Set.
The AmazonBasics 18-Piece Knife Block Set is available on Amazon today:


#2: Wusthof Classic Knife Block Set
Wusthof Classic Knife Block Set with Gourmet Steak Knives, 14 piece
Outstanding sharpness, balance and durability
Forged from one piece of specially tempered high-carbon steel to ensure outstanding strength
Seamless and hygienic handle is triple riveted with full tang
PEtec Precision Edge Technology maintains its extraordinarily sharp edge 30% longer
Material: Stainless steel blades, composite handles, wood block
Imagine this scenario: Your son or daughter is getting married soon. You want to give the marrying couple something very special—something like an heirloom. You want this inheritance something both the husband and wife can use so jewelry may not be a good idea.
The Perfect Wedding Gift
A perfect wedding gift then is the Wusthof Classic Block Knife Set. Definitely, this is something they can use for a lifetime. In fact, the newlyweds can even pass to their children and grandchildren. Indeed, this is how durable this knife set is. The stainless steel each knife in this set is made of lasts for many years.
Durable and Long-Lasting
Each knife in the set assures long-lasting sharpness so food preparation is always convenient no matter how busy you are in a day. And since this is a Wusthof product, expect the whole package to last longer than you've ever expected. Indeed, this brand has been famous in cutlery for almost two centuries now.
Key Features:
10 x 8 x 15 inches
12 pounds
22-piece set
Comes with a sturdy storage block
All pieces durable to last for many decades
Comes with bread knife
Includes shears
All knife with tough handles for protection
Easy grip for all knives
People that Like the Wusthof Classic Block Knife Set are Saying:
—>Read More Customer Reviews on Amazon<—
"Quality of the knives seems great. Highly recommended and I think this set will last for years with care!"
"If you're looking for the absolute best made and sharpest knives, here they are folks! These knives aren't cheap, but they are the absolute best (and sharpest) knives I have ever seen, used or owned."
"These knives are absolutely perfect. I've always wanted a nice set of knives that I could pass down to one of my kids. I think these will be it. It's very easy to keep them extremely sharp with just a few quick strokes on the sharpening tool."
Where Can I Find It?
Does it sound like the right knife set for your needs. You can easily find it on Amazon. Click the button below to check for the best prices and also to see if this product is eligible for free shipping with a Prime membership:

#3: Hampton Forge Knife Block Set
Is there a special occasion coming? Whether it's a birthday, anniversary, housewarming or wedding that's fast approaching, there surely is one ideal gift you can give the celebrant. Surprise him or her with the Hampton Forge Knife Block Set.
This is not that expensive, so it is certainly within your budget. Anyone who will receive this knife set will feel happy to be the new owner of a high-quality kitchen tools set. You'll definitely be a proud giver of knives that are all functional, easy to handle and safe to use.
The Hampton Forge Knife Block Set costs just around $150 on Amazon. This is a price that is so within your budget. You don't even have to worry about the shipping fee as you can get this product with free shipping.
Our third in the Top 5 Knife Sets consists of a chef's knife, a bread slicer, a Santoku knife, a utility knife, a parer, and steak knives, among others. All off these high-quality knives stand safely on a durable magnetic block.
See: Full Review of the Hampton Forge Knife Block Set.
The Hampton Forge Knife Block Set is available on Amazon today:


#4: Twin Signature 19-Piece Knife Block Set
Do you know what a good knife set is? If you don't, worry not. There are three important factors to consider when identifying if a knife set is actually good: the price, quality and package or set content.
Luckily, all of these three considerations are present in the Twin Signature 19-Piece Knife Block Set. This product has a very reasonable price. Then, it is a product of Germany so it guarantees excellent quality and features. And, third, this contains all the knives you basically need for food preparation.
For a very reasonable cost, you can already be an owner of knives that can turn you into a chef even if you're just cooking for an intimate meal with your family. Blades in our fifth in the Top 5 Knife Sets have long-lasting sharpness for consistently convenient food preparation and cooking.
See: Full Review of the Twin Signature 19-Piece Knife Block Set.
Check out the Amazon page to buy the Twin Signature 19-Piece Knife Block Set today:


Have your Say about these Knife Sets!
What's your top pick for a knife block set? Are you going for Henckels, Wusthof, or one of the other options? Leave a comment below and let us know. We'd love to hear from you.
Also be sure to give this article a share on Facebook, Pinterest, or Twitter. It'll help other home cooking enthusiasts, like yourself find this useful resource.
Last update on 2019-09-15 / Affiliate links / Images from Amazon Product Advertising API