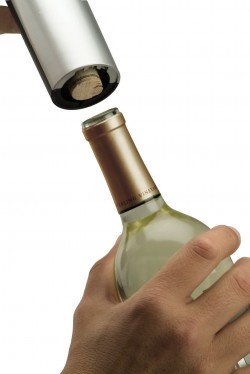 Do you always find it hard to decide which gift to give a loved one come special occasion? Worry no more! One perfect present you can buy and wrap for the celebrant is a high-quality wine opener. This needs not be expensive but it has to be impressive.
You may think it is impossible to find something inexpensive and yet impressive in features and functions. But we tell you, it is oh-so-possible! With our Top 5 Wine Openers here, you'll discover the best deals in terms of price, quality and function.
Wine enthusiasts: read on!
Top-Quality, but Affordably Priced
Our Top 5 Wine Openers are all bestsellers on Amazon today because of their reasonable prices and the things they can do for the user. We arranged our five items according to their bestselling standing on the popular website! The prices vary but they are all affordable, for sure.
Our No.1 in the list is still the cheapest and yet it is still a valuable present you can give on any occasion. Read on and see which one suits your receiver's wine-opening needs and preferences. You might even find something you can use in your own kitchen.
#1: Wing Corkscrew Wine Opener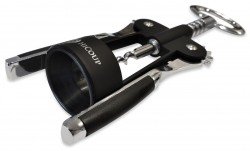 The Wing Corkscrew Wine Opener is one of the most convenient to use during parties and get-together at home. If you're looking for a product that is stylish and yet very functional, this is definitely what you're looking for.
You Won't Break the Cork with this One
Since this opens wine bottles fast, your guests won't have to wait for their glass of wine. You can even treat them with their second, third, fourth, (and so on) serving at an instant. Indeed, this kitchen gadget is wing type so it is easier and more convenient to use. And, if you've always been breaking the cork whenever you open a wine bottle, you'll never experience it with this high-quality opener.
Sleek Design and also Easy to Use
You'll have no doubt that this product is undeniably a star in the kitchen. It is functional that it has sleek design. This wine opener is easy to use, multifunctional and lightweight. Therefore, you can conveniently bring it and comfortably lift it. There's no need to worry either, when you cannot consume the whole bottle of wine. The product comes with a wine stopper that will reseal the bottle and retain the wine's delicious flavor.
Features 
Easy to use and efficient
Stopper prevents the screw from breaking the cork
Ergonomically designed handle
Long enough to extract even the longest corks
Can also function as a beer opener
Lifetime guarantee
What People are Saying about this Wine Opener
—>See More Customer Reviews on Amazon<—
"It's better than many of the cheaper ones that I've tried which are similar. It's higher quality and seems like it'll last a lifetime. I like that it's long enough so I don't have to wrestle the corks out of the bottle."
"Very well designed and requires just a light touch to remove both natural, and synthetic corks. I love that is can open beer bottles too."
Learn More About It
See: Full Review of the Wing Corkscrew Wine Opener.
Go to the Amazon page to buy the Wing Corkscrew Wine Opener. If you're a wine enthusiast, you'll love this one:

#2: All-in-One Corkscrew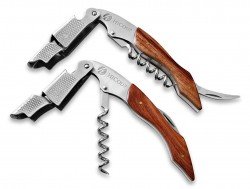 Do you or your recipient love to go to picnics, outdoor activities and potlucks with your family? Then, opt for the All-in-One Corkscrew for your comfort and convenience.
Sometimes, people don't bring wine to events and activities away from home even if they want to because of the difficulty in opening the bottle. This opener will surely complete your family bonding or getaway with friends outdoors. It is lightweight and compact so you can easily bring it anytime, anywhere you want.
Durability and Ease of Use
Our second in the Top 5 Wine Openers is one of the wine bottle openers today with the highest rating. In rosewood material, this all-in-one opener guarantees durability and ease of use. It has comfort-grip feature so anybody from the family can use it minus all the worries about safety. With 3-in-1 function, this bestseller can open wine bottle, cut foil, and function as a corkscrew.
Features of One of the Best Wine Bottle Openers
Made of stainless steel (100% rust free) and rosewood
Durable enough to last a lifetime
Comfortable and functional with a bartender's accessory tool
Waiters 3-in-1 tool
Full refund if you're not satisfied
What Do People Think About It?
—>Read More Customer Reviews on Amazon<—
"I'm a waiter and at the restaurant where I work, these things are kind of standard issue. I keep mine in my pocket and find myself using it multiple times a night, even for things other than opening wine!"
"It's one of the best wine openers out there, if you prefer this kind of style. I have a feeling that I'll still have this thing in decades from now."
Where To Buy It
See: Full Review of the All-in-One Corkscrew.
Visit the Amazon page to purchase the All-in-One Corkscrew:


#3: Oster Cordless Electric Wine Bottle Opener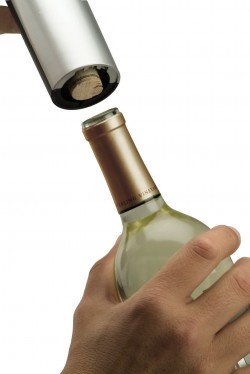 If a friend invite you to his or her wedding but you are hesitant to attend because you cannot afford to buy the marrying couple a gift, worry no more because we have a brilliant yet practical gift idea for you.
Give the pair an Oster Electric Wine Bottle Opener.  This is very affordable and yet it is very functional. The newlyweds will surely love this as a great addition to their kitchen tools. It is lightweight, so easy to operate and it opens a wine bottle at an instant!
One of the Best Electric Wine Openers
You definitely won't regret buying our third in the Top 5 Wine Openers for a wedding gift for the special couple. You'll surely be proud to be a giver of this product. Imagine shelling out a very small amount for an electric wine bottle opener. Isn't it exciting?
Foil Cutter Included
This kitchen gadget has a foil cutter to so the user can easily remove the seals.  Not only that. Your recipients are sure to find this bottle opener so convenient to use with its soft-grip handle.
Features of this Electric Wine Opener
Removes corks in seconds
Can be used for up to 30 bottles (6-8 hours) on a single charge
Comfortable, soft-grip handle
Sleek design
Frustration free packaging
Charging base included
What Do People Think about It?
"It's well made and even the plastic feels really nice in your hands. The soft grip is easy to hold onto and doesn't slip. I've used it for a couple years now and it's still going strong. Traditional wine openers? No thank you!"
"I really, really had very low expectations for this thing and didn't really think it'd work that well. I was pleasantly surprised and almost couldn't be happier with my purchase! Although it's not cheap, it's worth every penny."
Learn More about It
See: Full Review of the Oster Cordless Electric Wine Bottle Opener.
Hit the button below for your purchase of the Oster Bottle Opener. It's certainly a top electric wine opener:

Oster Electric Wine Opener Review
#4: Brookstone Compact Wine Opener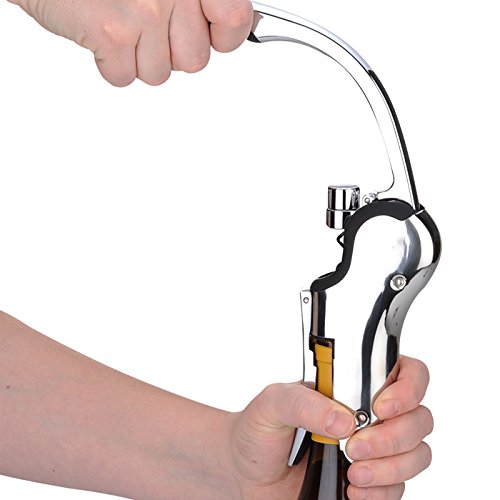 The Brookstone Compact Wine Opener has an impressive rating on Amazon today. This means that the popular website highly recommends it and it is among their bestselling kitchen tools. If you are on a tight budget, this product is undoubtedly for you because its price is so within your budget.
Opens A Bottle in Less than Five Seconds!
This is the best must-have if you love to entertain and share stories with loved ones at home over glasses of red and white wine. Regardless of the number of guests you have at home, you surely can serve everyone their choice of wine minus all the waiting. This bestseller can open a wine bottle in less than five seconds so you everyone can consume more bottles at a time.
A Ton of Features
Full of features and functions, this item is as good as the other expensive similar products you can find. In fact, it can even be better! This kitchen favorite has a supple long handle for convenient and comfortable bottle-opening.  Whether it is a natural or synthetic cork that seals your bottle, this wine opener can be useful, too. With just a little to spend, you get a lot of benefits in the kitchen!
Features:
Opens a wine bottle in just a few seconds
Lever mechanism makes opening effortless
Works with both natural and synthetic corks
Excellent customer reviews
Ergonomic handle
What Do People Say About It?
—>See More Customer Reviews Here<—
"It's super solid and very easy to use. Best of all, it's durable, unlike some of the other ones I've tried. I've used this to open 50+ bottles and it's still going strong."
"The best ever! I used a previous version of this for well over 1000 bottles. When it (finally!) broke, I bought the updated version and it's still just as good."
 More Details:
See: Full Review of the Brookstone Compact Wine Opener.
Go to the Amazon page for your purchase of the Brookstone Compact Wine Opener.


Learn how the Connoisseur's Wine Opener Works
#5: OxGord Electric Wine Opener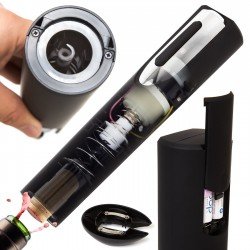 If you always break the cork each time you open a wine bottle, it take a lot of effort before to enjoy some red or white wine the OxGord Electric Wine Opener will answer your dilemmas.
This guarantees you convenience and ease of use especially when there's a special occasion at home. You can open many bottles of wine with just one opener at an instant. And the best news about this product is that, you don't need an ample amount to own it.
Reasonably Priced
This is one of the cheapest wine openers you can find today. And, at such a low cost, you will witness a high-quality and multi-functional kitchen tool. With its one-touch operation, you don't have to exert too much effort opening a wine bottle. You won't have to worry either, about leaving a cork stocked and broken on the bottle's opening.
Features 
Includes foil remover and convenient stand
One touch operation
Elegant design and fits easily into one hand
Powerful battery
100% money-back guarantee
What Do People Think About It?
—>See More Customer Reviews Here<—
"I'm 75 years old and don't have as much strength in my hands as I used too, so I bought this electric wine opener. I'm sure happy that I did. It works well and it's now effortless to enjoy a nice glass of red with dinner."
"It works great, and also looks really elegant. Whenever people come to my house and see it on the kitchen counter, they ask what it is!"
Learn More About this Top Rated Wine Opener
See: Full Review of this Wine Opener.
Go to Amazon to buy it now:


Have your Say about these Wine Opener Reviews
What is the best wine bottle opener? Leave a comment below and let us know what you think.