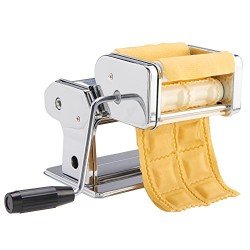 Are you looking for a top-quality pasta maker at a very reasonable price? Then the Vonshef stainless steel pasta maker should be at the of your list. Read our buying guide packed with information to help you decide if it's the right choice for your home kitchen.
VonShef 3 in 1 Stainless Steel Pasta Maker Review
The VonShef 3 in 1 Stainless Steel Pasta Maker is a pasta machine that can make 4 kinds of pasta: Spaghetti, Linguine, Tagliatelle or Fettuccine. You can also roll out a sheet from which you can make lasagna or ravioli. You'll just a need a pasta cutter wheel to finish the job. It's now easier than ever to make fresh pasta that your family and friends will love from the comfort of your own kitchen.
Expensive, but Perhaps not so Durable?
It's one of the more expensive pasta machines, but it doesn't seem to be made as sturdily as some of the cheaper ones out there. Perhaps consider these Italian made machines instead: Cucina Pro Imperia Pasta Machine or the Marcato Atlas Pasta Maker. They're not only cheaper, but also have some much better reviews.
People have reported the Cucina Pro and the Marcato Atlas lasting for decades and being passed down from generation to generation. With the Vonshef? Not so much. Some reviewers mentioned it as being difficult to crank after only a few uses.
VonShef Pasta Maker, 3 in 1 Pasta Machine Stainless Steel, Pasta Roller with 3 Cut Press Blade...
MAKE PASTA THE TRADITIONAL WAY - Perfect for making a range of fresh homemade pasta dishes
3 in 1 MULTI-FUNCTION - Fully adjustable for different thicknesses of pasta as well as kneading and...
TABLE CLAMP INCLUDED - To hold machine in place as well as a pasta measuring tool
STAINLESS STEEL - Sturdy and stylish retro design
CARE GUIDE INCLUDED - Maintenance instructions included to help keep machine new
Where Can I Buy the Vonshef Pasta Maker?
If you must, you can buy the VonShef 3 in 1 Stainless Steel Pasta Maker on Amazon. Check now for the lowest prices on this stainless steel pasta maker:

Vonshef Pasta Maker Summary
The Vonshef pasta maker is a versatile, 3 in 1 machine that comes with attachments for spaghetti, linguine, fettuccine, lasagna, ravioli and tagliatelle. It's made from stainless steel and has 10 thickness settings for rolling out your dough. There is a sturdy clamp that attaches to your work surface for easy storage and a removable handle.
Compare Pasta Machines
There are a ton of great options out there for pasta makers, including some fully automatic ones and others that are made in Italy. You're sure to find out that suits your needs and budget. For all the options, be sure to check out our picks here: Best Pasta Machines. Or, take a look at this chart below:
Key Features of the Von Shef Pasta Maker: 
10 thickness settings
4 kinds of pasta, plus lasagna and ravioli
Clamp and 3 blade settings included
Instruction book included
Stainless steel construction
People that Like the VonShef Stainless Steel Pasta Maker are Saying: 
—>See More Customer Reviews Here<—
"This pasta maker is very easy to use and set up. Clean-up is a breeze as well. And the best part? It makes some delicious pasta. We did have to search around our kitchen a little bit to find a countertop that it fit on."
"Super-helpful instruction manual so if you're having some problems, be sure to take a close look at it. You may be doing something wrong. A nice machine at a nice price. I know lots of reviewers mentioned that it's not so durable, but so far, it's worked out well for me and I have no complaints about it."
"A great size for a small kitchen, or RV. Love this thing and we make fresh pasta at least once a week with it. However, it's certainly not as durable as some of the machines that you can buy from Italy like the Marcato Atlas. This one gets harder to crank the more that we use it."
VonShef Pasta Machine in Action
VonShef 3 in 1 Stainless Steel Pasta Maker Negatives: 
MANY reports that this product is not very durable, including falling apart after only a few uses.
Not so easy to clamp to the counter
After clamping, sometimes difficult to turn the crank due to the positioning of the machine
The clamp is too small for thick counters
The instructions booklet is not detailed enough. It requires some searching around online before use
The Takeaway on the VonChef Pasta Maker: 
Overall, the VonShef 3 in 1 Pasta Maker is a miss. There are too many reports of it not being sturdy enough and it falling apart after only a few weeks of use. Compare this to some of the Italian made machines that can last for decades, even with weekly or daily use. This one just isn't durable enough for us to recommend using.
The other problem with this pasta machine is the clamp. It's too difficult to clamp to the counter and many, many people reported some serious frustration with it. Picture taking this machine around the various parts of your kitchen until you find the perfect spot for it. Annoying? It certainly is!
Not Worth the High Price, Consider One of These Instead:
It's one of the more expensive hand-crank pasta machines out there, but it certainly doesn't warrant this high price. Consider the following top-rated pasta machines instead:
Cucina Pro Imperia Pasta Machine
What Should I Consider When Buying a Pasta Machine?
If you're going to buy a noodle maker, here are a few of the factors to consider.
#1: Electric or Hand Crank
If you want easy, go for the electric ones. All you have to do it put your ingredients in, and then out comes pasta at the end!
On the other hand, the hand crank ones require you to make the dough, and then feed it through the machine by using the hand crank. To make this slightly easier, use a motor attachment.
#2: Thickness Adjustment
The best machines have a one-click way to adjust the thickness of the dough. Fiddling around with this is just too annoying!
#3: Clamp 
You'll want a very sturdy clamp because this will make rolling the dough much easier. If you don't, the machine will move around too much when you're turning the crank.
#4: Ease of Cleaning
The best machines require just a quick wipe. The electric ones often require more extensive cleaning.
You may also want to consider how easy it is to take the machine apart for a thorough cleaning every year or two.
#5: Attachments
Most machines include attachments (or the basic unit includes them) that allow you to make 3-4 kinds of pasta. If you want to make a specific kind, be sure to check if your machine includes this, or has something you can buy to do it.
#6: Quality and Durability
In general, the pasta machines made in Italy are designed to last for years and be passed down to the next generation. The ones made in North America or China? Not so much! They are kind of like a regular kitchen appliance that you can get a couple hundred uses out of.
#7: Customer Reviews for Pastas Makers
Before buying any kitchen appliance, you should take a quick look on Amazon and see what customers are saying about it. Pay particular attention to the 3-4 star reviews because they usually give the most accurate picture of a product's pros and cons.
Have your Say about this Top Rated Pasta Maker
What are your thoughts about the Vonchef Pasta Machine? Is it worth a buy, or are you considering another one instead? Leave a comment below and let us know your thoughts.
Also be sure to give this article a share on Facebook, Pinterest, or Twitter. It'll help other home cooks, like yourself find this useful resource.
Last update on 2021-04-09 / Affiliate links / Images from Amazon Product Advertising API