The Kitchen Gadgets You Need Today!
These 2o things belong in every single kitchen today. They're going to make your life easier by saving you time. They're going to make your life awesome by giving you a whole ton of deliciousness. Don't want to miss out? Keep on reading to find out the 20 things that belong in your kitchen today.
#1: A Pasta Machine
Have you ever had homemade, fresh pasta? We sure hope you have because it's quite possibly one of the most delicious things you could ever hope to put into your mouth. Pair it with some homemade tomato sauce, or some homemade cream sauce and you'll be well on your to the culinary hall of fame in your family and friend's eyes.
Although it does take a bit of time to make the dough, chill it, and then roll it out, it's TOTALLY worth it. Trust us. You will never, ever regret spending the bit of time it takes to make a batch of awesome for you and your family. It'll change the way you eat pasta, forever.
Pasta Maker Comparison
2 Basic Options for Pasta Makers
You have two basic options for pasta machines, something like the Marcato Atlas where you do much of the work yourself. The thing this machine does do is help you roll out the dough thinly and evenly. It's super durable and you'll likely be passing this one onto your children and grandchildren.
Or, you can get a fully automated pasta maker like this one from Phillips. You put in the ingredients, press a button or two and you'll have fresh pasta, ready to cook in 15 minutes. LOVE IT! Save yourself a ton of time with this thing. You can get it on Amazon today:
#2: A Yogurt Maker
If you don't live in another universe, you've probably noticed that yogurt at the grocery store is ridiculously expensive, perhaps even a total rip-off? Despite loving yogurt, I didn't eat it as much as I wanted for years due to this very fact.
However, that all changed the second that I got a yogurt maker. Once that happened, I ate yogurt to my heart's content. Seriously. Yogurt machines are awesome for a whole lot of reasons, but here are my favourites ones:
Yogurt machines make yogurt far more cheaply than store-bought
You can control what goes in there-no more sugar or chemicals
They're super easy to use
You can have fresh yogurt, ready to eat in the morning
Bulk, or Individual Containers?
For homemade yogurt, you have two basic choices- the bulk yogurt makers, or the individual cups. It's up to you, but here are our recommendations for each category.
For bulk yogurt makers, our favourite is the Cuisinart Bulk Electronic Yogurt Maker. It's a top-quality machine that's totally hassle free-just add your ingredients and press a button. No messing around with monitoring temps here!
As far as yogurt makers that do individual portions, our top pick is the Aroma 8-Cup Digital Yogurt Maker. We LOVE the countdown timer, automatic shut-off, 1-year warranty and dishwasher safe cups. You can get yourself the homemade yogurt awesome on Amazon:
Yogurt Maker Comparison
#3: An Espresso Machine
If you like coffee as much as we do here at Kitchen Gadget Reviews, you'd be crazy not to get yourself an espresso machine. Compared to the taste of coffee from something like a drip-coffee machine, well…you could hardly call that coffee anymore! It really is that much better of a cup of coffee when you use an espresso machine. The good news is that there are a ton of choices, suitable to just about any budget. You truly don't need to spend a thousand bucks or more (but you could) to get yourself a decent machine.
Two Top Picks for Espresso Makers
We'll give you the low-down on our two top picks for espresso maker-one cheap one, and one expensive one. The cheap-ish espresso machine that does the job is the Nespresso Pixie. Priced at around $100, it makes you a decent cup of coffee, minus all the frills of the way more expensive machines.
However, if you've got a bit of cash to spend, then you'll need to upgrade your life with something like the DeLonghi Stainless Steel Espresso Maker. This will be the first, and last espresso machine you ever need to buy. If you're serious about coffee, get serious about the machine you're using to make it! Head over to Amazon to check out the awesome for yourself:
#4: The Vitamix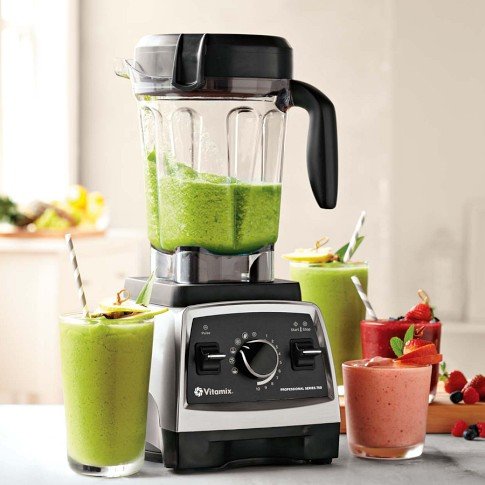 You've probably had those cheap blenders before, and by "cheap," you probably already know what we're talking about. You know, the ones that have a hard time crushing ice without blending the blades, that leave full on chunks in your smoothies and that seem to break every six months or so with alarming regularity. Forget that. You'll need to upgrade your life and get a Vitamix. It'll be the first and last blender that you ever buy for the rest of your life.
Use it for Everything!
We use the Vitamix for just about everything at my house. Smoothies, hummus, soups, sorbet, nut butters, refried beans, etc. Your imagination is the limit more than this machine ever will be. This will be the favourite thing you purchase this year by far. Seriously. We've never, ever heard someone say that they regret buying themselves a Vitamix.
Check out the Vitamix online:

#5: A Slow Cooker
A slow cooker is going to save you a ton of time. You put the ingredients in it, turn it on and then go on with your day. Then, come home to a delicious meal waiting for you to eat it. Seriously. Slow cookers are kind of life-savers on those busy days when you really just don't have time to cook. And they make some seriously delicious food.
A Ton of Choices for Slow Cookers
Slow cookers range from ridiculously simple to a ton of features. In our experience, a basic one is all you need. An on/off switch and perhaps a low/high temperature setting. A nice choice is this Proctor-Silex 4-Quart Slow Cooker. It'll last you basically forever, and the size is great for a small family of 3-5. We use ours every single week at our house!
Check out the Proctor Silex 4-quart slow cooker over on Amazon:
#6: A Panini Press
We're sure you like a good sandwich. Basically everyone does! Now we're also sure that you want to kick your sandwich making into high gear, right? Level up to the next level? If you answered yes to those questions, we're going to tell you how to do that right now. You just have to get yourself a panini press. Cheesy, crispy, gooey deliciousness. Here's a basic panini recipe to get your mouth watering a little bit.
Not All Panini Presses are Created Equal
In the world of panini presses, not all are created equal. There are some definite winners, and also some definite losers. The winners grill your sandwich evenly, to perfection. The losers grill unevenly, break very quickly and end up burning your potentially delicious sandwich.
If you want a sweet panini press at a reasonable price, then the IMUSA Electric Panini and Sandwich Press should be your first stop. It's a nice piece of equipment that belongs in just about every kitchen. We love the flat surface, which means that you can cook up some mean french toast, or pancakes in no time as well. Plus clean-up is super easy too. Do yourself a favour, and pick up one on Amazon today:
Panini Press Comparison

#7: Top 10 Spices
So maybe you can cook, but you want to maximize deliciousness, while minimizing calories? We hear you. Just about everyone is in the same boat these days! What's going to get you there is using spices, and lots of them.
Check out this post, Top 10 Spices that Belong in Every Kitchen for our recommendations of which spices to keep in your kitchen at all times. Get them, put them in your kitchen, and use them!
#8: A Butcher Block
Whenever we go to other people's houses, we are always in disbelief at the pieces of junk people are cutting things on! Plates, thin plastic flimsy things, old and dirty cracked wood things. It genuinely makes us feel unhappy and we then immediately know what that person's Christmas present is going to be.
Everyone NEEDS a decent piece of wood to cut things on! It makes the whole cooking experience so much better. Trust us. Use a nice butcher block once and you'll never go back to using cheap pieces of garbage that more aptly belong in the garbage.
Go Moderately Priced!
This is another one of those things that you can spend a moderate, or a ton of money on. The moderately priced butcher blocks are fine. Check out the Neet Organic Butcher Cutting Block, with an outstanding rating on Amazon:
#9: Homemade Peanut Butter and Cashew Butter
If you're not making your own nut butters, you're missing out big time. You're missing out on ingesting a ton of chemicals and bad fats with the crap that you can buy at the store. My friend is a cardiologist and she told me that when she does heart surgery, she can tell who eats a ton of peanut butter. Seriously.
Think about that for a minute. Since that day, I've been making my own nut butters and been feeling really, really good about it. The other thing you're missing out on by not making your own nut butters is a whole ton of deliciousness. Try it and you'll be convinced in about 3 seconds and always plan of having these in your kitchen, well forever.
Here are a couple of recipes to get you started:
#10: A Coffee Grinder
If you're a coffee drinker, we're not sure why you would ever drink pre-ground coffee. Coffee loses a ton of flavour the longer you don't drink it after it's roasted. Pre-grinding it just makes the flavour loss happen significantly faster. The best thing to do is buy freshly roasted beans from your local roasting house. Grind small batches and then drink within a day or two! You will most definitely notice a huge difference in the quality of your coffee.
Cheap Coffee Grinders: Not a Good Choice
Although you can get cheap coffee grinders for what seems like a couple of bucks at Wal-Mart, these aren't as good as buy as you might think. They tend to break after what seems like only a couple of times. Overfilling them causes them to break. Overusing them causes them to break. Using them more than five times causes them to break.
Instead, we recommend spending a bit more money to get yourself a nice coffee grinder, such as the KitchenAid Coffee Grinder. It's durable, does the job and will make you and your coffee beans happy for years to come! Check it out over on Amazon:
#11: These 10 Foods
If you have a few basics in your kitchen at all times, you'll be able to make a big variety of meals easily and quickly. Don't have these basics? Well, you'll be struggling each and every single time you decide to cook you or your family up a meal. Do yourself a favour and keep these 10 food staples in your kitchen at all times. You'll NEVER go hungry again!
Top 10 Food Staples for Every Kitchen
Oh yeah, if you ever run out of these things, there are alternatives to check out:
Cornstarch: https://www.kitchengadgetreview.com/8-best-cornstarch-substitutes/
Baking Powder: https://www.kitchengadgetreview.com/top-10-baking-powder-substitutes/
#12: A Hand-Crank Ice Cream Maker
Imagine this. You've invited a ton of neighbours, friends and family over for a summer BBQ. All of a sudden, you whip out an ice cream maker and make up the most delicious ice cream anyone has ever eaten, with the help of these people of course! Ummmm….we have no idea why you wouldn't want to be this person. Get yourself one of these sweet, old-school hand-crank ice cream makers today.
Be the Hero of the Party
Seriously. Get it now to be ready in time for summer! Be the hero of every single summer BBQ party you go to. It's this easy. Check out this awesome hand-crank ice cream maker on Amazon today:
p.s. If you're too lazy to crank, and just want some delicious homemade ice cream, the easy, electricity filled way, here is our top pick: Breville Smart Scoop Ice Cream Maker. 
#13: A Rice Cooker
We know that you maybe grew up cooking rice on a stove. We did too. Except cooking rice on a stove in a small pan blows the big one. It gets burnt on the bottom. It's undercooked. You added too much water. You added too little water. It's disgusting and inedible. We've all been there.
I'm here to tell you something that people in Asia figured out years ago-there is a better way. A far, far superior way to cook rice in fact. In a rice cooker. Call us crazy, but we think that everyone, even people who only eat rice once or twice a month should have one of these babies. They really, really do a far better job at cooking rice than whatever you've previously been doing.
Our Top Pick for Rice Cooker
If you're looking to get yourself one of these sweet little machines, without breaking the bank, then you're going to need to get yourself the Aroma Housewares Digital Rice Cooker. It's affordable, but cooks up the rice to a fluffy, delicious goodness and most definitely belongs in every single kitchen if you ever plan on eating rice in the next year. Check out the details, as well as the excellent reviews over on Amazon:
#14: Top 10 Slow-Cooker Recipes
The next thing that belongs in your kitchen is a handy print out of these Top 10 Slow Cooker Recipes. In a pinch and not sure what you're going to eat for dinner that night? Easy. Just grab one of these, throw the ingredients in there, and come back hours later for some deliciousness. Only have 10 minutes to prepare meals that day? No problem. These Top 10 slow cooker recipes require just about that to make them. They're super simple and delicious. Check 'em out here:
Or, perhaps you're on a health kick? Then you'll want to keep these ones in your kitchen for handy reference too:
Top 10 Healthy Crockpot Recipes.
#15: A Chef's Knife
I'm sure you know what I'm talking about. You're trying to slice a tomato or pepper, but you can't even break through the skin because your "knife" is such a piece of trash. I use knife in quotations because it's such a poor replica, that it can hardly be considered as such. Cooking with a proper knife is like trying to change a tire without a jack. Or, trying to pump up your bike tire without a pump. It really is that important.
Forget the knife sets, you don't need all those knives. No, what you really, really need in your kitchen is one top-quality chef's knife. You'll find yourself using it for everything, all the time, chopping those fruit and veg like a machine. It really does pay off big time to pay some good money for one because you'll be buying it for life.
Our Top Pick for Chef Knife
We know you want our opinion on which knife to get. We'll give it to you straight-our personal choice is the Dalstrong Chef Knife. Japanese quality at a price you can afford. Check out this top-quality chef's knife on Amazon today:
#16: A Garlic Press

Okay, so this is one thing that we didn't use to think was necessary. However, one of our partners has a garlic press at her house, and the more we cook over there, the more convinced we are that it a necessity for any kitchen. I know, I know. Garlic presses are for lazy cooks! I used to agree with you. No more. I love this thing because it's awesome. Get yourself one today.
#17: A Cast-Iron Skillet
I know. I agree with you. Cast iron skillets are a hassle to clean. FYI, see How to Clean a Cast Iron Skillet the Right Way. But just because they take a bit more work to clean, doesn't mean that you shouldn't use one. Once cleaned, and seasoned (oiled) correctly, they work amazingly.
You've maybe used one before, but didn't like how stuff sticked to them. Food sticks because they're not oiled after every use! This is the key to cast iron happiness, and once you get on the program, you'll never go back. Cast iron heats, and cooks very evenly and will never warp. This is truly a frying pan that will last you a lifetime, and probably your children and grandchildren's lifetimes as well.
All Created Equal
Most cast iron skillets are created equal. Cast iron is cast iron. Check out this article: Top 5 Cast Iron Skillets for a few of our top picks. Or, head on over to Amazon to see our first choice on that list:
#18: A Spice Rack
We're sure you're tired of rooting around your kitchen cupboards to find the paprika, or celery salt, or oregano. We were too. That's why we FINALLY get ourselves a spice rack. It was at that point in time that we wondered if we were perhaps crazy for not getting one years and years earlier. A spice rack makes your life so, so, so much easier and will save you a ton of time, especially if you're kind of disorganized.
Pro-Tip for Spice Rack Users
A pro-tip about spice racks. Even though it might be hard, keep everything in alphabetical order. It only takes an extra second when putting spices away, but it's so nice when cooking the next time! This is especially true if there are multiple people who cook at your house!
Something like spice racks is a totally individual choice for which one you will think is most rad. But, a good place to start is this article: Top 5 Spice Racks. We're confident that you'll find something awesome for you. Or, check out one of our favourites on Amazon. It has a classic, space-saving design that most people will like:
#19: A Bread Maker
We know that you probably love the smell of home-baked bread and would have it just about every single day if you weren't so lazy. Although it is better to make bread from scratch, who really has time for that? Very few people who aren't named Martha Stewart, that's for sure. You can however have the next best thing-homemade bread from a bread maker.
The Easiest thing You'll do Today
If you haven't used a bread machine before, you might not be aware of how ridiculously easy it. You just put the ingredients in, in the correct order, and press a button or two. Then you wait a few hours and out pops you're most delicious homemade bread. The only challenging thing about this will be not eating the whole loaf in a single sitting. Save some for your family, you know? They'll smell it and be angry at you if you don't.
One of our top choices for a bread machine is this one from Conair Cuisinart. There are 12 pre-programmed settings so you can make just about any kind of bread that you want. There's also a 13-hour delay start timer so you can have fresh bread ready to go for breakfast. Love it? We sure do. Check out the Conair Cuisinart Bread Machine on Amazon today:
#20: A Pizza Stone
Rounding out our list of the Top 20 things that belong in every kitchen is a pizza stone. The reason that pizza from the shop is so delicious is because they use extremely high heat in their ovens, as well as a pizza stone. Pizza stones are great because they distribute the heat evenly, ensuring a crispy, well-cooked but not burnt crust.
A Million Pizza Stone Uses
Plus there are a ton of other uses for these things too. Once you have one in your kitchen, we're sure your creativity will take over! BBQing, roast chicken, veggies, etc.
Since we love cast-iron so much, this one is our top choice: Lodge Pro-Logic Cast Iron Pizza Pan. It has a ridiculously good user reviews, and we're sure that you'll love it just as much as the other loyal customers. The best thing about it? Handles. Yes, just put on oven mitts and carry your pizza easily and securely straight to the dinner table.
Check it out for yourself today: